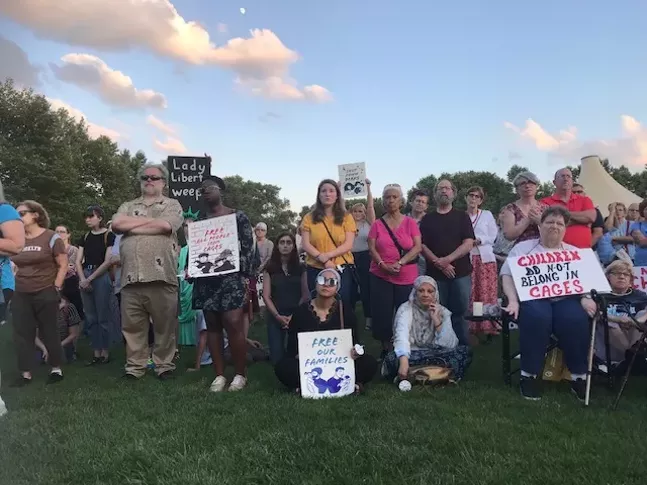 More than 500 people gathered in Schenley Plaza last night to protest the treatment of immigrants by U.S. immigration officials, as part of the national
Lights For Liberty
protest efforts. Signs were held up by protesters, critical of the treatment of child migrants held in
border patrol facilities
, and of the Trump-announced raids to be carried out by
U.S. Immigration and Customs Enforcement
.
But the overall message of the gathering was to call on Gov. Tom Wolf (D-York) to shut down the Berks Family Detention Center. Pittsburgh Democratic Mayor Bill Peduto was also in attendance, and he tweeted out support for shutting down the facility.
Those that spoke, especially the young Pittsburgh girl who lost her father, spoke more powerfully than I could. I stood in support, with thousands of Pittsburghers, to call for the closure of the Berks Detention Center in PA. https://t.co/uutgTFjb49

— bill peduto (@billpeduto) July 13, 2019
The detention center is located in Berks County, and is used to hold immigrants and their families, sometimes very young children as they await immigration hearings.
Speakers at the rally, like activist Jasiri X, said the center had a history of mistreatment and
abuse violations against immigrants
at the Berks facility, so he was encouraging people to contact Wolf and ask him to shut it down.
"We are here to say we are all human beings," said Jasiri X, "and we are entitled to all rights of life, liberty, and the pursuit of happiness."
Wolf has said
he doesn't have the power to shut down Berks
, saying the facility is run by Berks County officials who have an agreement with the federal government. Activists and others, like the Pennsylvania Immigration and Citizenship Coalition and state Rep. Chris Rabb (D-Philadelphia), say Wolf can revoke the Pennsylvania Department of Human services license for the facility.
It's not a federal site; it's an unlicensed facility leased by Berks County to #ICE to detain #immigrant families seeking #asylum to expedite their #deportation.

If you & the governor want to join me on a site visit, let me know.

You don't need to go to TX to see cruelty. https://t.co/0i1ODm34DQ

— Rep. Chris Rabb (@RepRabb) July 13, 2019
It is unclear if Peduto supports Gov. Wolf taking action or pressuring the federal government. A call to his office went unanswered.
While the event's main focus was on calling for the closure of the Berks detention center with hundreds of people filling out postcards to send to Wolf asking him to take action, the event also spoke about general criticisms of immigration enforcement and mass incarceration of Black and brown people in America.
A young immigration activist read a letter from Samantha Esquivel-Hernandez, the daughter of Pittsburgh community activist and undocumented immigrant
Martin Equivel-Hernandez
, who was
deported in 2017
.
A young Pittsburgh immigrant-rights activist reading the poem of Samantha Esquivel-Hernandez, whose father was deported by ICE in 2017, despite not having any local criminal record. "The only things that make these people happy is seeing people suffer." Cc @AdamSerwer pic.twitter.com/h5j25aMTvU

— Ryan Deto (@RyanDeto) July 13, 2019
Wasi Mohamed
, of the Pittsburgh Islamic Center, spoke about problems in the Allegheny County Jail and the high rates of prosecution of Black teens in Allegheny County. He said these practices against Black people are linked to larger problems of the way people of color, including immigrants, are prosecuted in America.
The gathering ended in a candle-light vigil.
Full crowd in Schenley Plaza pic.twitter.com/UzoECOhNUa

— Ryan Deto (@RyanDeto) July 13, 2019