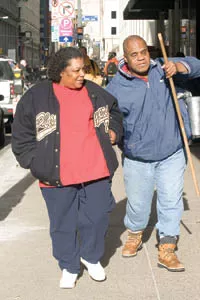 One week before Christmas, Bill Dorsey goes Downtown to sing. He sits, as he has for years, on the sidewalk of Smithfield Street near the Kaufmann's clock.
His seat is a large portable stereo, switched off for now and swathed in layers of duct tape. He holds a big cup, also encased in duct tape and attached to the radio by a strap made from a towel. The strap is secured by duct tape, too.
Dorsey, 57, is of medium height and powerful build, with a broad nose and full cheeks. He is also blind, and in the gathering dusk of a cold, cloudy day his head nods to some soundless beat.
He's wearing a gray Carhartt jacket, its gray insulation blooming from rents in the cuffs. His spotless jeans are tucked into white sweatsocks that chimney from leather workboots. On the concrete by his feet lies his cane, an old broomstick. Dorsey is bare-headed in the chill, and the skin above his right eye is split like a small red mouth. A lump there recalls an incident in a city magistrate's courtroom a month earlier, which earned Dorsey five days in jail. Dorsey's thinning hair, which he told the jail barber to shave, is just growing back. A follow-up court appearance is two days away.
Last time in court, Dorsey and the judge yelled at each other. This time, he tells me, he'll let the judge do all the yelling. "I'll bring Jesus with me," he says, his voice as strong and roughly grained as raw oak.
But now he reaches down and turns on his tape player. The machine emits a slow, woozy gospel arrangement, heavy with synthesizers. The recording, which Dorsey assembled on an electronic keyboard, is faded, the sound thick with wear.
William Allen Dorsey sings.
"Long years ago, on the big winter night," he begins. His voice is like his speaking voice, but orders of magnitude louder.
Everywhere he goes, people recognize him. Dorsey welcomes admirers loudly, calling men "reverend" and women "princess." Often, when someone greets him, Dorsey laughs and grabs the person's forearm, patting it and sliding his hand up to the elbow. The habit makes some people pull away. But it's no matter right now: At 4 p.m., pedestrians are few and indifferent.
"While in the manger a wee baby lay, sweetly asleep in the bed of hay," he sings. His brow furrows; his eyes roll under their lids and bounce into daylight, a milky caul across the dull hub of the pupil and iris. His upper teeth are jagged nubs. "Jesus, dear Lord, was the baby so small ..."
Such a song might disappear in the din of early rush-hour traffic. But Dorsey's baritone cuts the cold air like an axe. If you stand close, it seems to echo in your chest.
Stage Singer
Dorsey -- whom many call "Allen" and others call "Bill" -- once opened for the great bluesman John Lee Hooker. It was not his first gig: Growing up in neighborhoods including the Hill District, Coraopolis and Lincoln-Lemington, Dorsey was sometimes hired to sing in church. Later, a friend even paid him to perform at parties. But it was music promoter Pat McArdle who gave Dorsey what could have been a big break in the mid-1980s, at North Oakland's now-defunct Graffiti nightclub.
For the show, McArdle asked Dorsey to learn some songs off a Little Milton record. McArdle remembers Hooker coming backstage after watching Dorsey's set. "He said, 'That blind boy's up there singing his ass off. He's something else.'"
Soon after, McArdle booked Carnegie Music Hall for a national tour called the Blues Explosion. The lineup included The Fabulous Thunderbirds, John Hammond, Robert Cray and -- exclusively in Pittsburgh -- Bill Dorsey.
Dorsey, who recalls singing "Stormy Monday" that night, was pleased with the show. Backstage, he met Cray, then the country's hottest young bluesman. "He goes, 'Young Robert Cray! I'm gonna lift you up. I'm gonna let you drive my car,'" recalls McArdle. The lifting part actually happened: "He had him up in the air," says McArdle. "The look on [Cray's] face was too much. That had never happened to him."
Starting in the '80s, Donna Perkins, the friend who had Dorsey sing at her parties, invited him to her annual Valentine's Day brunch at Station Square's Grand Concourse. The former train station's dining room includes a staircase where a jazz combo performed, and Perkins often convinced the musicians to let Bill sing a few. "Georgia" was a favorite.
"People just loved him," recalls Rick McMaster, who ran the restaurant for years.
Trombonist and bandleader Harold Betters remembers that Dorsey's voice didn't even need a mic to fill the cavernous dining room.
"His rhythm was impeccable," recalls Betters, who has performed with Louis Armstrong and toured with Ray Charles. "The key doesn't bother him. ... When I started out a song, I thought, 'He'll never have that range.' But just beautiful. Big, beautiful husky voice."
"He'd grab me and lift me up," adds Betters, whom Dorsey also sang with at other venues, including the now-defunct James Street Tavern. "He's a strong little fellow."
Singer and voice teacher Tony Richards heard Dorsey all the time when Richards lived Downtown. He says he used to tell his students, "You want to know what it's like to sing, go out and watch this man sing."
Dorsey is doing "basically what he was born to do," says Richards, who now lives in New York City. "[E]very muscle that has been working since he was born is still working. He'll just do it and do it until the day he dies. If somebody tried to change it, they would ruin it, probably.
"Could he have a career as a professional singer by what I've heard? Of course."
But Dorsey professes to shun show business. He says his brief experiences with managers have gone poorly. He also treasures his independence; as a street singer, he can choose his own material -- these days, he mostly sings gospel -- and avoid conflicts with, say, irresponsible bandmates. While people sometimes offer him gigs, "I refuse to sing in bars, pizza clubs," he says. "Because people will insult you."
"He doesn't really like to conform and he doesn't want to be beholden," says Perkins, whose relationship with Dorsey ended in the mid-'90s, after a disagreement between Dorsey and a party guest. "He just wants to sing."
McArdle left the music business and is now a well-known local art collector, but he still sees Dorsey from time to time. "Bill Dorsey is a Pittsburgh treasure," he says. "Can you imagine if he had a chance in life to use that voice?"
9 a.m.
Bill Dorsey lives alone, in the Hill District's Bedford Square public-housing project. It's about a mile-and-a-half from both Downtown and central Oakland, the two places he goes to sing.
By the door sits his portable stereo; his keyboard is propped by a recliner upholstered in worn green corduroy. On this day in mid-December, the apartment is heated to about 80 degrees. The floor is grimy. A small TV with poor reception, but clear sound, plays a preacher show. On top of the set sits a roll of duct tape. But Dorsey wants to show off what he calls his "chopper."
It leans in the far corner. Its body is an industrial garbage can, swathed in layers of duct tape a half-inch thick. Inside is the residue of the breakfast cereals Dorsey uses the machine to grind to powder. Dorsey has attached a washing-machine motor to the barrel's base, likewise securing it with duct tape.
The chopper's blades were freed from 10 cheap steak knives, bolted radially to a metal pulley 6 inches in diameter. Because the machine is broken, Dorsey keeps the blades in the cabinet over the stove. But as he later tells me, "If you fill that up with food, you'll never run out."
Navigating the narrow hallway to his kitchen by touch, Dorsey next displays his blender, also for powdering cereal, which he considers health food. It's a standard countertop model, but the container has been replaced by two big plastic bowls placed mouth to mouth. The whole thing is mummified in duct tape, to "keep it cold," Dorsey says, touching the base. "That way, the motor'll last long."
The blender is the size of a toddler. Dorsey stores it in his freezer, which has room for nothing else.
"That's why I like to live alone," he says. "So I can maneuver and build things."
Just after 9 on this weekday morning, the phone rings. It's his friend Chrissie Fijerina, who often keeps him company while he sings. A few minutes later, someone named Melinda calls. "She's not marriage material," he says after speaking with her briefly. "She wants everything handed out to her. I don't go for that kinda green peas."
He's been married only once, some 30 years ago, to a woman whose children abused him. "Kids would throw things at my face, bust me upside my head," he says. "One would tell me, 'Don't you got your own people? We don't want your problem on us.'"
As he tells the story, he begins filling the blender from crinkly plastic bags of cereal extracted from their colorful boxes. "I wanted to be loved, but I didn't know I was putting that burden on everybody."
Dorsey fills the blender with Special K. The phone rings. It's Danielle Burkes, the mother of Dorsey's 5-year-old daughter, one of his three children. They plan to meet Downtown.
The next cereal is cinnamon with oats. Chrissie, who is 48 and has known Dorsey for years, calls again. "What you doin', pervert?" she asks, giggling.
"Pervert?! I'm getting ready to kill you!" he jokes.
Cheerios. Dorsey talks of being jailed 18 times, each time for defending himself, usually from people who harass him on the street. He has also occasionally been sent by court order for psychiatric evaluation. But those sessions never last more than a few hours, and Dorsey refuses medication: "That shuts your whole nature down."
Another package of Cheerios. Danielle phones again. She lives in New Kensington, with her boyfriend. Dorsey says some of his women friends just want money. But many women don't want him. "They don't want no blind man's blood in their family."
He holds up another plastic bag. "You know what this is," he says.
Wheat bran. He's also retrieved a jar of wheat germ.
The phone again: a woman offering a "no-cost free estimate for home improvement."
"I don't own no home. I live in the projects. Public housing!" Dorsey says cheerfully. As he does with most everybody, he charms her: "You're gonna be 17 this year! 'Cause your voice sounds like it's 13!"
"See," he tells me, after hanging up. "I know how to get them going."
He trusts women far more than men. Since childhood, he says, he's been abused sexually by men taking advantage of his blindness. Once, at another apartment, he let a man named Rich stay with him. "He said, 'Yeah, man, we can have some cake and ice cream.' He carried a knife. He said, 'We can have some cake and ice cream.' You're supposed to say that to a woman."
Chrissie calls yet again. "She possessive. She always like to talk talk talk," Dorsey says. "She probably got mad because she seen that other girl with me." That other girl would be Tommie Lee, a 40-year-old North Side mother of four who held Dorsey's hand yesterday as he sang outside Macy's.
Dorsey goes to his fridge and removes a yard-high bottle -- actually several plastic Powerade bottles, set end to end and encased in duct tape. He fills it at the sink and pours it into the blender's nipple-like opening. The suction creates a human-sounding gasp. He repeats the process, screws on the blender's cap and plugs it in. It hums quietly. Sitting in his recliner, he holds it in his arms and rotates it slowly. He drinks the brownish slurry from the blender by hugging it between his forearms and leaning back in his chair.
Tommie herself calls, and Dorsey jokes with her. "Ohhh, you Tom-mie! Come on Downtown before I whup you!"
The Courthouse
At 11:20 p.m. on Sat., Nov. 18, patrolman Erich Wilson of the Port Authority Transit Police responded to a report of a disruptive patron on an 84A bus. Bus operations "advised that the actor was becoming more disorderly by yelling, screaming and threatening patrons," according to the report Wilson filed. Another officer "advised this was a common actor, and the actor attempts to use his disability (the actor is blind) as an excuse for his actions."
When Wilson located the bus, in Oakland near the corner of Terrace and Lothrop streets, he found Bill Dorsey "calm and quiet." He identified himself as a patrolman and told Dorsey to exit the bus for questioning.
"Suddenly, the actor [erupted] by yelling and screaming[,] for which he was warned. ... Next the actor clinched [sic] his fists and started swinging. While I was removing him I was struck several times. I then placed the actor on the ground and took him into custody. ... Several patrons interjected that the actor constantly behaves in this [manner]. The actor would also spit on patrons. ... The actor was a clear and present danger to himself, other patrons and the public."
Dorsey was charged with aggravated assault and disorderly conduct, and spent the night in jail.
Nine days after his arrest, Dorsey arrives -- by jitney -- at the Municipal Court Building on First Avenue for an 8:30 a.m. preliminary hearing. The courtroom, with its high-set windows looking out on the Parkway, feels subterranean. It is packed with dozens of defendants, complainants, police and attorneys.
Previously, Dorsey told me that a man on the bus had been taunting him that night, and that Dorsey had raised his voice in self-defense. "I ain't gonna let nobody talk to me like an animal." Dorsey also planned to refuse counsel. "I'd rather be my own public offender," he said. "They're usually on the plaintiff's side. ... I'd rather trust in God, and he'll be my public offender." Now he waits quietly, seated with his left arm across his chest. Occasionally, as he does in moments of stress, he digs his first two fingers into his right eye socket.
"How you holding up, Bill?" he whispers to me. He starts rocking softly back and forth.
"William Dorsey," says the bailiff.
"All right!" says Dorsey loudly, jumping to his feet. "Right here."
Hands reach out to guide him through a metal gate, and then Dorsey stands before the judge and refuses counsel. "God will give me strength." The prosecutor says she will let him go on a misdemeanor, but only if she can talk to a defense attorney. Dorsey is finally convinced to permit a young public defender to represent him.
Some argument follows. "Throwing me on the ground like an animal," Dorsey says of Officer Wilson, a tall, soft-spoken man who looks about 30 and stands a few feet away. Dorsey is also upset he never recovered the stereo speakers he had with him when he was arrested. He raises two fingers to his right eye. He denies resisting arrest, and says the bus driver had it out for him.
Dorsey says Wilson never identified himself as an officer. "That's when I called him KKK and neo-Nazi."
"You understand," says the judge, "he's an African American too."
"Well then he's a houseboy," says Dorsey.
"This is getting --" says the prosecutor.
Yet Wilson is willing to drop the assault charge. District Justice James Hanley, white-haired and black-robed, simply wants Dorsey to promise that the next time an officer approaches him, he'll obey.
Dorsey begins to talk over the judge: He didn't do anything wrong. The judge raises his voice. "Is that our understanding, that from this point forward -- "
"I don't care!" Suddenly, Dorsey is screaming. He's hopping in place, waving his hands over his head like an angry child. "I don't care!" Gasps escape the courtroom. Dorsey screeches in a toylike falsetto, unearthly from such a large body. "I don't care if they put me in jail for a thousand years! I don't care!"
Three uniformed officers, including Wilson, attempt to restrain Dorsey. They pull his arms behind his back. Dorsey lurches forward and smashes his head on the judge's bench, leaving two smears of blood, one on the pages of an open statute book.
In the officers' grasp, Dorsey quiets. They escort him out of court, past the stares of manacled men in orange jail-issue jumpsuits awaiting their own hearings.
"He needs mental help," says the prosecutor.
"I've seen the guy on the street," says Judge Hanley. "He has a hell of a voice. Amazing."
11:30 a.m.
Singing to recorded music, Dorsey can earn $100 a day -- more than triple what he used to make singing a cappella. So it's worth hauling around his radio, which weighs an unwieldy 30 pounds, by its makeshift shoulder-strap. But with the batteries dead, the rent due, and his Social Security disability check -- his main source of income -- signed over for bail money, Dorsey makes do. At 11:30 a.m., on Smithfield Street, he sits on his silent radio and sings along with the tinny Macy's PA instead.
"Have your-self a merry little Christ-mas ..." he sings, acknowledging a donation with his standard, and typically sung, "Thank-you-God-bless-you-fi-nancially, with a billionfold."
As Dorsey swings into "Jingle Bell Rock" a tall, thin man wearing a torn leather jacket approaches him. He crouches and places a hand on Dorsey's shoulder. Conspiratorially, as though they are old pals in harmony, the man sings a few lines with Dorsey. Then he asks to borrow a dollar.
Dorsey bucks up. "I ain't got no money! I need it to get batteries!"
The man backs off and walks away, apologizing.
Dorsey sings for about an hour. Then he takes my arm and we cross Smithfield to Sbarro's. He walks duck-toed, with a slight limp from an incident when a car hit him. "Come on to Sbarro's, folks!" he announces to no one in particular. "Best pizza in the world!"
Inside, he bellows hello and asks the staff -- who are across the room, behind their steam trays -- whether they have sausage slices. The waitress brings over his coffee, offering to add the cream. "She's only 17, look at her skin!" Dorsey says.
"I can see more than the person that's got eyes," he adds. "I can visualize by the heart and discernment."
An hour later, back on the street, we're joined by Dorsey's friend Chrissie, a large woman with soft brown eyes. Dorsey walks to CVS to buy batteries, alone. He returns arm-in-arm with the thin man in the leather coat, who is now plainly drunk. They part cheerfully. "You pray for me and I'll pray for you," the man tells Dorsey.
When he's gone, Dorsey says, "I don't want to support his habit."
It's unseasonably warm, and the sidewalks are crowded. Dorsey produces a roll of duct tape and finds the torn edge with his tongue. Chrissie feeds him the C batteries, which he tapes together to form two cylinders of four cells each. Tommie Lee appears, a small round woman with a wide, innocent smile. Dorsey reaches into the radio, locates two exposed wires and tapes their bare ends to the battery terminals.
"I'm gonna whup Chrissie's behind," he says. "I'm gonna take Tommie Lee and give her 99 children."
The music starts, another generic soul track, and Dorsey sings, "Chestnuts roasting on an open fire ..." Then he stops. "Gotta give you something," he says to Chrissie. She comes close and he stuffs a few bills into her hand, which she pockets.
He sings some more. A white-haired man wearing a high-sheen blue suit and bow tie approaches. "It's your buddy, Bill," he says, and contributes. A young man in cornrows and a hoodie donates. So does a bearded young guy in a Nine Inch Nails T-shirt.
Now Dorsey is rolling. He jazzes up "Rudolph the Red-Nosed Reindeer." Pedestrians walk past, then double back, opening their wallets.
"Incredible voice, man," says a bespectacled man in a windbreaker.
"Wheat germ," Dorsey notes between songs, "keeps my voice in shape."
Growing Up
Dorsey's mother, Lula Gazella, lives in a senior-care facility in Highland Park. Dorsey sometimes sings for her and her neighbors when he visits. When I join him to visit her a week before Christmas, she is in a wheelchair, recovering from a fall.
At 73, Gazella is a small, quiet, plump woman with microbraids and striking, blue-grey eyes. One wrist is adorned with multiple charm bracelets; several of her fingers sport rings, including a big gold butterfly. Her hospital-like room was decorated with magazine clippings -- perfume ads, pictures of dogs.
Gazella is a Homestead native, the daughter of Southerners who migrated north; her father was a mill worker. She was 16 when her first son was born, in March 1949. She had carried William only six months; he weighed three-and-a-half pounds and could see.
Dorsey and Gazella tell the same story about his blindness: In the incubator, his eyes were damaged by too much light. (All premature infants are at risk of blindness because their retinas are not fully formed; Dorsey was born at a time when new techniques were helping more preemies survive, but with elevated chances of blindness. Medical science generally regards an overdose of oxygen, not overexposure to light, as the cause.)
Bill's father, a construction worker who was married to another woman, drank, says Gazella. When the boy was young, she married an electrician named Howard Dorsey, who gave Bill his surname.
Her oldest son sang from age 2. "He didn't wait for nobody," she says. "He started with blues. He heard those records play. He would sit there in the doorway and listen to the songs and learn them."
Young William could sing, but at age 5 he still couldn't walk. "It was the cutest thing, to get him to walk was," his mother says. "I would stand with my back toward him, and he would stand with his face toward me. And he would be holding my legs. And I would get him to move with my legs.
"I always thought he had to do for himself," she says, because "being blind and that --he wouldn't be able to get people to help him all the time."
When he was 15, she bought him a piano for $25. "I got it from nuns. It was a blessed piano. I said, 'Allen would like that, because it came from a church.'"
I ask Gazella about Dorsey's stories of beatings at the hands of a man named Harry, whom she married after her marriage to Howard Dorsey ended.
"He misbehaved, but he was all right," she says of Harry.
"He used to beat me half to death," Dorsey contends matter-of-factly.
"If I was there, it wouldn't happen," Gazella says. "I knew he did things like that. But I didn't know he was doing them."
I mention a story Dorsey has told me, of being sexually molested as a child, by a friend of Harry's. Dorsey tells it again: "He wanted to give me five pennies. He didn't ejaculate. When I said 'out,' he pulled it out right quick."
His mother wasn't home at the time, Dorsey says -- and he kept silent because he didn't think anyone would believe him.
They hug before he leaves. Later, waiting for the bus, he tells me about the time Harry "took me upstairs and beat me half to death with his belt," says Dorsey. When he was "near death," he says, "I seen the Lord. I seen a great big room. It was pure gold. Silver and gold. You could walk on it with your bare feet and it would never get dirty. That's how I know God and Jesus. Get beaten near death like that, and God brought it to good. That's why I'm religious."
Though Dorsey was the oldest of seven siblings, he describes his childhood as solitary. Relationships that weren't abusive were, at best, arm's-length. Neighborhood kids burned him with cigarettes and mocked his blindness. Even his siblings, he says, viewed him as a liability.
At least two of Dorsey's brothers tell a different story. "We never treated him like he was blind," says Thomas Dorsey, who is three years younger, works as a security guard and lives in Stanton Heights with his wife, Ann. "We always treated him like one of us."
In the '60s, when the family lived in Lincoln-Lemington, Dorsey's next-oldest brother, Howard, played high school football and kept a barbell set in the basement. He and Allen worked out together.
"He always worked harder than I did," says Howard, who now lives in Indianapolis, where he is married with three grown daughters. After college, Howard Dorsey joined the Army. He retired as a major, and now directs the commercial truck-driving program at a community college.
Sometimes, kids did taunt Allen. "We used to have many scuffles over that," says Howard. Indeed, Bill Dorsey says verbal abuse was a big reason he dropped out, as a high school junior, from the Western Pennsylvania School for Blind Children. He'd attended the Oakland school since childhood, but there were few black students back then, and some of the taunts were racial.
"There was some of that, unfortunately," confirms Sue Etters, a schoolmate of Dorsey's who sang with him in glee club and chorus.
Yet Thomas remembers his oldest brother drumming on the mailbox and singing radio hits for appreciative neighborhood kids. "You could give him any instrument, and leave it with him for half an hour, and he would know how to play it," he recalls.
Thomas says he tries to see his brother every week. A sister, Darlene, frequently visits him on Smithfield as well. But Bill "doesn't like [to be] helped," says Thomas. "We all support him, but we try to let him do his things."
Interviewed in early January, Thomas had heard his brother had been in jail. "They sort of know him down there," he said. "After he cools off they let him out."
"He's blind. He don't see the whole circle and it confuses him," says Thomas. "When someone tries to control his world, he's defensive. Allen will be Allen."
2:30 p.m.
When Dorsey belts out a song, people across the street look over. One of them, a woman pushing a stroller, greets him -- "Hi, Mr. Allen!" -- and he hollers back.
A few minutes later, it's time to visit the Uptown bank where he deposits his tips. Dorsey leaves Chrissie sitting on his radio while Tommie escorts him to the bus stop nearby. There, the woman with the stroller passes and says, "See you, Mr. Allen."
Dorsey acknowledges her, but he is unenthused: He knows his need to touch people to identify them, to verify their presence, makes many shy away. Especially women. When she's out of earshot, he observes, "See, she didn't get close to me. She doesn't like to be close to me in public. That's why I like the big mommas."
Dorsey speaks often of his preference for large women. "The bigger they are, oh, my, they won't cheat on ya!" he once told me. "They don't need no Jenny Craig! Stay away from weight loss!
"The bigger a lady is, the more I dream about her," he added. "Being that one saved my life, I will always cherish them."
When he was in his mid-20s, Dorsey was struck by a city bus. "I almost passed away, 'cause I felt my spirit leaving my body," he told me on another occasion. "A lady 280 pounds came by, ask me if I was all right, put my head to her breast and I revived. ... But if I were to testify in a church what happened, how God saved my life, I would have to fight in a church. A lot of people in the church say, 'Well, why don't you leave the breast size out of it?'
"'Well, then why don't you tell God that,' that's what I'll tell them," he continues. "If I'm going to mention 14 to 99 triple D or an F or a J or an M, I'm gonna mention it, because if it wasn't for a lady that weighs 280, and it wasn't for the Lord using that lady, I wouldn't be here."
Today, on his way to the bank, Dorsey greets the driver. "Yeah, you've got 10 mouths to feed," Dorsey says. The driver chuckles.
"I wish I had 40 mouths to feed," Dorsey continues. "I want to be the father of at least 12. I'll do child support in a minute."
I ask Dorsey about a conversation he had earlier this afternoon. A bespectacled young man in a Kangol hat stood watching Dorsey sing for several minutes, then approached and said, "You kinda remind me of Stevie Wonder."
"That guy asked me, 'Why don't you do something with it?'" But Dorsey has little use for show business. "A lot of people in Hollywood was on drugs. David Ruffin, they found him with one thousand dollars in his pocket and beat him so bad ..."
"They don't all end up badly," I say.
"Yeah, but you never know. Look at what happened to Sam Cooke. Look what happened to Elvis Presley."
Twice in the round-trip between bus stop and bank, Tommie leads Dorsey into traffic, to the point where cars have to stop for them. Back Downtown, he gives her change and she buys cupcakes, iced tea, chips, cheese curls. Dorsey eats the cupcakes.
Forty-five minutes after we left her, Chrissie is still sitting on the radio. Dorsey resumes his place.
It's just after 4. A passing bike cop calls, "How you doin', Mr. Al?" Dorsey sings "Rudolph the Red-Nosed Reindeer," coming in slickly behind the beat, competing with and sometimes halting for the sounds of buses and sirens.
When he is quiet, you can hear the Macy's brass trio, around the corner on Forbes. Exhaust fumes hover as Dorsey sings, "Oh, come, all ye faith-ful, joyful and trii-UM-phant ..."
Family
Dorsey says he was homeless once, at age 24. He subsisted in Braddock, sleeping in bars during the day and on people's porches at night. "I carried a suitcase with me," he says. "I stayed mostly outside. ... When I wanted something to eat, I would sing for it."
Not long after, at the suggestion of a woman, he took a bus to Louisville, Ky., to pursue a singing career. He sang blues in nightclubs and gospel at a Baptist church. "They treated me very nice down there," he says.
But he returned to Pittsburgh when his grandfather fell ill, and shortly after he moved into a Hill District apartment with Terry Moore, whom he likes to call "the First Lady." She was several years younger than Dorsey, and they'd known each other since adolescence.
"He would try to cook. He would open some canned goods and mix them all up," says Moore, 51, who now lives in McKees Rocks. "It was dangerous, now that I see it -- teaching him to fry chicken. He did it, but I got scared."
Moore sees Dorsey only occasionally now; she often relies on a wheelchair because of injuries from a car accident and other health problems. But Dorsey "was a real nice person," she remembers. "He was nice even though he had a temper."
Once, he busted up their apartment so badly that Moore called the police. Another time he was so upset he made himself throw up. "He'd hurt himself," Moore recalls. "He didn't hurt me.
"Most blind people, they'll listen. He'll just snap on something," she adds. "The anger that's built up in him. Maybe he just don't understand, and just won't take time to understand."
Moore's first pregnancy ended with a daughter dying during childbirth. In 1976, Moore gave birth to Dorsey's first son, Victor Moore. A second son, Darnell Moore, was born in 1979. When she got pregnant, Terry Moore would sometimes crave pickles at 2 a.m. She would tell Dorsey, whom she imitates in a husky voice suggesting the cartoon character Fat Albert: "Weeell, baby doll -- I don't have no money, baby, but I'll see what I can do.'
"He came back with a case of dill pickles, about 3:30, 4 o'clock in the morning," she recalls. She and Dorsey lived together, on and off, for 16 years. "I always loved him and I always will, till the day I get cold."
As an infant, Victor Moore was adopted by an aunt of Moore's who, according to Dorsey, disapproved of some of Terry Moore's friends. Darnell spent his first several years with his mother and father. When he was 9, he was accused of sexually assaulting a 7-year-old girl. Darnell, who now lives in McKees Rocks as well, says he spent much of the next decade in juvenile-detention facilities.
Darnell wears thick lenses and is as sturdily built as his father, whom he believes could have had a musical career. "He had chance upon chance to become famous. But he would not leave us. That's one thing I admire about him."
Darnell sees Dorsey occasionally. "I'm always happy to see him," says Darnell. "When I see him, I get a glow. I seriously get a glow.
"I wanna sing like him, but, on stage," he adds. "But I gotta quit these," he says, laying his hand on a pack of cigarettes. He laughs, and coughs phlegmily.
Because Victor and Darnell grew up apart, they got to know each other only when Darnell was 14. That year, they met at a local treatment facility for at-risk youths.
Thirty-year-old Victor is built more slightly than his brother and has a hard, wary look. Victor says he was "locked up" at age 10. "They thought I was retarded," he says. "I have a mental-health problem." He's had a string of guilty pleas since 1996, most for nonviolent offenses, all of them resulting in probation.
In his early 20s, Darnell was again institutionalized, this time as treatment for schizophrenia, he says. Dorsey visited him at the hospital, Western Psychiatric. "He would sing for people in the place, because they had a piano," Darnell says.
Darnell admits he has a temper that flares when he is disrespected. He thinks the same is true of his father.
"I don't know why people bother him," he says. "I don't know why people bother me."
4 p.m.
Taking a break from singing for a December afternoon's street traffic, Dorsey is sitting in the Fifth Avenue Wendy's with Tommie and me. He likes it here: The female wait-staff dotes on him. Around 5 p.m., in walks Danielle Burkes -- the mother of Dorsey's daughter, Daodjah -- with Danielle's boyfriend, Richard.
Burkes is in her mid-20s, round-faced and pretty, wearing a parka and knit cap. Daodjah herself is absent. Dorsey hasn't seen her in months: He says Burkes' mother accused him of touching the girl inappropriately, a charge he hotly denies.
"I can't believe she wears a size 12," Dorsey says of Daodjah, who's 5.
"Look at the daddy," says Burkes. "Ain't you big?"
"You gotta be a little bigger," Dorsey says.
"Feed me then."
Richard, who's middle-aged and doesn't say much, wears a windbreaker and a tie, wire-rim glasses, a crucifix pin in his shirt collar. With him is his adolescent son, whom everyone calls Little Richard. Richard escorts Dorsey downstairs to the bathroom, then helps him don his pullover.
As Richard sits by, Dorsey nuzzles Danielle beneath her ear, steals a kiss.
"Make sure she eat," Dorsey tells Richard. "The more she eat, the better the romance is."
Dorsey stands. The group emerges in twilight, Danielle leading Dorsey across the intersection to Macy's, Richard and Little Richard following. Tommie says she is heading home; Dorsey hugs her and repeatedly thwacks her on the arm.
The streets are clearing. Burkes, Richard and the boy stand quietly for five minutes. Then Burkes says a quick goodbye, and the three of them literally run across Smithfield to catch their bus home.
For Dorsey, rush hour means half an hour of singing with no donations. Finally he stands and picks up his radio. Navigating the sidewalk, he swings his cane wide enough to nearly take out the legs of Kevin McMahon, executive director of the Pittsburgh Cultural Trust. Neither man acknowledges the other.
Dorsey takes a bus to Oakland, and after setting up there -- in front of Eckerd, on Forbes -- his spirits rise. He adds unexpected flourishes: "Giddy-up, jingle horse, pick up your fe-e-e-eet!"
Though the sidewalks are busier here, donations are sparse. Pitt is in session, but after half an hour, Dorsey has only one student-age donor: a guy who watches the nickel he tosses miss Dorsey's cup and bounce to the pavement, then keeps walking.
Dorsey greets admirers -- including a woman he calls "the mother of all good living" -- but seems suspicious of others. When a passing woman says to a companion, "... it's a shame ..." Dorsey apparently assumes she's talking about him. He sings (on the beat), "No, it's not a shame -- that's the jingle-bell rock."
Later, Dorsey tells me he's barred from the coffee place across the street. He says he was accused of "raping a white girl" there. A couple months ago, it seems, he bumped into the chair the woman was sitting on while trying to leave the store. "It's this way," the manager yelled at Dorsey, then told the woman "I'm sorry."
The way he said it set Dorsey off. "I told him, 'I'm none of your nigger.'"
How was that a rape accusation? I ask. "They didn't have to say it in so many words."
I leave him just after 8 p.m. He is singing "O Little Town of Bethlehem."
The Courthouse (Reprise)
Just after noon a few days before Christmas, Dorsey stands in line back at municipal court. In front of him, a young guy in wire rims and a navy peacoat turns and asks, "You that guy that sings on Smithfield Street?"
A female security guard asks, "Is somebody taking care of him?"
"There's a princess," says Dorsey.
This is the follow-up to the Nov. 27 hearing when Dorsey smashed his head on Judge Hanley's bench. In recent weeks he has spoken of the incident frequently. Dorsey contends the judge spoke more kindly to other defendants: "He hollered at me first. I have a right to do what I have to do." Dorsey says he banged his head on Hanley's desk "deliberately, to show him I'm none of his nigger. I'm none of his spade."
"I still love the judge," Dorsey told me another day. "When I get it out of my chest, everything is OK."
Entering the crowded courtroom, Dorsey and a cop he knows greet each other cheerfully. We find seats. A public defender, a young woman, approaches; Dorsey assents to the court's offer of a disorderly conduct charge and time served. He hears Hanley speaking, and says to me, "See how nice he talks to them?"
Dorsey is summoned to the bench. In the weeks since Dorsey's outburst, Hanley has learned that a colleague once kept a hole in his courtroom wall as a souvenir of an earlier Dorsey episode. But as Hanley will tell me later, Dorsey had already spent several days in jail, and "we didn't want to see that go any further." So today he simply instructs Dorsey, "If something happens on the bus, please ask the bus driver."
"All right," says Dorsey. He reaches his right hand toward the judge, and Hanley shakes it. "The youngest judge in the world! Sixteen years old!"
After the court appearance, Dorsey and I walk Downtown. "It took all that me-going-off-on-him for him to talk nice to me," he says of the judge. "It took a woman public offender." He adds, "It was God's plan."
At the corner of Forbes and Smithfield, a young woman lugging a large shopping bag recognizes Dorsey.
"God bless you," she says. "Merry Christmas. Thank you for your voice."