Being a hobo ain't easy. For starters, where do you shower? How do you scrape together enough nickels to buy yourself a sandwich? Sleeping on a soggy mattress by the river must get tiresome, and hopping trains is risky business. How many bridges do you have to sleep under to finally give up, shave off the gnarly beard and order a Social Security card?
Still, there's something romantic about the hobo life -- all that freedom, all the open sky. While most of us work multiple jobs and collect superfluous gadgets, all a hobo needs is a knapsack and a can of beans. The vagrant American has a ragged mystique; he's a gleaner, a tinker, a writer of garbled poetry. He always seems to have met a guy (in Columbus, in Wichita) who did something incredible (nursed a dog, juggled knives).
Combine the magic and the hardship, and you get Bill Daniel's exceptional art installation The Great Depression, now showing at Pittsburgh Filmmakers. With unemployment skyrocketing and homes foreclosing, the time seems ripe to re-evaluate the lifestyle that defined our last Depression.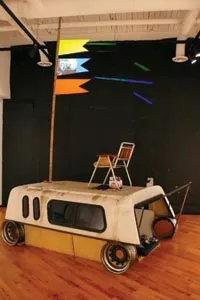 Bill Daniel currently lives in Braddock but comes from Portland, Ore., a longtime destination for backpackers and roving hippies. With its laid-back residents and offbeat lifestyles, the Northwest is a hitchhiker's dream; every year, thousands of drifters show up in Oregon and create makeshift homes out of friends' couches and junked buses and trailers. And Daniel, a self-styled "hobo filmmaker," is captivated by homeless folks.
The Great Depression is the latest installment in his nationwide tour, a series titled "Sunset Scavenger." If you've never accepted moonshine from a fidgety old dude at a bus depot, The Great Depression is a thorough crash-course on the itinerant's daily life.
Filmmakers' second-floor gallery is a bright, high-ceilinged room, where the floors are composed of lacquered hardwood and the walls are sheer white. The gallery has seen weirder installations than The Great Depression, but rarely anything dirtier. Daniel has plastered the surfaces with a bric-a-brac of posters, flyers, clippings and snapshots -- a dog-eared collection of rubbish that tells the story of lives spent on foot and rail. One photocopied PSA shows an opaque picture of a woman and begs, "Please! Do Not Give This Woman Money!" Down below, a blanket spreads on the floor and is covered with odds and ends: a hacksaw, a bottle of car polish, a Phillies cigar box full of fuses and keys, and a bumper-sticker that reads, "My Honors Student Has a Career in the Service Industry."
Daniel is known for his documentary work, particularly Who Is Bozo Texino?, a film about boxcar graffiti. Much of the exhibit looks like a well-organized swap meet, but he complements the refuse with large photographs of houseboats and RVs -- the modern hobo's safer alternative to a rat-infested underpass. Two photographs depict the destruction of New Orleans during Hurricane Katrina, and the homeless scavengers who struggled to survive in the city's waterlogged ruins.
To round out the installation, Daniel has created an authentic hobo encampment, consisting of a flatbed truck cover (for shelter), an air-mattress, a couple of blankets and a fold-out chair. Daniel erected a bamboo pole as well, which bears makeshift flags. Daniel's 21st-century hobo is also equipped with mini-TV's, a boom-box and some scattered milk crates. John Steinbeck this is not.
The Great Depression has an educational feel -- it's more like a tramp museum than an art installation. The encampment feels like a diorama in the Carnegie. But this isn't Inuit igloos or ancient Egyptian tombs: Actual hobos can easily be found along the banks of the Monongahela. For all its danger and hardship, hoboism is a uniquely American tradition, with its own myths and rituals and rewards. Vivid and illuminating, Daniel's exhibit does patrons a great service.
The Great Depression continues thru Jan. 10. Pittsburgh Filmmakers, 477 Melwood Ave., Oakland. 412-681-5449 or www.pghfilmmakers.org