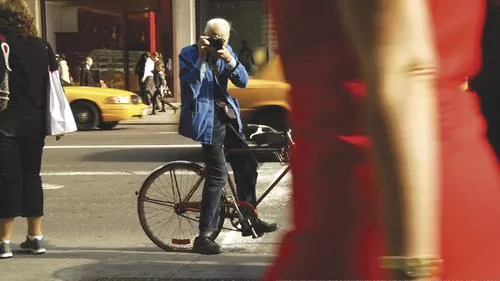 The work of photographer Bill Cunningham is familiar to anyone who's ever idly skimmed the Sunday New York Times. Besides photographing various society events, his feature "On the Street" documents what New Yorkers of all stripes are wearing, organized around a trend or theme caught by Cunningham's keen eye. Such photos may reflect an edgy pre-trend, a fashionable garment of the moment, youth fashion (such as the recent propensity for low-slung jeans that showed off underpants) or circumstance (a rainy spell produces a variety of foul-weather gear).
Richard Press' affectionate documentary profiles Cunningham, who is now in his early 80s and still working day and night. The puckish Cunningham is a checklist of endearing quirks and fashion-world anomalies: He lives in a single room (though wait til you see where!) with no bathroom or kitchen; rides his bicycle everywhere, despite having 28 stolen; thinks $3 is too much for lunch; refuses even a glass of water at events to avoid any compromise; and wears the same thing every day (chinos and a work smock worn by Paris street sweepers).
He began his fashion career as a milliner in the 1950s, but found his real calling in street photography during the 1960s when he became enamored of the hippies' outrageous get-ups. While high-fashion runways and Park Avenue soirees will never lack for documentation, Cunningham has assembled, over the decades, an invaluable record of what the rest of us wore -- from every Seventh Avenue edict slavishly donned and our more universal, if temporary, affectations (acid-washed jeans) to those rare birds who walk the streets in plumes of their own creation.
Cunningham is weirdly coy about his (seemingly nonexistent) personal life, but is nonetheless an entertaining raconteur. He may also be the only non-bitchy person working in the fashion industry. He simply adores his job, and all it gives him access to: He's as comfy with gender-bending club kids downtown as he is at Brooke Astor's 100th birthday party.
There's a lesson here, though it may seem too simple in today's frantic, striving, success-at-any-cost culture: Do what you love, do it well and with respect, stick to your principles, and thus, truly enjoy life on your terms. Starts Fri., May 27. Regent Square