Like Oprah Winfrey, hip-hop artist Bilal Abbey is a firm believer in the 10,000 hour theory. Since childhood, music has been an interest of Abbey's — he started recording himself in ninth grade — yet his most recent release,
Gremlins
, is the first project he's taken seriously as a musician.
"I just got to a place where I finally feel good about my mixes and who I am as an artist," says Abbey. "I took the time to work on my music and my craft. Really just putting in those 10,000 hours."
The theory, detailed in Malcolm Gladwell's book Outliers, says it takes roughly 10,000 hours of deliberate practice to achieve mastery in any field. In Outliers, Gladwell attests that getting 10,000 hours of practice early in The Beatles' career was the reason for their superstardom. Between August 1960 and December 1962, the rock/pop group played over 250 nights in Hamburg, venues often demanding The Beatles play four or five hours a night. Gladwell also uses Bill Gates as an example, citing his teenage computer use as vital moment to founding of Microsoft.
"A lot of people will be like, 'Yeah, I just bought a camera and I'm doing $25 photo shoots,'" says Abbey. "And it's like, you haven't even taken 100 pictures on your own that you like yet. It's the same with everything."
Abbey truly began developing himself as an artist, putting in his hours, when he went to Clark Atlanta University, an HBCU, for undergrad in 2009.
Outside of classes, Abbey spent the four years in Atlanta focusing on music. Cut off from his friends in Pittsburgh, he used the alone time to practice in a studio — free to use thanks to a connection back home.
"I had no guidance on how to use the equipment," says Abbey. "I had no idea what I was doing when I started. Going from that to being able to master the process … whatever you're working on whether it is art, music, etc., being focused on creating for yourself and putting in your 10,000 hours is really important before you try and turn your art into monetization."
After graduating and returning to Pittsburgh, Abbey began working behind the scenes as a curator and engineer for artists in the local hip-hop community, like Pharaoh Lum, NVSV, and livefromthecity. He mixed Clara Kent's album Aura and wrote the chorus for "Black Benji." on Benji.'s album Smile, You're Alive. This isn't to say he wasn't working on his own music.
Gremlins
is actually Abbey's fourth project.
"Two are not up for streaming because for me they were kind of experimental," says Abbey. "And I have a lot of songs that will never make it on [an album]."
Paradise, the only project available for streaming be sides
Gremlins
, dropped in 2016.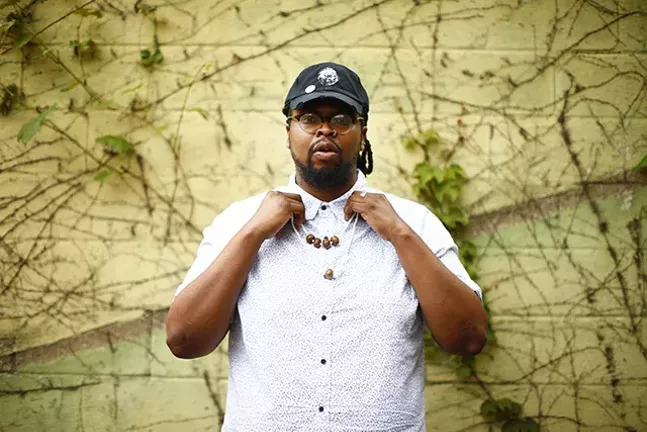 But all that work added up, and Abbey put in his 10,000 hours. Now he's ready to fully debut himself with
Gremlins
, created in a fever pitch of only five months.
"
Gremlins
is kind of a play on my own perspective of life in general," says Abbey. "Some of the songs are closely related to me, some songs I don't feel like are a slice of my life but more so a slice of my perspective."
As a whole, the seven-track album is about fighting inner demons, or gremlins, like lust, guilt, arrogance, and greed.
Gremlin
s ends with the song, "Cleanse" which is like a mantra to let go of anything that isn't serving your best interest.
"You have to deal with those things," says Abbey. "Clean them out. All the things that build up, emotional junk and baggage, getting those things out of your life."
When this happens, you have the power to change your life and gain control by, ironically, letting go of it. Then you are free to focus on what brings joy, like a craft and working on your 10,000 hours.