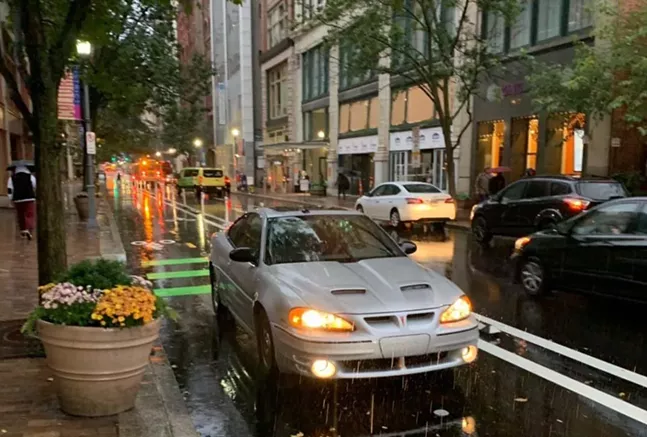 For
bike lanes to function properly
, they have to be reserved for cyclists, scooter riders, or anyone else traveling about the speed of a bicycle.
They obviously don't work when cars park in them, forcing cyclists to exit the lane and ride in traffic where cars are typically traveling much faster. This leads to
unsafe conditions for cyclists
and possible congestion for drivers. A lose-lose.
However, this doesn't stop drivers from using bike lanes, even ones that are separated from car-traffic with plastic bollards.
Yesterday, more than 70 bike-pedestrian advocates at Bike Pittsburgh set out to count just how many drivers parked in popular bike lanes throughout Pittsburgh.
Bike Pittsburgh staff and volunteers tracked parking scofflaws using
How's My Driving
, a Washington, D.C.-based app designed to report bad driving behavior, including moving violations, road rage, and alleged summary offenses.
They covered Downtown's
Penn Avenue protected lane
and the counter-flow lane on Third Avenue; the Allegheny Circle protected bike lane in the North Side; and a section of the Forbes Avenue lanes in Oakland, from the Cathedral of Learning to Carnegie Mellon University.
Bike Pittsburgh counted 123 cars that stopped in the these bike lanes either from 7-9 a.m., 12-1 p.m. or 4-6 p.m.
Evening rush hour was the worst time for clogged bike lanes, with 50 cars parked in those select bike lanes over the two-hour span. About two dozen cars stopped in the
Forbes Avenue bike lane in Oakland
, which is one of the newer constructed bike lanes in the city.
"Everyday, people illegally park in the bike lanes, causing people riding bicycles to enter into moving traffic," says Erok Boerer, Bike Pittsburgh advocacy director, in a press release. "We're trying to understand the extent of this problem and advocate for solutions."
Boerer was stationed on Third Avenue during the evening rush hour and, yesterday,
City Paper
spoke to him about the project.
He said when cars and trucks block lanes, especially protected lanes and lanes that go the opposite direction of vehicle traffic, it just "mucks up the works" and it's
extra dangerous for cyclists
since drivers "aren't expecting them to enter traffic."
Yesterday, about 35 vehicles were stopped in Third Avenue counter-flow lane, which has parking spaces on the other side of the street for most of its stretch.
The Penn Avenue protected lane saw about 18 vehicles stopped in its path. This lane
regularly sees hundreds
, and, sometimes, more than 1,000 cyclists a day, with heavy spikes during commute times.
On many occasions, the vehicles have been much larger commercial trucks, which force us out into traffic to go around them, and completely obstructs your view of anything coming the other way.

— Shane Culgan (@shaneculgan) May 28, 2019
The Pittsburgh Parking Authority has reminded drivers several times that parking in the bike lanes is
illegal and will be enforced
, and Boerer is hopeful this initiative will help parking enforcers figure out the best and most efficient places to catch scofflaws.
"[The big part] is where to invest the money," said Boerer. "Hopefully we get a better sense of where the city needs to invest."
Someone is getting the message that they shouldn't park in bike lanes #datapbl @hmdappio pic.twitter.com/3JHawLeOQ1

— BikePGH (@BikePGH) October 16, 2019