Last summer, during the fourth annual
Picklesburgh
festival, crowds on the Roberto Clemente Bridge swelled to record numbers. People swarmed the free festival to eat, drink, and wear pickle products. The crowd was so big that for the 2019 festival, Picklesburgh, which runs from July 26-28, is nearly doubling its size, spanning the Roberto Clemente Bridge, as well as Ft. Duquesne Boulevard between Stanwix and Seventh streets.
In a way, crowds at Picklesburgh mirror the crowds that swarmed when the Heinz pickle pin was first introduced. At the World's Fair in 1893, Heinz, along with the other American food manufacturers, was located on the second floor of one of the festival's buildings and received little foot traffic. Henry John Heinz came up with the idea of distributing flyers, telling visitors that if they came to the Heinz exhibit, they'd get a free gift. (Before it was a pickle pin, the accessory was a pickle watch charm.) At the time, pickles were one of the company's most popular products.
The ploy worked better than expected and massive crowds swarmed to the Heinz booth to get pickle charms. According to
Heinz History Center
curator Emily Ruby, crowds were so big that the floor of the building began to sag. She also says that the other food manufacturers on the same floor gave Heinz a thank-you gift for bringing so many extra visitors to their floor.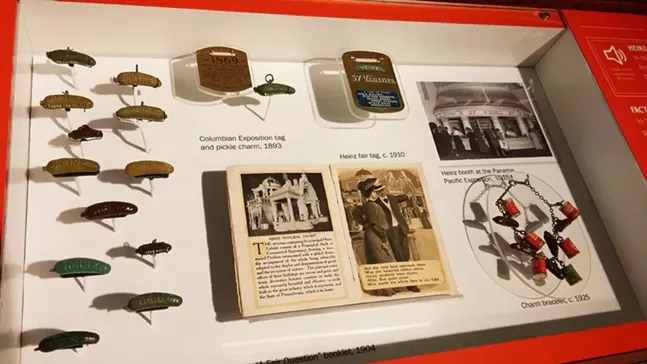 The pickle accessory has changed a bit since its origin — it was originally made of gutta-percha, an early plastic and dark green — but over the years it transformed into the bright green plastic pickle pin we know today. They're given out at Picklesburgh, obviously, at the Heinz History Center, and other Heinz-related locations. This year, Heinz will be giving away golden pickle pins at Picklesburgh to celebrate the company's 150-year history.
The pickle pins are an extremely easy and effective form of advertisement for
Heinz
, but also for people to display how much they love pickles. Personally, I used to wear one on my work uniform (and also on my backpack.)
So what have we learned from both Picklesburgh and the 1893 World's Fair? First, people love pickles, and second, people
really
love free stuff.