For the past few decades, the South Hills neighborhood of Beechview has not really been considered a destination community. But on a recent Saturday, the streets were jammed with parked cars, and dozens of Pittsburghers took in Beechview's second annual Cinco de Mayo festival.
Throughout the day-long celebration, more than 500 people filled the small parking lot next the Las Palmas-IGA grocery store on Broadway Avenue. Lines of revelers spilled onto the sidewalks; families chatted as a band belted out traditional Mexican folk songs; and young girls danced in flowing red, white and green dresses. It was hard to imagine that this fiesta didn't happen every weekend.
Pittsburgh City Councilor Natalia Rudiak, who represents the neighborhood, enjoyed a taco. And Pittsburgh Mayor Bill Peduto made an appearance.
"I just wanted to say thank you to all the people that organized this. This is what makes living in the city special," said Peduto. "To be here today with everybody is a celebration of what makes the city so great."
While the warm wishes were all around on this day, some Pittsburghers haven't embraced the steady flow of Latinos into the Steel City.
The neighborhoods with the highest concentration of Latinos — Brookline and Beechview — have seen at least three incidents of racism-fueled vandalism directed at Latino-owned businesses over the past six months. One of the most blatant involved the words "Go back to Mexico" spray-painted on Brookline's Las Palmas grocery. The Brookline store recently closed, but according to posts on social media by co-owner Missy Berumen, the reasons were related to rental costs, not intimidation. (The Berumens could not be reached to comment for this story.)
In fact, some community members have been spreading baseless rumors that the city's powers-that-be are providing secret funding to bring more Hispanic businesses to the area. City officials say the rumors are false and absurd.
And while a few dissenting voices have undoubtedly made Latinos feel unwelcome, a bigger group of Pittsburghers is trying to embrace one of the city's fastest-growing demographics. In April, Peduto and Rudiak criticized the vandalism and issued statements in support of the targeted businesses. As
City Paper
reported in January, residents sent flowers and candles to the Berumen family, owners of Las Palmas.
"There are going to be some loud voices that are not ready to be inclusive," says Rudiak. "But on the flip side, there are so many people in the community embracing the Latino community."
And now, even more support is pouring into the community, especially in Beechview. Big plans are in the works: Developers, city officials and business leaders are working to ensure that the neighborhood's potential growth benefits everyone.
A quick stroll down Broadway Avenue in Beechview offers a snapshot of the community's strengths and weaknesses. The northern end of the thoroughfare is marked by a dozen vacant structures, some of which appear unstable. What activity does occur in this sleepy business district revolves around the lunchtime taco stand outside the Las Palmas-IGA grocery.
"Latino development has bolstered our community; it's a draw to our neighborhood," says Rudiak. She defends the Latinos who live in her district and cites the positive contributions they have made to Beechview.
"We have Latino residents renting apartments, buying homes, frequenting all the businesses and sending their kids to Pittsburgh Public Schools," she says. "They are Americans trying to live the American dream."
The growth of this community has attracted some outside interest in Broadway Avenue. The Pittsburgh Hispanic Development Corporation, which focuses on bolstering Latino businesses throughout the region, has set up shop in the heart of the neighborhood.
PHDC Executive Director Victor Diaz says the group is starting a business incubator that is actively targeting Latino entrepreneurs. The incubator, which occupies the second floor of the Brew on Broadway building, has already attracted a startup that builds prosthetics for people with disabilities, a company that exports products to Chile, and some businesses from Miami.
"Attracting Hispanic business to that area is going to bring people to the neighborhood," says Diaz.
One of those businesses is a planned beer distributor. Owners Janey Taylor and her husband, Oscar Santiago, moved to Coraopolis a few years ago. Taylor says her husband works as a roofer and has made many Latino friends, who mostly live in Beechview. Because the neighborhood doesn't have a place to buy beer other than the local bars, Taylor and Santiago, with some help from Rudiak's office, found a space in the middle of the business district. "A bunch of people are working hard here all day. They want to be able to relax and have a beer," says Taylor. She says they plan to carry a wide variety of brews, with an emphasis on imports.
PHDC's work goes beyond attracting Latino entrepreneurs. The nonprofit is also forming an all-inclusive community group — the Beechview Revitalization Advisory Group — that aims to unite people who care about the area and want to see it grow.
"Diversity is good for the city," Diaz says. "Just because we are Hispanic does not mean we are excluding anybody."
Diaz believes that attracting Latinos to Pittsburgh is in the region's best interest, especially considering that the Latino population here, while growing, is still very small. According to U.S. Census figures, Beechview has the largest percentage of Latinos in the region at 6 percent (about 500 people); Allegheny County's Hispanic population is only 1.7 percent (about 21,000 residents).
But those small percentages have been inching up. Since 2010, the county has added more than 3,000 Latino residents, and Pittsburgh has added more than 1,000 Latinos in the same time period. (The city's overall population has continued to decline since 2010.)
"Hispanics are the biggest minority [group] in the country, but we don't exist here," says Diaz. "It is a small population, but it is growing. Why not take advantage of that momentum?"
There appear to be good economic reasons to bring in Latino residents. Remy Arteaga, executive director of the Stanford Latino Entrepreneurship Initiative, in California, recently conducted a nationwide study that shows that from 2007-2012, the number of Latino-owned businesses grew 47 percent, while non-Latino businesses grew less than 1 percent.
"It is pretty shocking in some ways. We knew the growth was large but did not realize how much larger than non-Latino businesses," says Arteaga. "For the overall growth of privately held businesses, 86 percent of growth is from Latino businesses."
Arteaga says the growth of Latino entrepreneurs is not the only reason cities should be attracting Hispanics. He says the Latino population is young, growing at a faster rate than any other demographic, and Latino businesses are in the "sweet spot" of growth and community interaction. The study also shows the U.S. economy could grow by $1.4 trillion if Latino businesses were fully supported and thrived at their maximum potential. "It's a pretty compelling case for wanting Latinos to move into the area."
In fact, one town in central Pennsylvania has already benefitted from of an influx of Latinos. Hazleton, in Luzerne County, received a wave of Latino immigrants in the mid-2000s. Some in the community claimed that crime grew as a result. (Stats show the opposite for most years in the 2000s.) In 2006, the town passed a controversial law aimed at keeping out undocumented immigrants. The law was later repealed, the Latino population kept growing, and according to news accounts the local economy has been buoyed by an increase of Latino-owned businesses. Hazelton's commercial district has been revitalized, with Latino bakeries sitting next to longtime pizza joints.
Arteaga says stories like these are common, and especially surprising given that Latino entrepreneurs don't receive nearly the same level of capital investment that non-Latino businesses do.
Some say Beechview is lucky because the neighborhood has garnered interest not only from the folks at the PHDC, but also from a major developer like Daniel Berkowitz.
As head of Atlas Development, Berkowitz has become one of Beechview's biggest champions. He, like Councilor Rudiak, sees Beechview's potential not only in terms of the growth of the Latino community, but also because of its transit access.
"You find me a neighborhood that is 12 minutes on a light-rail from Downtown in most major cities, and I will show you a vibrant neighborhood," says Berkowitz.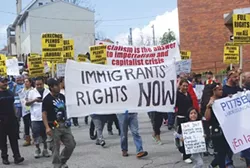 The existing light-rail lines along Broadway Avenue are currently under construction, and Rudiak is somewhat hopeful that Beechview will receive a state grant that will bring a modern, "complete streets" design to the business district. (Latinos fit into the transit plans, too. Port Authority has recently put up billboards and bus-shelter ads in Spanish, with many of them concentrated in the Beechview/Brookline area.)
Berkowitz also recognizes that Beechview was already revitalizing before he started focusing on it a year ago. "Hands down there is more [vitality] in the neighborhood because of Latinos," says Berkowitz. "There's the taco guy at Las Palmas, patrons at El Milagro [taqueria], and there are young kids on the street."
While Berkowitz embraces the Latino businesses in the area (he called the PHDC incubator "the battery" of the community), he says his plans go beyond what Latinos will bring. He says he has plans for an Italian restaurant, a diner, a jazz club, an online media company and an insurance planner, in eight buildings he owns or has options on. Berkowitz also plans to construct 12 new apartment units on Broadway Avenue.
Nonetheless, Beechview is rightfully leery of trusting developers. Bernardo Katz, a cellist and investor, once owned 80 percent of the neighborhood's business district and promised $2.6 million to revitalize the area. Then, in 2007, he defaulted on his loans and fled to his native Brazil; it has taken 10 years to clear the properties for sale and development.
Berkowitz says he understands this history and that is why he chose to work out of the Brew on Broadway building. "We spent 12 months getting to know the community; we attended community meetings, and we use their input to inform what we do. … I can do better in the long run if I don't piss off the neighborhood."
Momentum is building in Pittsburgh's Latino community, and support is growing stronger. On May 1, the same day as the Pittsburgh Marathon, more than 100 marchers paraded from Beechview to Brookline in support of immigrant rights. Religious leaders, politicians and Latino families with young children held signs saying "La ciudad de puentas, no fronteras" (The city of bridges, not walls) and "Full rights for all immigrants."
Guillermo Perez, a Latino labor organizer with United Steelworkers, has been leading marches in the community for years and says they continue to grow. He says community members have not been focused on the incidents of vandalism in the neighborhood because they are focused on working and providing for their families. "Scrawling some graffiti on the back of a restaurant is not going to deter anybody," says Perez.
During the march, a white Beechview resident was waving a Confederate flag while the marchers passed by. However, Perez says this incident had little effect on crowd, and they carried on. They seemed to have heeded Perez's earlier line when he said the community is here and not going anywhere: "Aqui estamos, y no nos vamos!"