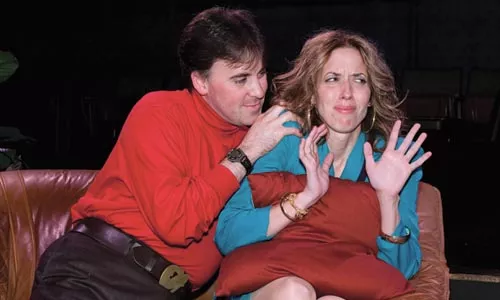 It certainly won't surprise regular readers of this space to learn that, over the years, I've stretched out my tortured psyche on any number of therapist's couches. I used to think I loved therapy because I was fascinated by how the mind can heal itself. But I eventually realized I loved therapy because I'm an egomaniac who enjoys nothing more than talking without interruption for an hour and -- guess what? -- they have to listen.
And though I've paraded my neuroses before great, mediocre and bad therapists, I never had -- in fact nobody has ever had -- therapists as rotten as the two created by Christopher Durang in his comedy Beyond Therapy.
For instance, Bruce's therapist, Mrs. Wallace, continually sends him on blind dates with women he's met through the personal ads. The problem is that Bruce is already in a relationship -- with a man named Bob, who is getting pretty pissed with Bruce bringing his lady dates home.
His latest, Prudence, is trying to overcome her last fling with her therapist. I don't mean that she's seeing a therapist to jettison the emotional junk from her last boyfriend; I mean that her last boyfriend is her current therapist: Dr. Framingham, a man with serious anger, boundary and women issues.
It's five people who shouldn't be in the same universe together, let alone city, and Durang, being the happily wicked playwright that he is, keeps slamming them up against each other to scathingly funny results.
With his ability to write comedies filled with both horror and humor, Durang has long been a favorite. The first part of his career is notable for such work as A History of American Film, Baby With the Bathwater and, of course, Sister Mary Ignatius Explains It All For You. These were intensely personal stories about screwed-up young people trying to find peace in an even more screwed-up world.
Durang's enjoyed a bit of a renaissance over the past couple of years with plays of an explicitly political bent; his latest in that mode, Why Torture Is Wrong, and the People Who Love Them, played to excellent notices off-Broadway, with Broadway tentatively in the cards.
Beyond Therapy is from the "intensely personal" Durang collection. Yet while those earlier plays are famous for a streak of quite vivid pain slashing through the laughter, Therapy is, at least by Durang standards, a pretty sunny, upbeat work.
And the production at Little Lake Theatre, as directed by Art DeConciliis, pulls out all the stops in putting a zany, gleefully absurd Durang onstage. Mark Cox and Mary Liz Meyer handle the comedy like pros but also manage to find and play the humanity of two people just looking for love.
Helga Terre, Gregory Caridi, Kevin Bass and Jordan Matthew Walsh are the assorted whack-job therapists and/or lovers in Durang's crazy-quilt background. And with DeConciliis' solid and skillful comedic touch to guide them, each finds a way to add to the fun: Caridi's frantic switching from cad to coward; Bass's haughty tugs of the collar; Terre's Billie Burke-style cheerful obliviousness; and Walsh's ridiculously smug smolder.
In the program notes, DeConciliis mentions that Durang is one of his favorite writers; with this production I think he's bringing several audiences members over to his side.
Beyond Therapy continues through Sept. 5. Little Lake Theatre, 500 Lakeside Drive South (off Route 19), Canonsburg. 724-745-6300 or www.littlelaketheatre.org