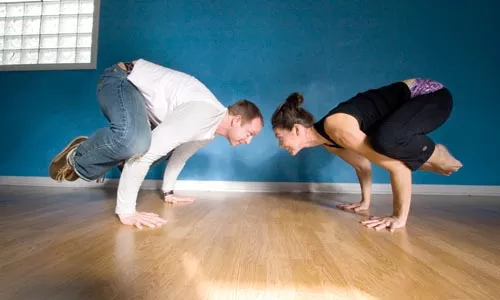 The first thing you notice when you step into Amazing Yoga on Ellsworth Avenue in Shadyside -- CP readers' choice as Best Yoga Studio -- is how warm it is. The single-room, hardwood-floored studio is kept at a toasty 95 degrees year-round, to keep muscles warm and to get the sweat pouring off you.
But if you stick around for a class or two, you may find the real warmth isn't coming from the heaters.
"There's a reason I go into Amazing," says Wilson Chang, a triathlete and a regular at Amazing. "It's a great community. Everybody's friendly."
Classes at the studio, owned by husband-and-wife team Sean and Karen Conley, are typically bookended by music and easy chatter. Prior to each class, students unroll their mats and get ready to spend anywhere from 60 to 90 minutes stretching and flowing between poses, their collective breathing somehow buoying each other through the session. Classes include regulars, college students and total newbies -- all sweating and balancing next to one another.
"You always end up in a better place than when you got there," says Chang's friend Lucas Marsak, another triathlete. "It's addicting."
While Chang and Marsak are serious athletes who find yoga a great compliment to their other pursuits, every size, shape and type of body is welcome at Amazing, and anybody can complete a class. Just about every pose can be modified or intensified to personalize the practice for each individual. This isn't some haven for skinny, exotic Himalayan pretzel-men.
"Sometimes yoga studios have an exclusive feeling," says Karen Conley. "Our staff is friendly; they make you feel comfortable." Teachers there are pros at discreetly stopping by and helping students find their ways into poses correctly.
Sean and Karen and their staff of more than a half-dozen other teachers teach Baptiste power yoga in Shadyside and their Wexford studio. It's a style refined from the Iyengar, Ashtanga and Bikram traditions by Baron Baptiste: It's characterized by a fast, athletic pace, heat, and a lack of dogma despite yoga's Hindu origins. Sean Conley says that, unlike many other forms of yoga, Baptiste power yoga is accessible to men, a quickly growing population of yogis. Baptiste has worked with the Philadelphia Eagles, using yoga as a complement to their training. "Most of the NFL teams are doing yoga now," he says.
Sean Conley had been something of a skeptic himself, in fact, and only started practicing seriously about five years ago, when the couple opened their first studio in Monroeville. He says his range of motion and flexibility increased, and he stopped getting injuries. Karen, meanwhile, began about 13 years ago, when she was pregnant with the couple's first child.
Working together, living together and practicing at home together allows the couple to compare notes and learn from each other, they say. "We find ourselves pushing each other," says Sean.
Classes start out slowly, getting students to breathe, get out of the rat-race headspace, and get into the present moment. Movements crescendo through the sun salutation sequence, and then slow back down into more technically challenging poses, like triangles or balancing poses. Often, class winds down with core-targeting exercises and super-relaxing inversions -- yes, you get upside-down, and no, it's not at all scary or impossible -- ending with a few exquisite moments of meditation and relaxation. The feeling of accomplishment you're flush with after finishing a class -- like you can conquer the world and you've just sweat out every trans-fat you ever consumed -- is like nothing else.
Often teachers will end final relaxation, called savasana or "corpse pose," by reading a few inspirational quotes or passages. Karen Conley says that quoting Jesus, Buddha and sages from all faiths helps reinforce that yoga isn't religion but can coexist with any religious practice. Although Baptiste power yoga doesn't rest much in the esoteric traditions of Hinduism, it can be transformative.
"I love the physical practice," Karen says, "but I love the little nuggets of insight. I teach yoga for transformation and I teach it for change. You get glimpses of you. That's why people stay."