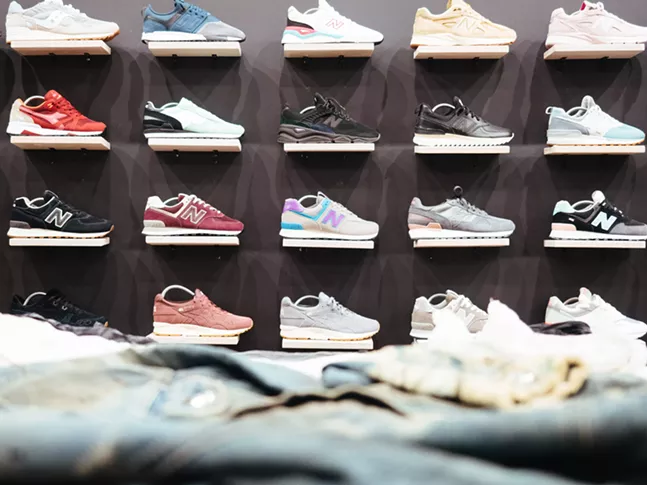 Some sneakers, like the latest pair of Sauconys or those fresh new Asics, won't be found in a typical department store, and buying online is a pain. Luckily, sneakerheads can browse the latest styles and popular brands in person with a comfortable shopping experience at Threads on Carson.
Now in two locations – South Side and the Monroeville Mall – Threads began as a small store in 2013, about a block from the current Carson Street location.
"[It was] a dream and venture with my late brother and best friend, Hussein," says Fuad Ashwash, owner of Threads on Carson. "It has always been a business focused on community, with a foundation in family. From the beginning, we have partnered with local brands, artists, and entrepreneurs, helping to provide a platform for all facets of the greater Pittsburgh community."
Ashwash moved to Pittsburgh about 10 years ago, and after living in the city for a few years, he realized something was missing, especially in South Side. Ashwash was in grad school at the University of Pittsburgh, and getting his MBA gave him the confidence to open a streetwear store, an interest he'd had since childhood.
Threads on Carson took first place in Pittsburgh City Paper's Best Sneaker Shop category, but the store sells much more than footwear. Music paraphernalia (Bob Dylan tees, Santana vests), brand name apparel, sports jerseys, jeans, shorts, and more can be found online and in-store. In fact, Ashwash says that denim and tops in general are the store's best sellers, next to sneakers.
The diverse streetwear selection found at Threads is made even better with the store's friendly and pleasurable retail atmosphere.
"Our team prides itself on not only providing excellent customer service, but really getting to know our clients," says Ashwash. "My clients have known my son since birth, just as I have had the opportunity to get to know their kids, too. We talk about Threads being a family a lot. That is what has allowed us to grow and thrive over the last five years."
Threads on Carson: 1511 E. Carson St., South Side and 200 Mall Circle Drive, Monroeville. threadsoncarson.com