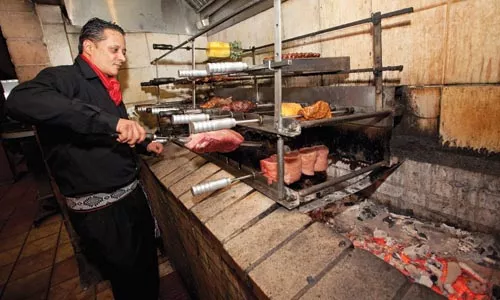 Green Forest Churrascaria
655 Rodi Road, Penn Hills
412-371-5560 or www.greenforestcafe.com
Green Forest Churrascaria isn't the type of place you go for just a meal -- for the past 11 years, it's been a place you go for an experience.
And it's a particularly awesome experience if you are a carnivore. As a Brazilian house of barbecue, Green Forest offers 16 varieties of pork, chicken, lamb and beef. The meat menu ranges from bacon-wrapped chicken and Brazilian sausages to Parmesan-crusted filet mignon and lamb chops.
Butchered daily by the Green Forest chefs, the meat is barbecued in an open stone pit over wooden charcoal. Sword-like skewers rotate over the blazing red coals, and a light, charcoal fragrance hangs pleasantly in the restaurant.
Little is done to the meat before cooking: It's salted, and in some cases garlic or Parmesan cheese is added, and then it hits the barbecue. "This makes the meat more flavorful," says owner Flavia Naccarato, who has run the restaurant for the past five years along with her husband and chef, Oswaldo Fortini. (The couple worked at the restaurant before buying it from the previous owners.) "And everything here is fresh."
Knowledgeable "meat runners" carve the meat tableside, using a style called rodizio. And the diners control the experience, using a green-and-red wooden spool. Display the spool with green side up, and the runners will keep bringing meat. Put the red side up, and you can take a break. The attentive staff offers tours of the restaurant and barbecue pit, and kindly translates a photo in the back of the restaurant which shows the various cuts of beef labeled in Portuguese.
Though Green Forest is a carnivore's paradise, there's plenty other fare available, much of which is displayed in a traditional Brazilian a la carte buffet. Even people who don't care for meat have options.
Dishes like Brazilian rice-and-black-beans and Chilean sea bass, are available at the hot bar. A cold bar contains even more: crab legs, oysters, mussels, sushi, mozzarella and tomato salad, asparagus, and other sides. There is also a selection of cheeses, bread and cured meats like prosciutto and salami.
"We want to put out a variety," Naccarato says, so "everyone will be happy."
Well, almost everyone: While fish-lovers have options, Naccarato admits, "If you only eat greens, I'll be the first to tell you, 'You're going to hate me.'"
For the meat-eaters, Naccarato's hope is that everyone tastes at least one sample of all of the meats available. That's why the runners deliberately serve small portions. But you can request (or decline) anything you want, as many times as you want.
Which is the idea Naccarato and Fortini want diners to embrace: There's no fixed way to enjoy Green Forest. Meals can take as little or as much time as the diner wants. On a recent visit by City Paper, for example, the meal took three hours.
Most of the luscious desserts are made on-site, like the tart, flavorful, mousse-like passion-fruit sorbet and the caramel flan. The BYOB restaurant has fixed-price meals that come with appetizers of fried bananas, fried yucca (a potato-like root) and cheese-bread. (Drinks and dessert are not included in the price.)
Naccarato wants diners to enjoy not just the quantity of the food, but its also quality -- and the Brazilian culinary tradition it represents. Most of all, she says, "I want you to leave my place happy."