For the annual Drinks Issue, City Paper staff selected its favorite spots to drink and be merry in and around Pittsburgh. These are our picks. Feel free to share yours by way of email or Twitter (our handle is @pghcitypaper, as if you didn't know!).
Biergarten at The Commoner
620 William Penn Pl., Downtown
Seeking a hard day's night after working in the city? This rooftop haven for European beers is cool even when the weather is hot. And you can't compile a list of great happy hours until you've spent a couple of hours playing a life-sized game of Jenga with one of Biergarten's cocktails fueling the strategy.
Bierport
4115 Butler St., Lawrenceville
No matter your taste, you'll find a beer you like. There are hundreds of bottles to pluck off the shelves and get chilled on the spot. Or head downstairs to choose from 19 brews on tap. There's also a Sega Genesis.
Bigham Tavern
321 Bigham St., Mount Washington
This classic pub is known for its wings, available in more than 30 flavors. They come in tequila lime, honey garlic habanero and "cluckin' hot." The latter is accompanied by extreme danger, or so goes the menu's warning. (Maybe order a couple of beers?)
Bistro Penn
922 Penn Ave., Downtown
The fifth and newest in the Sharp Edge family, this spot boasts a 35-tap draft list specializing in Belgian beers. Appetizers range from mussels and sesame sashimi tuna to good ol' Buffalo wings.
Blue Dust
601 Amity St., Homestead
One of the region's best bars, this is far enough away from the often-crowded Waterfront. Blue Dust has an interesting rotation of beers and some of the best pub-grub around. Worth the trip to Homestead for anybody not nearby.
Blue Moon
5115 Butler St., Lawrenceville
Dubbing itself the "Friendliest Gay Bar in Pittsburgh," this spot often features drag shows and themed dance nights. Past ones include an emotional night called "Songs 2 Cry 2" and a Passover-themed evening of "Let My People Ho!"
Brew Gentlemen
512 Braddock Ave., Braddock
This renovated electrical supply shop has earned that distinction by providing beers with simple recipes and designating them for seven categories. Closed Monday-Tuesday, a midweek visit is recommended. Ask for the 15104 Series, a rotation selection that never disappoints.
Butterjoint
214 N. Craig St., Oakland
Avoid much of Oakland's college crowd and check out this complement to Legume, the bistro next door. Try a grass-fed burger or potato- and cottage cheese-filled pierogis — and figure out which wines pair best.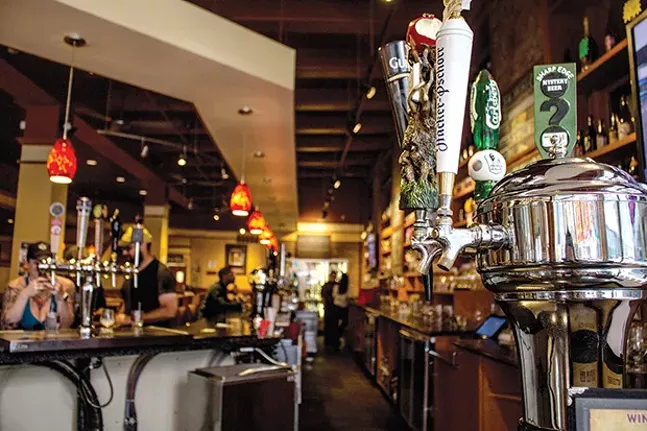 Cinderlands Beer Co.
3705 Butler St., Lawrenceville
Upscale and traditional vibes combine for an appealing mix of adventurous but accessible food and original brews. You can get its Dad Beer and a Diner Burger, or a rosé saison and a scotch egg (if that's more your speed).
Eleventh Hour Brewing
3711 Charlotte St., Lawrenceville
The beer is brewed on-site and there is a killer tap room featuring a handful of games to play while drinking. (A favorite: Connect Four.) Added bonus: daily visits from a rotation of Pittsburgh's finest food trucks.
Federal Galley
200 Children's Way, North Side
This hipster cafeteria? It's more than a food hall. It's an outdoor beer garden with 30 drafts, half-off drinks during happy hour, and the bar is a former bank vault. All this, plus four amazing restaurants.
Fuel & Fuddle
212 Oakland Ave., Oakland
University of Pittsburgh students will need no reminder of the deals here: cheap eats reign supreme from 11 p.m. to 1 a.m. daily, and there's a fantastic assortment of beer and cocktails for the juniors and seniors.
Shiloh Grill
123 Shiloh St., Mount Washington
Any place that serves BacondoublecheeseburgherChimichangas (no spaces) and Cheese Dip con Queso with Cheese (that's a cheese dip, if you were unsure) is worth stopping by. Service Industry Nights begin at 6 p.m. on Sundays, and drinks are discounted by $1 at the Shiloh Grill.
Independent Brewing Company and Hidden Harbor
1704 and 1708 Shady Ave., Squirrel Hill
These sibling bars share an owner and a street corner. Hidden Harbor offers fancy Tiki cocktails adorned with flowers, scorched with flames, and served in a pineapple cup. Independent offers a wide selection of beers and cocktails, with a record player spinning hand-picked tunes.
Mixtape
4907 Penn Ave., Garfield
This bar and café serves hand-crafted cocktails (named after songs), as well as coffee and smoothies. The vibe is relaxed, with couches to lounge on and board games to play. The drinks might seem pricier at first glance, but that's because it's a no-tipping establishment.
Modern Cafe
862 Western Ave., North Side
This has one of the longest happy hours in the city, usually going from 4:30 to 7:30 p.m. This Allegheny West staple has great beer, a lively atmosphere and tasty snacks. A must if looking to escape the North Shore's scene.

Over the Bar Bicycle Cafe
2518 E. Carson St., South Side
Affectionately known simply as OTB, this bicycle-friendly bar and restaurant offers draft beers and eclectic pub food. Try the Dirt Rag Delight, a cheeseburger topped with peanut butter and pickles. Sounds like something to wash down, yes?
Paradise Island Bowl & Beach
7601 Grand Ave., Neville Island
Order a cocktail from the island bar, then lounge on the beach. Vacation? Staycation. OK, it's just a river, not an ocean. But if it gets hot, you can go inside and bowl.
Park Place Pub
5719 Bryant St., Highland Park
The limited beer selection is no issue, because all the beers are solid. (They pair well with burgers at an attached restaurant.) Park Place Pub is never too crowded, but also never too empty, and there is a humongous patio in the back. A neighbor is seemingly always willing to chat.
Primanti Bros. (Penn Ave.)
5491 Penn Ave., Garfield
Since opening in 2017, this sandwich chain has become the neighborhood bar for Bloomfield, Friendship and Garfield residents. There is always a diverse crowd to watch sports or hang. Happy hours extend late on weekday nights and Saturdays.
Redfin Blues
100 Waterfront Dr., Troy Hill
The first time you stumble on this spot at Washington's Landing, it's perfectly normal to wonder if you've somehow wormholed to Martha's Vineyard. It's a summer-only waterfront grill with a seafood-heavy menu, cheap buckets of domestic and all-you-can-eat crab legs.
Sidelines Bar & Grille
621 Evergreen Ave., Millvale
Hit hard by recent flooding, Sidelines persevered and again will be a staple for sports fans when the NFL and NHL seasons fall back into action. Even without those games, this spot is no secret for beer lovers; the bottle list's length rivals that of season-ticket waiting list for the Steelers or Penguins. And who doesn't dig a late happy hour that begins at 10 p.m.?
Smokin' Joe's Saloon
2001 E. Carson St., South Side
If Pittsburgh has a real-life version of the classic sitcom Cheers, its setting would be this bar that regulars affectionately call "The Joe." Won't take long for the staff to know your name. A traditional happy hour offers discounts on each of the over 60 beers on tap. And if you stay past 7 p.m., expect to hear jam bands playing on the music machine.
Squirrel Hill Cafe
5802 Forbes Ave., Squirrel Hill
Technically called the Squirrel Hill Café (only by nerds), this dimly lit, smoky bar is lovingly known only as The Cage. It is home to great wings, cheap drinks, and TVs always playing Turner Classic Movies. Also, the chillest bartenders.
Whitfield at Ace Hotel
120 S. Whitfield St., East Liberty
"Never end the night at Ace Hotel, always at Taco Bell." That's a saying, right? There is not a Taco Bell in the East End, so that leaves only one spot to end an evening. Ace Hotel's tavern offers great cocktails in a hip yet not-too-pretentious setting.