click to enlarge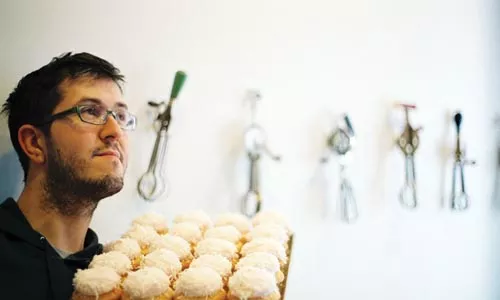 After lying dormant for decades at elementary school parties, cupcakes are on the march. New York City, Chicago, Seattle, San Francisco -- all have adorable shops that sell the brightly decorated tiny premium cakes, now gussied up for consumption by the creative class. Thus it hardly seems surprising that, when Dozen Cupcakes threw open its doors at Forbes and Murray last December, there was a line of quivering sweet-tooths snaked down the block.
Dozen is the brainchild of baker James Gray and his business partner, Andrew Twigg. Gray, who has a varied background in cooking, education and English literature, relocated from Chicago and spotted a fancy-cupcake-shaped hole in the local scene.
The gamble paid off; Gray happily describes Dozen's first few months as "overwhelming" and "exceeding all expectations." Today, Dozen moves 3,000 cupcakes a week from its wee Squirrel Hill storefront, and is hoping to expand soon into other neighborhoods.
A baker's dozen of reasons to love Dozen:
1. There are so many flavors. A rotating menu means six flavors a day, a combination of tried-and-true and seasonal or specialty cakes. Here are just a few recently on offer: caramel apple, café mocha, pecan pie, bananas foster, raspberry zinger, German chocolate, mint meltaway, pumpkin spice.
2. Dozen has your favorite flavor. Vanilla and milk chocolate are available every day, Gray assures. "It's what I sell the most of."
3. Plenty of chances to try a kooky flavor. A root-beer-float cupcake was a surprise hit. "There was some hesitancy for people," Gray admits, "but once they had it, they were like: 'Wow, this really tastes like root beer.'"
4. It's what's inside that counts. Imported Belgian chocolate. Neilsen-Massey vanilla. Dozen strives to get ingredients that are natural, organic and local. Turner Dairy supplies the butter, eggs and cream cheese.
5. Butter is better than partially hydrogenated transfats. Dozen's butter-cream frostings are made with -- yes -- butter. "A lot of other bakeries use baking margarine," says Gray, grimacing, "and it's so horrible in your mouth."
6. It's cheaper than New York City. Similar fancy cupcakes in other cities can cost as much as $4 or $5; at $2.50, a Dozen cupcake is a bargain by comparison.
7. You can linger. Tables and chairs are available, so why not pair your cupcake with a cup of coffee or tea and sit a spell? With on-site baking filling the air with sweet warmth, the hard part is leaving.
8. They're cooler than a wedding cake. Dozen will provide cupcakes for any event, but book early for its popular wedding offering: a hundred or more pastries presented on tiers in lieu of a cake. Gray cites the flexibility -- a customer can choose from several flavors -- and the convenience: "You don't have to worry about cutting it and serving it. When it's dessert time, you just say: 'Cupcakes!'"
9. Cupcakes love scholars. Thursdays from 3-6 p.m. is academic happy hour. Show your student or faculty ID and get 50 cents off a cupcake.
10. Workers deserve cupcakes. Gray is hoping that businesses will see the genius of his TGFC -- Thank Goodness For Cupcakes -- corporate plan. "If a company wants to raise morale or show it cares about employees," he explains, "we'll deliver a certain amount of cupcakes each Friday afternoon."
11. Few cupcakes go unwanted. There's a daily check-in by Meals on Wheels, which adds unsold cupcakes to its rounds. If there are only a few left, "We try to recycle them back into the community," Gray explains. "If it's been a slow day, we may do two-for-one -- or even holler out in the street for folks to come get 'em. It's better than throwing them away."
12. You can talk back to a cupcake. Sign up for Gray's monthly e-newsletter (www.dozencupcakes.com) for breaking info on upcoming flavors, and a chance to make suggestions for new cupcakes.
13. The caloric content is unknown. What you don't know for sure won't upset you. Gray admits that customers ask, but he demurs. "I just say, 'A lot.'"