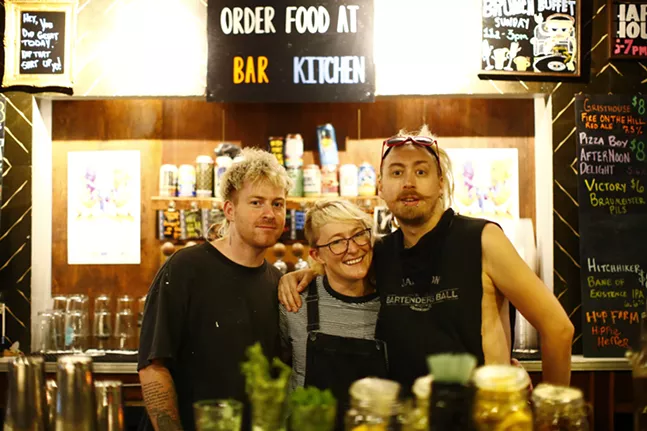 Considering the impressive number of events it hosts, as well as its signature menu of original cocktails and fresh food, it's no surprise that Spirit has dominated three Best Of categories. In the few short years since it took over a former Moose Lodge in Lawrenceville, it's become a staple of the local arts and entertainment scene, with a regular schedule of live music, DJs, and cultural events, including readings, art openings, and comedy shows. On any given weekend, patrons can hit the floor at In Bed By Ten, Afroheat, Diamond Life, or any other of its regular dance parties, only to return, perhaps hungover, for the pizza brunch buffet offered every Saturday and Sunday.
To sample anything off the cocktail or draft list, or from the on-site pizzeria, Slice Island, is to know that this isn't your normal bar fare. The draft list features a diverse, rotating selection of tasty beverages from local and national breweries, as well as creative, yet unpretentious cocktails, including the Garden Mule, made with lavender syrup and the refreshing, musically named Gin and Juice. Vegans and vegetarians need not despair, as the food menu features dairy-free and meat-free slices, as well as Italian veggie dishes like the homemade black pepper tagliatelle made with Spirit's own garden pesto.

But it's not all DJs, drafts, and hot, cheesy slices, as Spirit has worked to distinguish itself with its ongoing Rooftop Garden project. The staff currently grows herbs and produce in a number of raised beds, but the project would provide them with more fresh ingredients for Spirit's many cocktails and food offerings. It would also feature energy-generating solar panels, a new dining area, and better sound insulation to keep party and concert noise at a minimum for the surrounding neighborhood.

Previously, founder and co-owner Thomas Barr told CP that he hopes the project will "institutionalize Spirit in a way" and help continue its goal of "being a good neighbor, as well as a sort of industry home base for progressive and sustainable culture."

The project gives fans of the venue more to look forward to besides the usual pizza and beer.