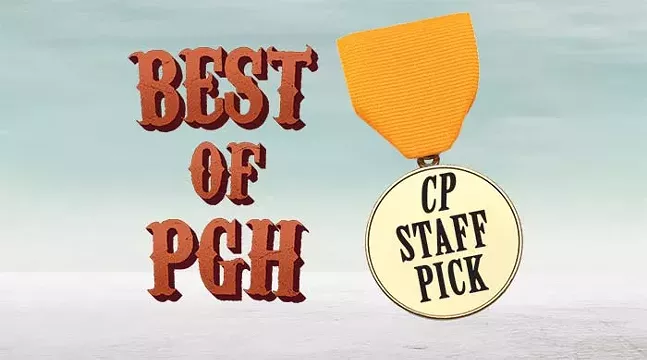 Best Local Artist with a Bassnectar Remix
Buku
bukudatdude.com
Buku's track "Front To Back" was already a standalone hit, but when Bassnectar remixed the song, adding drums and speeding up the tempo, the new mix cemented Buku's name in the EDM world. And because the Pittsburgh native, born Robert Balotsky, likes to spend much of his free time at home, the high-profile remix has helped bring more of the EDM scene to the city.
Best Way to Avoid Uber
Bikeshare with ConnectCard
healthyridepgh.com
Pittsburgh has something special to help those looking to stay loyal to the bus. After registering with bikeshare nonprofit Healthy Ride, users get unlimited free 15 minute rides by tapping ConnectCards on the bikes. Take a free ride to or from the bus stop or T station, and you'd be shocked at how easy it is to avoid hailing an Uber to get wherever
you want in the city.
Best Music Videos
Spish
spish.tv
Fuzzy VHS, lo-fi animation, found footage, puppets, a journey into the wiggling torso of a Thanksgiving turkey — these are all components you're likely to find in a Spish video. Posted frequently to Facebook aka SpishTV, these shorts range from one-offs to official videos (the "We Like Jesus" one is a masterpiece) all draped in the band's deeply odd but very friendly point of view.
Best place for deer and wild fowl to live in harmony
Allegheny Cemetery
alleghenycemetery.com
If you're driving up Mossfield Street past the Allegheny Cemetery, you'll most likely see deer peacefully grazing alongside turkeys and geese, like a Pennsylvania wildlife version of a 1990s United Colors of Benetton ad. For some, it may look like turkeys and deer fighting an epic turf war among the tombstones. For others, it's a reminder that we can all get along despite our differences.
Best Seasoned Everything Bagels
Pigeon Bagels
pigeonpgh.com
As far as bagel flavors go, everything ranks pretty high. It has everything! But so many bagel shops skimp on the seasoning, leaving you with a couple poppy seeds and a fleck of salt. Pigeon Bagels heavily seasons both sides of the bagel (revolutionary) and really hits home the meaning of the seasoning.
Best view if we didn't love cars so much
Frank Curto Park
Bigelow Boulevard
Every night at a park tucked between Polish Hill and the Hill District, the sun sets over North Side and pink hues are cast on Downtown's skyline. It's spectacular. Problem is, hardly anyone enjoys it because Frank Curto Park is a cast-off public space. Why? Because Bigelow Boulevard runs adjacent, and it's designed like a highway to ferry people from Downtown to the East End. If this view and park were more of a priority, we would redesign the road
to force drivers to slow down, and then maybe they could stop off and enjoy the view.
Best Veggie Burger
Pittsburgh Sandwich Society
pghsandwichsociety.com
Meatless "impossible" burgers get a lot of love 
these days, but beef-averse Pittsburghers shouldn't sleep on the city's selection of good old fashioned veggie burgers. The PGH Sandwich Society tops its veggie patty with cheddar, caramelized onions, greens, tomato, and aioli. It's simple, delicious, and a great option for both vegetarians and meat-lovers looking to try something new.
Best Soup to Cure a Bad Day
Tram's Kitchen
4050 Penn Ave., Bloomfield
There is no better cure for a bad ailment than good soup, and there is no better soup than a bowl of pho from Tram's Kitchen. The broth is flavorful and comforting. It's salty, sweet, tangy, hearty, and everything else you could want. It's great on a cold winter day, but worth sweating through in the summer too.
Best Under the Radar Restaurant
Keystone Cafe
357 Sixth Ave., Downtown
It kinda smells like an NYC bodega, which could be good or bad, depending upon who you are. For me, good. They serve a comprehensive list American breakfast sandwiches. Then, like a superhero changing clothes in a phone booth, Keystone Cafe turns into a Turkish restaurant for lunch, serving delicious hummus, lamb, grape leaves, etc.
Best Smell
Kennywood Rollercoasters
4800 Kennywood Blvd, West Mifflin
It isn't necessarily a pleasant smell, the mixture of grinding gears, grease, and air brakes. But when that hot mass of air wafts your way from The Thunderbolt, it's the definitive smell of fun the hearkens back to school trips to the park and staying up past your bedtime.