Wigle Whiskey began making barrel-aged spirits in 2011, inspired by a longstanding history of whiskey in the Pittsburgh region.
In fact, some would say the distillery is now making some history of its own.
To even begin distilling at its home base in the Strip District, Wigle had to lobby the state Senate to allow on-site craft distilling. Since then, its team has continued to lobby for changes to the state's liquor laws, including one that allows distillers to sell products online.
Pennsylvania's alcohol laws are notoriously strict, partly stemming from the history of Prohibition. Most liquor carriers in the state are run by the Pennsylvania Liquor Control Board, which brings in so much money for the government that it's hard to part with it.
Even with Pennsylvania's stingy liquor laws, Wigle co-owner Meredith Meyer Grelli notes privatization in other states isn't necessarily good for businesses. "What we've seen in some states that are completely private is that there's such a consolidation at the distributer level and at the retailer level," says Grelli. "You almost end up functioning with a near-monopoly anyhow."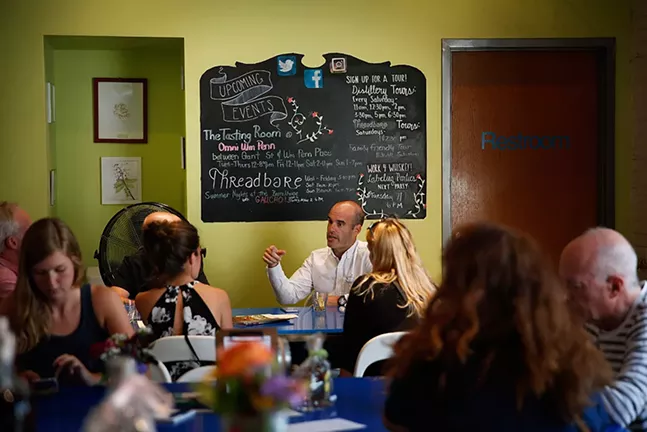 Wigle would rather forge a new Pennsylvania model for distilling and selling booze.
Before the Prohibition era, Grelli notes that at its peak, Pittsburgh would've had a distillery for every 9,500 people. "I like to show this graph of American distilleries before Prohibition and then after Prohibition," says Grelli. "You see this very precipitous decline where Prohibition hits and we lose thousands of distilleries across the country that existed, and we've really never rebounded as a nation since."
Wigle has been "hellbent" on distilling whiskey to get people to think about whiskey the way they did before prohibition. It's led the distillery to make complex whiskey.
"With whiskey, there's just so much character in the bottle that comes from the compounds in the distillate itself, as well as the years in barrels we spend making it," says Grelli. "The patience required and the long-term perspective that it requires is pretty unique."
Whiskey remains the distillery's mainstay, with rye, ginger, wheat, and other varieties, but Wigle has also ventured into making other spirits. Rum, gin, vodka, absinthe, and flavored liqueurs and bitters are also available, and they're always exploring more. "We have a structure of innovation that allows us to flex our creative muscles as much as we want," Grelli says.