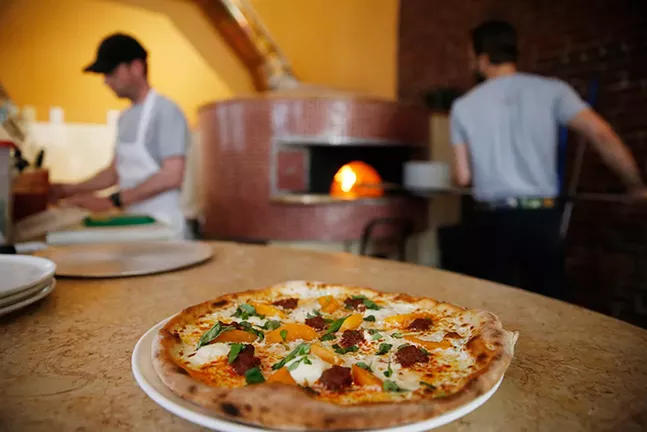 When you walk by Piccolo Forno, it's not uncommon to see a truck at the corner of 38th and Butler unloading cords of wood into the restaurant's basement. It may seem just another delivery, like for linens or produce, but every detail at this perennial Pittsburgh favorite matters, particularly the wood.
The Italian restaurant uses a kiln-dried hardwood comprised of oak, cherry, and maple, says owner Domenic Branduzzi. OK, unless you're in the wood-fired pizza business, that probably doesn't mean much. But Branduzzi says those details play a significant role in the restaurant's ability to consistently produce a trademark Tuscan pizza crust.
"[Kiln-drying] is extremely important for pizza making, in my opinion," Branduzzi says. "The wood burns more efficiently and with a larger flame, so you end up using less to maintain a consistent temperature." The result is a pizza crust with a perfect balance of breadiness and crispness.
Since landing in its Lawrenceville location in 2005, Branduzzi and crew have been churning out a winning mix of traditional, adventurous, and accessible Italian fare. The pizza grabs the most headlines – Branduzzi studied under Neapolitan-style expert Roberto Caporuscio – but the menu boasts a strong assortment of pasta and seafood as well.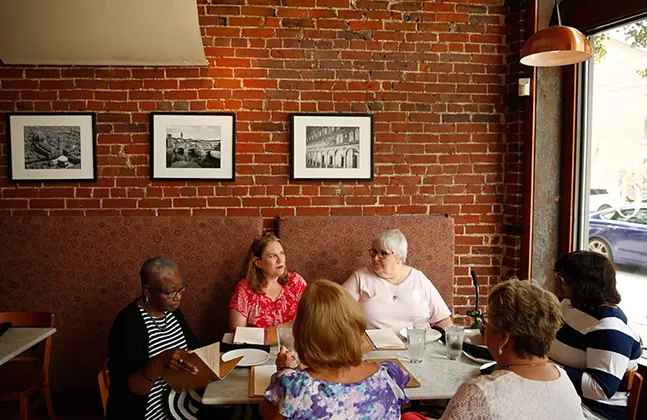 A couple of the most popular non-pizza favorites include cozze (steamed mussels), fegato con crostini (chicken liver pâté with crostini), and the cappelletti di gorgonzola pasta (a rich, cheesy pasta dish with a cream sauce). Rounding the menu out is the panini section, all served on homemade focaccia bread, which is fitting since the restaurant was born out of Branduzzi's father's Italian bakery in the Strip District, Il Piccolo Forno, which closed in 2008.
But what keeps Pittsburghers coming back to Piccolo Forno, and voting — it's a six-time Best Of Pittsburgh winner — is the warm atmosphere. Some Italian restaurants go overboard on the whole "recreating the piazza" vibe and it feels forced and tacky. Not here. The interior is welcoming and open, offering a firsthand view of the wood-fire oven and the cooks at work; a few outdoor tables on the sidewalk are perfect for warm-weather dining (and help advertise the delicious sights and smells to passersby).
That mix of attention to detail and lack of pretension breeds Piccolo Forno's success. It works because the people behind it are passionate about their food, and it shows. They try to keep Antonio's favorite phrase in mind: "Fare tutto con amore." Make everything with love.