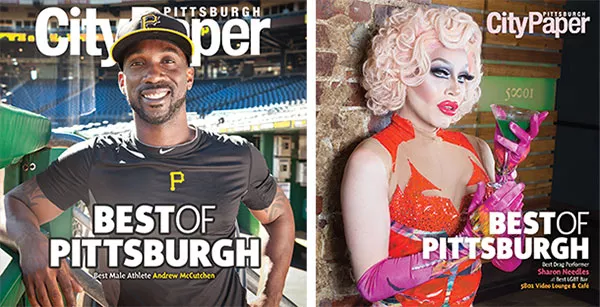 Having been involved in roughly 10 of City Paper's Best of Pittsburgh Readers' Polls over the years, I've managed to make a few observations about what readers like.
For example, we love the places that have always been there for us, like Eat'n Park. The local chain never misses a Best Of list and quite frankly, it would probably be a little sad if it ever did. But we also love our arts, our sports and our people. And that's what this year's guide celebrates.
On our covers were reader choices for Best Male Athlete and, in a new category, Best Drag Performer. I'm willing to go out on a limb and say the two probably have very little in common, but they are both part of what makes this city great: people from diverse backgrounds with differing philosophies and ideas coming together to form a pretty unique community.
On the pages that follow, you'll meet your favorite artists and activists like Jasiri X and Baron Batch. But you'll also hear from the people behind your favorite restaurants and shops, such as Dora Walmsley and Deirdre Kane, who teamed up to make a neighborhood market in Lawrenceville a reality. While we all have our favorite eateries, bars, bands and hangouts, it's the people behind those ventures who are truly the best.
— Charlie Deitch, Editor
Featured Video: