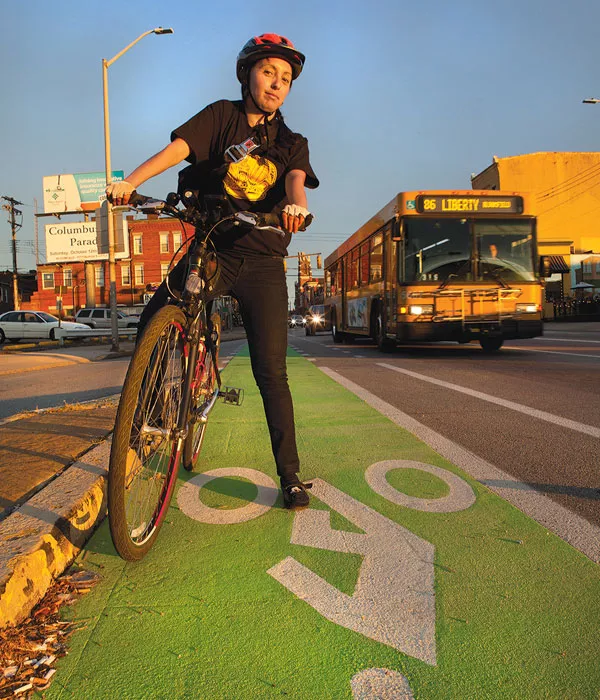 Best Local Twitter Parody Account
Pittsburgh Dad
@Pittsburgh_Dad
Fans of the web-based series Pittsburgh Dad can expect to see much of the same Pittsburgh pride and Yinzerisms on this Twitter account, manned by Pittsburgh Dad actor Curt Wootton and writer Chris Preksta. "That giant duck cost $20,000?! If they paid that much, this duck better be able to fill potholes or play on the Steelers offensive line."
2nd: LouKravenstahl @LouKravenstahl
3rd: Evil Mike Tomlin @EvilMikeTomlin
Best Local Fundraiser
Bitches Ball, Animal Rescue League
The Animal Rescue League's event to promote National Spay Day isn't just another fundraiser. Last year, at Cruze Bar, attendees danced, drank and voted for their favorite performers in a drag show. "People couldn't stop talking about it," recalls marketing director Ann Yeager. Save the date for the next one: Feb. 25, 2014. It's not to be missed.
2nd: Dirty Ball, Attack Theatre
3rd: Urban Garden Party, Mattress Factory
Best Eyesore
"Walking to the Sky," CMU's campus
There they go: seven people suspended forever while walking up a pole. One simply can't ignore this 100-foot-tall sculpture, created by Jonathan Borofsky. But how far a walk is it to the sky? Are they already there? And what happens when they reach the end of the pole and presumably fall back to Earth? Curse these troublesome questions!
2nd: BAYER sign on Mount Washington
3rd: Luke Ravenstahl
Best Lame-Duck Stunt by Luke Ravenstahl
Disappearing
What to do if you're a mayor facing a police scandal and a federal grand jury? Abruptly announce, after six years in office, that public service just isn't for you. Then, for the final 10 months of your term, vanish. We thought using an official vehicle to go see Toby Keith was bad; at least we knew where our mayor was.
2nd: UPMC lawsuit
3rd: Continuing to exist/being himself
Most Fan-Friendly Local Professional Athlete
Charlie Batch
Even though Charlie Batch spent most of his 11 years with the Steelers as a backup, the Homestead native is one of the best-liked players to wear the black and gold. It's not just that he's a hometown hero; it's that his charitable investment in projects like Homestead's 16th Avenue Playground prove he never forgot where he came from.
2nd: Hines Ward
3rd: Troy Polamalu
Best Local Facial Hair
Brett Keisel
Keisel's beard has become one of the nation's most recognizable patches of facial hair, attracting notice from national media and City Paper readers alike. (During Steelers training camp, for example, NFL.com columnist Judy Battista tweeted, "Brett Keisel's beard is amazing.") The beard takes several months to grow — and its annual shaving has become a popular fundraiser for Children's Hospital.
2nd: Pascal Dupuis
3rd: Adam Causgrove
Best @#$!@ Traffic @#$!
Route 28
Since our polls closed, PennDOT opened one of Route 28's long-closed northbound lanes, but don't get too comfortable: Another closure is in store before construction wraps up in late 2014. Ah, but when it's done, you'll be able to drive to Kittanning without a single stoplight. To have the gem of Armstrong County so near to hand ... isn't that worth any price?
2nd: Squirrel Hill Tunnel
3rd: 376
Best News for Cyclists
New Bike Lanes in the City
The city has made strides in making Pittsburgh more bike-friendly this year. But on the road, the most obvious — and perhaps most needed — changes are four miles of new bike-lane infrastructure citywide. Among the most prominent: one-tenth of a mile of bright green paint on bike lanes in Bloomfield.
2nd: Completion of Great Allegheny Passage trail at Sandcastle
3rd: 2012 state law requiring cars to give bikes 4 feet of clearance
Best Comics Artist
Rob Rogers
www.robrogers.com
"The latest mass shooting was so close to us ... is everyone OK?" asks someone deep within the Capitol ... revealed in this cartoon to be a jowly Congressman comforting bags of gun-lobby cash. The Pittsburgh Post-Gazette's longtime editorial cartoonist is a reliable and often hilarious defender of common sense and scourge of the pompous and powerful.
2nd: Ed Piskor
3rd: Jim Rugg
Goods & Services
|
Culture & Nightlife
|
Food & Drink
|
People & Places