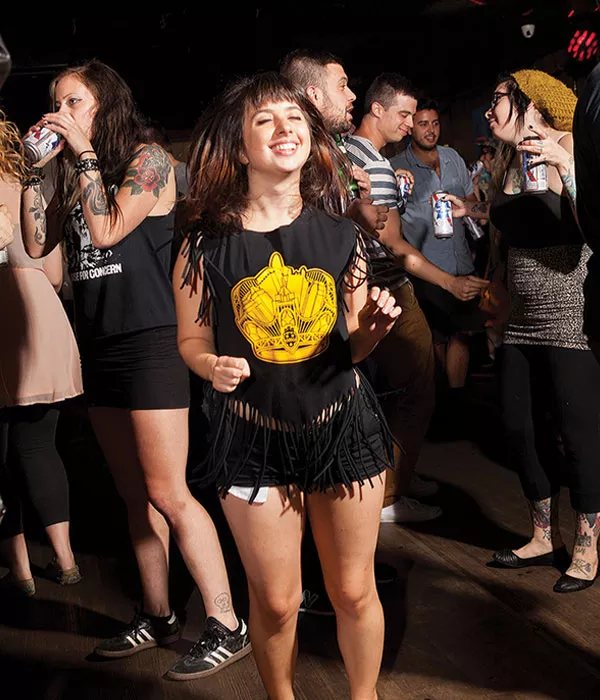 Best Local Theater Company
City Theatre
1300 Bingham St., South Side
412-431-CITY or www.citytheatrecompany.org
Led by longtime artistic director Tracy Brigden, City is Pittsburgh's largest theater company focusing on new work — including occasional world premieres by name playwrights. Recent seasons' polished productions have included Maggie-Kate Coleman and Anna K. Jacobs' edgy, Andy Warhol-themed musical POP! This season brings Christopher Durang's hit Broadway comedy Vanya and Sonia and Masha and Spike.
2nd: Quantum Theatre
3rd: Pittsburgh Public Theater, Downtown
Best Gallery for Local Artists
Space
812 Liberty Ave., Downtown
412-325-7733 or www.spacepittsburgh.org
Among the city's larger galleries, this expansive Downtown venue, owned by the Pittsburgh Cultural Trust, is one of the few to regularly feature local artists, and to exhibit their work alongside that of international artists. Recent shows have ranged from the playful Romper Room to the introspective Overlapping Memories, a creative exchange with artists from Spain.
2nd: ModernFormations, Garfield
3rd Most Wanted Fine Art, Garfield
Best Dance Company
Pittsburgh Ballet Theatre
412-281-0360 or www.pbt.org
While beloved for its annual staging of The Nutcracker, and for producing iconic works like Swan Lake, the PBT has more than classics on its mind. The company, led by longtime artistic director Terrence Orr, regularly ventures into work by modern masters like Twyla Tharp, and even contemporary works that push the boundaries of ballet.
2nd: Attack Theatre
3rd: Texture Contemporary Ballet
Best Local Music Venue
Stage AE
400 North Shore Drive, North Side
412-229-5483 or www.stageae.com
It's an outdoor venue, an indoor venue and a club, all in one. And that versatility is surely one of the keys to this North Side space. But the real draw at Stage AE is always the talent, and with acts like Belle and Sebastian, Sigur Ros and Mac Miller headlining, it's hard to go wrong.
2nd: Mr. Smalls, Millvale
3rd: Altar Bar, Strip District
Best Pop/Rock Band (that's NOT The Clarks)
Bastard Bearded Irishmen
Every day is St. Patrick's Day when this local favorite takes the stage. The band is as much at home playing classical Irish folk music as it is playing the Irishmen's own distinct style of Irish music with a strong punk influence. That distinct sound has led to gigs all year long, so you don't have to wait until March to hear it.
2nd: Donora
3rd: Meeting of Important People
Best Metal Band
Dethlehem
Here's maybe all you need to know about Dethlehem, Pittsburgh's finest metal act to be inspired by role-playing games: When it opened for GWAR at Mr. Small's a few years back, even lead singer Dave Brockie was impressed by the costumes. Yes, those are real metal helmets, and notwithstanding the sometimes-jokey material ... this is a real metal band.
2nd: Lady Beast
3rd: Fist Fight in the Parking Lot
Best Alt-folk/Alt-country Band
The Armadillos
This is the third Best Of win for The Armadillos, and it's not hard to hear why. At a time when sticky-sweet Americana-ish rock bands top the charts, this four-piece brings a stripped-down, dark traditionalism to its music, without losing its sense of fun. Keep a lookout for a new record in the coming year, the band's third since 2010.
2nd: The Harlan Twins
3rd: Cathasaigh
Best Jazz/Blues Band or Performer
The Olga Watkins Band
Olga Watkins — chef, singer, general personality and lady-about-town — has been at the head of the class for years now. Her chops are undeniable, her band is one of the tightest, and she's quintessentially Pittsburgh: Alongside torch-style tunes, expect to hear the signature, Steelers-inspired number "Drink Up Yinz Bitches."
2nd: Phat Man Dee & The Cultural District
3rd: Sean Jones
Best Hip-Hop Performer(s)
Wiz Khalifa
What's Wiz been up to this year? Pittsburgh's biggest entertainment export in recent years has been touring relentlessly to support last December's O.N.I.F.C. ... oh, and having a baby with longtime girlfriend Amber Rose. The couple welcomed Sebastian Taylor Thomaz on Feb. 21, and have been tweeting sweet, mushy stuff about "Baby Bash" ever since.
2nd: Mac Miller
3rd: Tracksploitation
Best New Bar
Tender Bar + Kitchen
4300 Butler St., Lawrenceville
412-402-9522 or www.tenderpgh.com
Tender opened last spring amidst a growing Pittsburgh cocktail scene, and it quickly carved out a niche. A small menu of American comfort-food-inspired dishes supplements an expertly curated cocktail menu and a "Banker's List" of traditional cocktails, many pre-Prohibition-era in origin. The largely 1920s-inspired décor alone is enough to warrant a trip.
2nd: Industry Public House, Lawrenceville
3rd: Acacia, South Side
Best New Club
Cavo
1916 Smallman St., Strip District
412-918-1068 or www.cavopgh.com
The newest big club in town is the Strip District's Cavo, which features a small restaurant in addition to the large club area. Besides the usual dance nights, Cavo has hosted plenty of interesting events: among them the RAW Artists Pittsburgh series, a showcase for local artists and musicians.
2nd: Skybar, South Side
3rd: Latitude 40, Robinson Township
Best Strip Club
Blush
135 Ninth St., Downtown
412-281-7703 or www.blushexotic.com
Whether you're out for a night on the town or looking to spice up your lunch hour, Blush is ready to keep you entertained. In addition to the regular schedule of exotic dancers, the club features nationally known dancers and adult-film stars, plus amateur nights, couples nights, happy-hour specials and a lunch buffet.
2nd: Cheerleaders Gentlemen's Club, Strip District
3rd: Club Erotica, McKees Rocks
Best Sports Bar
Jerome Bettis' Grille 36
393 North Shore Drive, North Side
412-224-6287 or www.jeromebettisgrille36.com
Everything about this restaurant pays homage to athletics, including the fact it's wedged between PNC Park and Heinz Field. There are plenty of nods to the legendary Steelers halfback too, including The 36 steak, Jerome's burger and a "Bus" steak salad, plus standard tavern fare and some wild-card menu items, like a deep-fried cheeseburger. It's a great place to watch the game, or spread out for an after-work happy hour.
2nd: Mario's Saloon, Shadyside and South Side
3rd: Primanti Bros., multiple locations
Best Dance Club
Static
1650 Smallman St., Strip District
412-315-7330 or www.staticpgh.com
For serious fans of electronic dance music, the Top-40-dominated club scene can feel a little lacking. Which is why it was kind of a big deal when Static opened as "the city's first and only electronic-focused night club."The 10,000-square-foot space — formerly Rosebud— regularly features national talent, as well as resident DJ Strobe.
2nd: Diesel, South Side
3rd: Whim, South Side
>Best Monthly/Weekly DJ Night
'80s Night, Belvedere's Ultra-Dive
4016 Butler St., Lawrenceville
412-687-2555 or www.belvederesultradive.com
Last year, Neon — known to most just as "'80s Night" — underwent a quiet change of DJ. The former DJ Hatesyou left for England, and his successor took over the Thursday-night event, under the name ... DJ Hatesyou. If you don't care about getting up early Friday morning — or rolling out of bed smelling like booze and smoke — you're in good company here.
2nd: Title Town Soul and Funk Party, Brillobox (Bloomfield)
3rd: Pandemic, Brillobox (Bloomfield)
Best Bartender
Tim Quinlan, Gooski's
3117 Brereton St., Polish Hill
412-681-1658
When you want a stiff drink and you want it fast, Tim Quinlan is your man. His philosophy is, "Don't make people wait for a drink." After 17 years tending bar at Gooski's — and thanks to his unusually good memory for faces and beverage preferences — he has speedy service down to a near science.
2nd: Mark Miller, Monterey Pub (North Side)
3rd: Maggie Meskey, Salt of the Earth (Garfield)
Best Happy Hour
Mad Mex
Multiple locations, www.madmex.com
Happy hours are ubiquitous, but Mad Mex's is tough to beat: half-off drafts, half-off regular wings and $7 for a 22-ounce margarita. There's a generous list of craft beers from the likes of Troeg's, Victory, Great Lakes and Boulder, and even some Belgian brews mixed in. Offer is good at all seven local Mexes between 4:30 and 6:30 p.m. daily.
2nd: Tamari, Lawrenceville and Warrendale
3rd: Sharp Edge, multiple locations
Best Cocktail List
Tender Bar + Kitchen
4300 Butler St., Lawrenceville
412-402-9522 or www.tenderpgh.com
Tender's cocktail list varies regularly, and caters to a variety of tastes, from robust to light-and-sweet. Each drink has a few more ingredients than you expect, and each has gone through rigorous testing and editing via the team of experienced barkeeps. A fun addition: The menu includes notes on each featured cocktail from the bartender who concocted it.
2nd: Bar Marco, Strip District
3rd (tie): Acacia (South Side) and Olive or Twist (Downtown)
Best Bar to Karaoke
Nico's Recovery Room
178 Pearl St., Bloomfield
412-681-9562
Nico's is one of those great Pittsburgh dives, and its Saturday-night karaoke is a perennial favorite with City Paper readers. Just be sure to sign up early if you want to sing: The forgiving audience may not pressure performers, but it can be hard to squeeze through the crowd just to get up on stage.
2nd: Round Corner Cantina, Lawrenceville
3rd: Cappy's Café, Shadyside
Best LGBT Bar
Cattivo
146 44th St., Lawrenceville
412-687-2157 or www.cattivo.biz
This Lawrenceville bar, a favorite for local lesbians, strives to offer something for everyone. At times, this spot has a neighborhood-pub feel, where you can shoot pool or watch a ballgame. Other times, it's a full-on dance club and venue for drag shows and other live performance. The kitchen is even open late serving pretty stellar pub grub.
2nd: 5801 Video Lounge & Café, Shadyside
3rd: Blue Moon, Lawrenceville
Best Bar to People Watch
Belvedere's Ultra-Dive
4016 Butler St., Lawrenceville
412-687-2555 or www.belvederesultradive.com
Belvedere's caters to a multitude of different crowds, and perhaps that's what makes it great for people-watching. One night, it's punk bands; the next, it's a roller-skating dance party or a party called "Sexplosion." Throw in some Lawrenceville townies and cheap drafts, and both your curiosity and your thirst will be quenched for hours.
2nd: Local Bar + Kitchen, South Side
3rd: Dee's Café, South Side
Goods & Services
|
Culture & Nightlife
|
Food & Drink
|
People & Places