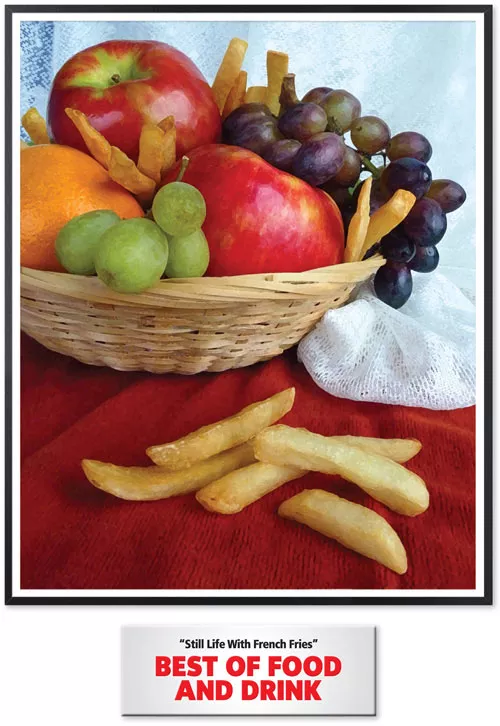 Best New Restaurant
Meat & Potatoes, Downtown
2nd: NOLA on the Square, Downtown
3rd: Burgatory, Aspinwall
Best BYOB Dining

Piccolo Forno, Lawrenceville
2nd: Root 174, Regent Square
3rd: Pusadee's Garden, Lawrenceville
Best Outdoor Dining
Pusadee's Garden, Lawrenceville
2nd: Round Corner Cantina, Lawrenceville
3rd: Double Wide Grill, South Side
Best Chef

Kevin Sousa, Salt of the Earth
2nd: Donato Coluccio, Donato's
3rd: Keith Fuller, Root 174
Best Bakery

Oakmont Bakery, Oakmont
2nd: Prantl's Bakery, Shadyside and Downtown
3rd: Mancini's, McKees Rocks, Strip District and Downtown
Best Breakfast

Pamela's, multiple locations
2nd: DeLuca's, Strip District
3rd: Dor-Stop, Dormont
Best Brunch

Grand Concourse, Station Square
2nd: Coca Café, Lawrenceville
3rd: The Zenith, South Side
Best Business Lunch

The Capital Grille, Downtown
2nd: Eleven, Strip District
3rd: Six Penn Kitchen, Downtown
Best Romantic Restaurant

Dish, South Side
2nd: Le Mont, Mount Washington
3rd: Casbah, Shadyside
Best Indian Restaurant

India Garden, Oakland
2nd: Tamarind, Oakland, Scott Township and Cranberry
3rd: People's Indian, Garfield
Best Japanese Restaurant

Nakama, South Side
2nd: Little Tokyo, Mount Lebanon and South Side
3rd: Ichiban Hibachi Steakhouse, multiple locations
Best Italian Restaurant

Piccolo Forno, Lawrenceville
2nd: Donato's, Fox Chapel
3rd: Girasole, Shadyside
Best Thai Restaurant

Nicky's Thai Kitchen, North Side and Verona
2nd: Thai Cuisine, Bloomfield
3rd: Bangkok Balcony, Squirrel Hill
Best Chinese Restaurant

Sesame Inn, multiple locations
2nd: China Palace, multiple locations
3rd: PF Chang's, Homestead and Robinson
Best German Restaurant

Hofbrauhaus, South Side
2nd: Max's Allegheny Tavern, North Side
3rd: Penn Brewery, North Side
Best French Restaurant

Paris 66, East Liberty
2nd: Brasserie 33, Shadyside
3rd: Café du Jour, South Side
Best Middle Eastern Restaurant

Aladdin's Eatery, multiple locations
2nd: Kassab's, South Side
3rd: Ali Baba, Oakland
Best Mexican/Latin American Restaurant

Mad Mex, multiple locations
2nd: Mexico City, Downtown and South Side
3rd: El Campesino, multiple locations
Best Contemporary American Restaurant

Salt of the Earth, Garfield
2nd: Eleven, Strip District
3rd: BRGR, East Liberty and Cranberry
Best Vegan or Vegetarian Restaurant
Quiet Storm, Friendship
2nd: The Zenith, South Side
3rd: Double Wide Grill, South Side
Best Restaurant to Take Out-of-Towners

Primanti's, multiple locations
2nd: Church Brew Works, Lawrenceville
3rd: Fat Heads Saloon, South Side
Best Place to Try Something New
Tamari, Lawrenceville
2nd: Salt of the Earth, Garfield
3rd: Kaya, Strip District
Best Cheap Eats

Eat'n Park, multiple locations
2nd: Primanti's, multiple locations
3rd (tie): LuLu's Noodles, Oakland / Tram's Kitchen, Bloomfield
Best Steakhouse

Ruth's Chris Steak House, Downtown
2nd: The Capital Grille, Downtown
3rd: Morton's The Steakhouse, Downtown
Best Seafood

Monterey Bay Fish Grotto, Mount Washington and Monroeville
2nd: Penn Avenue Fish Co., Strip District and Downtown
3rd: Mitchell's Fish Market, Mount Lebanon and Homestead
Best Sushi

Nakama, South Side
2nd: Little Tokyo, Mount Lebanon and South Side
3rd: Umi, Shadyside
Best Pierogies

Pierogies Plus, McKees Rocks
2nd: Bloomfield Bridge Tavern, Bloomfield
3rd: Church Brew Works, Lawrenceville
Best Burger

Burgatory, Aspinwall
2nd: Tessaro's, Bloomfield
3rd: BRGR, East Liberty and Cranberry
Best Pizza

Mineo's, Squirrel Hill
2nd: Pizza Sola, South Side, East Liberty and Oakland
3rd: Fiori's Pizzeria, Beechview
Best Wings

Quaker Steak and Lube, multiple locations
2nd: Fat Heads Saloon, South Side
3rd: Buffalo Blues, Shadyside
Best Late-Night Menu

Mad Mex, multiple locations
2nd: Primanti's, multiple locations
3rd: Ritter's, Bloomfield
Best Coffeehouse

Beehive, South Side
2nd: Crazy Mocha, multiple locations
3rd: Espresso a Mano, Lawrenceville
Best Frozen Treats

Razzy Fresh, Oakland and Squirrel Hill
2nd: Oh Yeah! Ice Cream and Coffee Co., East Liberty
3rd: Rita's Italian Ice, multiple locations
Best Desserts

Gullifty's, Squirrel Hill
2nd: Cheesecake Factory, South Side and Ross Park Mall
3rd: Dozen Bake Shop, Lawrenceville and Oakland
Best Local Beer

East End Brewing, Homewood
2nd: Penn Brewery, North Side
3rd: Church Brew Works, Lawrenceville
Best Beer Selection in a Restaurant

Sharp Edge, multiple locations
2nd: Fat Heads Saloon, South Side
3rd: D's Six Pax & Dogz, Regent Square
Best Wine Selection in a Restaurant

Sonoma Grille, Downtown
2nd: Wine Loft, South Side
3rd: Toast!, Shadyside
State of the Art
Are you one of those avant-garde types not content with majority rule? Check out these recommendations from our editorial staff.
Best Meal-To-Go
The Franktuary Truck. franktuary.com/foodtruck/
Half the fun of going to the Franktuary truck is finding it. From its Downtown-based wiener shop, the truck ventures all over, setting up in church parking lots, outside concert venues and even at weddings. It's got an abbreviated menu, but diners can find plenty of creative fare, like the Canadian dish poutine, consisting of French fries topped with vegan gravy and cheese curds from Lawrenceville-based Arsenal Cheese. You can track the truck on Twitter @franktuary.
Best example of Booze Making You Nostalgic
Duquesne Pilsener. www.duquesnebeer.com
It was fall of 2010 when Mark and Maria Dudash revived the Prince of Pilsener: long-defunct Duke beer. This year, the beer began showing up in bars all around town. The beerscape now is different from what it was when Duke's South Side brewery folded in 1972 — crafts are the rage — but there's a place in Pittsburgh's heart for a straightforward, refreshing pils without the bells and whistles.
Best Example of Booze Making You Charitable
Steel City Big Pour. Construction Junction, Point Breeze
412-243-5025 or www.constructionconjunction.org
We're sure folks already support all the great work mega-recycler Construction Junction does ... but staging an annual fundraiser with huge amounts of craft beer sure can't hurt. The Steel City Big Pour, now in its fifth year, sells out fast, but lucky funders get beer toys (growler, opener, taster glass and beer caddy), and three hours to sample brews from more than three dozen breweries, many of them local.
Best Proof That an Army Marches on Its Stomach

Occupy Pittsburgh. Mellon Green, Downtown.
In news coverage of the Occupy Pittsburgh movement, it's the sign-waving protesters who get the attention. But what keeps them fed are donated food and a cadre of volunteers who prepare and serve it. Occupiers may not succeed in reversing capitalism run amok ... but unsung volunteers prove — by example — that communities can run on something other than greed.
Best Step Forward for Urban Agriculture
Market Square Farmers Market. marketsquarepgh.blogspot.com
We're agnostic on the recent rehab of Market Square, whose newly paved expanse often feels lifeless. But in warmer months, the Downtown space was invigorated each Thursday by its revitalized Farmers Market. This market wrapped up in November, so you missed organic produce, artisanal soaps and more from vendors like Harvest Valley Farms and Rise Above Bakery. But it will return next year, putting the "market" back in Market Square.