Best green nexus
North Point Breeze/Wilkinsburg
If we really want to be a big, green City of the Future, we could do worse than building out from the few square blocks that contain: reusables mother lode Construction Junction; the city's busiest drop-off recycling center; Steel City Biofuels; urban composter Agrecycle; and member-owned, organic-and-regional food provisioner East End Food Co-Op. A couple of blocks away, in Wilkinsburg, is Urban Dreams, Mindy Schwartz's pioneering curbside farm. Meanwhile, and perhaps not coincidentally, it's all a stone's throw from sprawling, semi-wild Frick Park, the city's largest swath of asphalt-less woodland -- a green role model for us all.
Best use of Pittsburgh as setting for recent feature film
Zack and Miri Make a Porno
Pittsburgh took a backseat in Kevin Smith's 1999 comedy Dogma, but nearly a decade later, the city in winter is practically a character in his latest film, Zack and Miri Make a Porno. Looks like Smith couldn't help coming back for more! Actually, the director swapped out the intended setting of Minnesota for Monroeville, a decision which brought with it a bunch of whaddups to Pittsburgh. Characters slouch around in Pirates jerseys, and follow the Monroeville Zombies hockey team -- a nod to George Romero's locally filmed classic, Dawn of the Dead. Even a drunken Steelers fan is thrown in for laughs. It's like Smith really understands, showing Pittsburgh in all of its snowy, dirty-looking glory.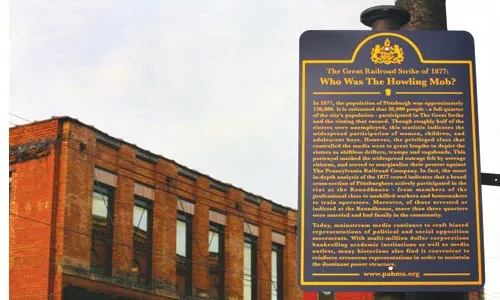 Best way to celebrate defeating Philadelphians
Self-guided walking tour of The Howling Mob Society's signs
Howlingmobsociety.org
Forget Flyers-Penguins, Steelers-Eagles or Phillies-Pirates. The real cross-state rivalry dates back to 1877, when striking Pittsburgh railroad workers clashed bloodily with the local sheriff and troops from Philadelphia. "Philadelphia's troops had just returned home from service in the Reconstruction South," reads one Howling Mob sign in the Strip District. "Tired, hungry and missing their families, these men were sent to Pittsburgh to defend the interest of businessmen who were losing money for every hour their trains stood idle." What happened next is part legend, part history that will actually interest you. And fortunately, the Howling Mob Society – a shadowy group of leftist historians -- has placed 10 unoffocial historical markers throughout the Strip District, Downtown, Lawrenceville and Polish Hill to chronicle the Great Railroad Strike of 1877. Among them is the tale of "Pat the Avenger ... a calm and collected gunman ... [who reportedly] killed several retreating militiamen." Take your brotherly love and shove it!
Best reason to subscribe to The New York Times
All the Pittsburgh shoutouts
It just happened again. In a story about Big Three auto execs traveling to Washington, D.C., this seemingly random nod to the 'Burgh popped up: The reporter, John Schwartz, suggested the executives might "stop in Pittsburgh for a sandwich at Primanti Brothers." An unscientific study shows that little ol' Pittsburgh gets tagged a lot in the paper of record. Last year, our town turned up in articles about American landscapes, the gloomy economy, aging populations, Frank Lloyd Wright, Arab college students studying in the U.S., old-car collections, natural-gas drilling and the gun-rights lobby. And that's not even counting features on UPMC, our feuding Episcopalians, and the endlessly scrutinized Pennsylvania primary and the swing-iness of Southwestern PA voters. The love affair was consummated this summer with the Times' unabashed paean to all things 'Burgh, "36 Hours in Pittsburgh." To other media we may still be a punchline, but somebody in New York loves us.
Best "secret" boat launch
Beneath the 40th Street Bridge
At most boat launches, motorboats rule. Trailers wallow in the water while their owners splash about, yelling at a companion in the truck. Meanwhile, a small flotilla of other boaters waits just beyond the dock, trying to get out. It ain't exactly the way to begin a quiet journey of reconnecting yourself to nature. But canoeists and kayakers have an option all their own: a boat launch on the Allegheny, beside the pier on the city side of the 40th Street Bridge. A gravel walking trail leads from a parking area to the riverside -- effectively restricting access to boats you can carry. And once you slip into the current, you can travel upstream, past the abandoned warehouses and makeshift fishing camps of Lawrenceville. Or explore the privately owned paddlewheelers across the river, allowing yourself to drift through the (generally) quiet backchannel of Herr's Island. The facility is maintained by Friends of the Riverfront, but the most important thing to be maintained here is some peace and quiet.
Best Pittsburgh-born athlete you haven't heard of
Scott Winkler
After he was paralyzed as a U.S. Marine fighting in Tikrit in 2003, Shaler native Scott Winkler said the only sport he thought he'd be able to pursue was bass fishing. But since then, Winkler, who now resides and trains in Georgia, is a member of the U.S. Paralympic track and field team and a world-record holder in adaptive shot put. He placed in the Top 5 in Beijing, met the president and has become one of the national faces for the U.S. Paralympic team. Winkler doesn't compete for money and glory. He competes to show that, despite all he's gone through, he still can.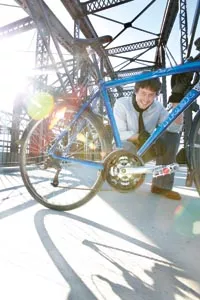 Best news for cyclists
Hiring Stephen Patchan as "bike czar"
Ever noticed that when people talk about hiring a government "czar," it's usually to fight a battle that seems unlikely to end? Whatever the challenges of their jobs, America's drug czars and terrorism czars don't have to worry about job security. And now comes Stephen Patchan to finally resolve the eternal tension between Pittsburgh's drivers, cyclists and pedestrians. Patchan, whose formal title is "bicycle/pedestrian coordinator," was hired in August (thanks to a grant by the R.K. Mellon Foundation) to help make the city more friendly to alternate modes of transit. Mayor Luke Ravenstahl has charged him with a number of duties: presiding over efforts to improve crosswalks, signage and facilities for cyclists; better tracking of bike- and pedestrian-related accidents; and helping to educate everyone about safely sharing the road. The goal is a city where bikers, drivers and walkers can peacefully exist side-by-side. And right after that's done, Mr. Patchan, there's a situation in the Middle East that could use your expertise.
Best facial hair on a local public figure
The moustache of Dom Costa
State Rep. Dom Costa's flawless mustache probably didn't win him his District 21 seat in the 2008 election. But its throwback appeal couldn't have hurt in many of the working-class communities alongside both banks of the Allegheny, either. Had this contest been decided earlier in the year, Costa's moustache would have faced off against the playoff-beard of Pittsburgh City Councilor Bill Peduto. But Peduto, gearing up for a re-election bid in 2009, eventually took razor in hand, leaving Costa a clear field. They say people change when they get to Harrisburg ... all we ask, Dom, is that whatever compromises you end up having to make in the belly of the beast, you always find a way to save face.
Best "but is it art?" controversy of 2008
Mfone goes to prison
When previously convicted 22-year-old graffiti artist Daniel Montano, a.k.a. Mfone, was brought before a judge in July on vandalism charges, he ended up with probation, community service, a $232,582 fine -- and 2 ½ to 5 years of jail time. The sentence polarized local opinion, with many applauding the conviction, including community action group Lawrenceville United, while friends and others in the arts community have condemned it and sought to raise funds for Montano's appeal. That Montano's sentencing occurred just days before graffiti artist Barry McGee received a standing ovation for his presentation at the Carnegie Museum of Art was a remarked-upon irony. So, is graffiti actually art? In Pittsburgh, it seems, the answer is "only in a museum."
Best omen for the future
Pittsburgh's resilient housing market
The city's housing market seems to have resisted the sub-prime mortgage collapse gripping other metropolitan areas -- at least, so far. "The Pittsburgh region finished the most recent 12-month period up 3.21 percent," according to statistical data on PittsburghToday.com. "Only one benchmark city did better." Sure, much of that stability is because we didn't experience the kind of growth other cities experienced during the bubble, and we've had the least new construction permits issued over the past year. Housing isn't the only determining factor for economic health, nor is Pittsburgh immune to changes in the larger economy -- but if the storm's coming, we're starting with a better umbrella than most.