Best sausage pizza that really isn't
Spak Bros.
5107 Penn Ave., Garfield. 412-362-7725 or www.spakbrothers.com
There was a brief window of time between your correspondent's irrational and youthful hatred of pizza and the advent of her longstanding vegetarianism. And in that window, she found -- briefly -- true love in the form of sausage pizza. The cruel light of reason and morality conspired to extinguish that love light, never to be thought of again. Never, that is, until the valiant Brothers Spak set up shop, offering vegetarian and vegan alternatives to pizza favorites like pepperoni, sausage and dairy cheese. The seitan wings will rock your face off. The pretend sausage is moist and flavorful. The pierogies are right up there with church-granny ones. And the dudes are cool as hell.
Best vegetarian food that we don't exactly know what it is
Vegetarian chicken ham, Thai Cuisine.
4627 Liberty Ave., Bloomfield. 412-688-9661
Being vegetarian has its perks. For one, when you're manufacturing faux meats, you can come up with innovations that aren't possible in the world of real meat. Witness the "vegetarian chicken ham" available as a protein option with entrees at Thai Cuisine in Bloomfield. It's some sort of soy concoction, we know that much. And it comes in little round slices. And strangely enough, it kind of tastes like what would happen if you really did make a ham with a chicken. Jealous yet, meat-eaters? Wait until you taste the bacon fish. (OK, we made that one up.)
Best macaroni-and-cheese that will burn your mouth like delicious hot lava
Kelly's Bar & Lounge
6012 Penn Circle South, East Liberty. 412-363-6012
Here are some tips for when you order a bowl of macaroni and cheese (or mini-mac, if you can't handle a full-size portion) at Kelly's. First, leave your lactose intolerance at the door and order it before you're starving. Sometimes it can take a little while, but it's not like it's Easy Mac. Second, chill out for a minute or two before you dig in: IT WILL BURN YOU. It's hard to contain yourself when you see that baked layer of cheese on the top of the bowl, but give it a few cracks to let the steam out, and you will be in creamy melted-cheese heaven in no time.
Best place for free Continental breakfast
The samples at Whole Foods
5880 Centre Ave., East Liberty. 412-441-7960
Herb-roasted turkey. Cantaloupe. Wine crackers. Spinach dip. Tiny cookies shaped like bunnies. Irish banger. Brie with almond and figs on mini-toast. Watermelon. Chocolate chewies. Veggie chips. Spicy andouille turkey sausage. Baby Swiss cheese. Blueberries. Pumpkin roll with cream-cheese frosting. Red-pepper hummus. Tuna salad. Red seedless grapes. Chocolate. Aged Montegrappa cheese. Teriyaki beef. Apple cake. French butter. Mango salsa. California roll. Rosemary bread. Honeydew melon. Black Forest cake. Cashews. Tortilla chips. Raw-milk cheddar. Brazilian rice and bean salad. Munched on it all, plus a toothpick or two.
Best liquid lunch Downtown
Apollo Café
429 Forbes Ave., Downtown. 412-471-3033
Most lunchers at this hole-in-the-wall diner get soup, either as an entrée or in combination with the venue's sandwiches, salads and Greek specialties, like hummus and stuffed grape leaves. And why not? A cup is a bargain $2.50 (a bowl is $3.50), and this is no dressed-up water: Home-made, hearty and packed with chunky ingredients -- soup you can eat with a fork. Flavors rotate throughout the week -- wedding, chicken barley, beef Roma, lentil, chicken noodle -- but we count the days till Thursday, when the sublime, creamy Greek lemon-chicken-rice soup gets the spotlight. Toss in the wildly efficient counter service, a piece of home-baked apple pie and the chance to overhear an intriguing tidbit from the many legal eagles who sup here, and it's the perfect lunch break.
Best place to get spicy
Penzeys Spices
1729 Penn Ave., Strip District. 412-434-0570
Sure, you can burn up shoe leather going from specialty store to ethnic grocery to supermarket rounding up the spices you need -- or you can just pop into Penzeys, your one-stop for culinary potions from A (ajwain seed) to Z (zatar blend). From single spices to useful pre-mixes (meat rubs, curries and cook's cheats such as herbes de Provence), this is also where bakers can fret over four kinds of cinnamon or dozens of varieties of pepper; plenty of posted information and recipe cards help consumers make the educated choice. Best of all, Penzeys sells all spices in quarter-ounce jars. That means low prices and guilt-free indulgences in a new-to-you spice. Plus, the smaller amounts keep the home supply fresher, and running out simply means another welcome trip to re-supply and re-indulge.
Best place to buy chicken-on-a-stick after stumbling out of a bar at 2 a.m.
Cambod-Ican Kitchen
1701 East Carson St., South Side. 412-381-6199
On the South Side, most bad decisions end at 2 a.m., after you've downed your fifth Jager bomb and the butt end of your eighth Yeungling. Luckily, your first good decision can be made just a few staggered steps down Carson Street. Cambod-Ican Kitchen's "chicken-on-a-stick" can help you right a night of wrongs. The moist, dark-meat kabobs are delicious, relatively healthy substitutes for traditional late-night munchies, like greasy gyros or pizza. Now that recent crackdowns on sidewalk vending have pushed the restaurant's late-night operation indoors, we suggest that you follow the chicken's succulent smells inside before heading home for the night.
Best place to feel as if your Hungarian grandmother were cooking Sunday dinner
Józsa Corner Hungarian Restaurant
4800 Second Ave., Hazelwood. 412-422-1886
For 20 years, Alexander Jozsa Bodnar has been serving consonant-laden dishes out of this cozy, if a little out-of-the-way, location. Specialties of the house include Transylvanian gulyas, homemade kolbasz, porkolt with nokedli, and of course, stuffed cabbage. The opportunity to indulge a Pittsburgh sour-tooth is worth the trip alone -- but the Corner's welcoming slogan, "Our customers become friends and family," makes it a must. Bodnar is a steward of Hungarian culture and cooking, and it shows in his humor and food prep. Two caveats: You'd better bring your own booze, as the Corner doesn't serve, and you'd be wise to call ahead. There's no guarantee it will be open if you just drop by, but Bodnar does take reservations during evenings and weekends.
Best beer of mysterious origins
$1 fridge night at the Bloomfield Bridge Tavern
4412 Liberty Ave., Bloomfield. 412-682-8611 or myspace.com/polishpartyhouse
An upstairs fire can temporarily shut its doors, a county-wide drink tax can make bartenders begrudgingly ask patrons for pocket change, but nothing can permanently stop the BBT from stocking its fridge on Thursdays with $1 bottles from 5 p.m. to midnight. Sure, you may not recognize all (or sometimes, any) of the labels that you're so economically purchasing -- but that's the adventure of a night on the town. The whole range of barroom emotion is captured in those chilled refrigerators: the tantalizing mystique of a crowd of unfamiliar faces, the ecstatic joy in discovering a tasty new friend, and the universally felt disappointment of ending the evening lips-to-bottleneck with a cartoon-sporting twist-off.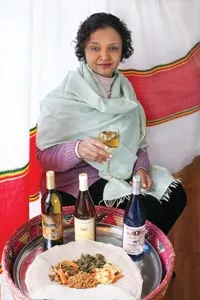 Best place to drink honey wine
Tana Ethiopian Cuisine Bar and Restaurant
5929 Baum Blvd., East Liberty. 412-665-2770 or tanaethiopiancuisine.com
It might have seemed odd for Tana, the relative new kid on the block, to open just a stone's throw from the already popular Abay early this year. But it's certainly worked out for the best, furnishing the city with a Pittsburgh-sized Ethiopian district. And maybe -- given the communal feeling that splitting injera bread inevitably evokes -- it makes sense that the two restaurants would be practically close enough to share a platter. But in short time, Tana has found at least one way to distinguish itself from its delicious BYOB rival: serving tej, a honey wine that is called the national drink of Ethiopia. The sweet elixir is a nice complement to a traditional night of dining.
Best cure for a hangover
Vegetarian pho at Tram's Kitchen
4050 Penn Ave., Bloomfield. 412-682-2688
The Hangover Fairy has paid you a visit, but instead of leaving a quarter under your pillow, the only thing hidden there is your pounding head. If anything, your wallet seems mysteriously light as well. Once you've found your sea-legs, and scrounged up a few grubby bills, pilot your damaged vessel toward homey Vietnamese joint Tram's Kitchen, where you can patch yourself up with a giant bowl of steaming vegetarian pho soup. The clear, salty broth is exactly what your depleted cells are craving, and the rice noodles and chunks of tofu are filling, but easy on the stomach. Add a little red chili-pepper sauce to clear your head, sprinkle in some bean sprouts to feel like you're getting your vegetables, and you're nearly home-free. Let a couple of hours on the couch and a Gatorade do the rest.
Best cure for a hangover, "hair of the dog that bit you" division
Sunday brunch Bloody Marys at Six Penn Kitchen
146 Sixth St., Downtown. 412-566-7366 or www.sixpennkitchen.com
Knowing that the linchpin guest of any brunch is Bloody Mary, Six Penn's executive chef Keith "Illustrated Man" Fuller (look for the tattooed dude in a white jacket) and bar manager Tom Nazaruk (no tattoos we know of yet) offer two styles. One is a zippy traditional "house" version, served with a light, lager-style beer chaser; the "Smoky Mary" features fresh house-smoked tomatoes (in season, these come from the restaurant's roof garden or local farms), along with shallots, olives, a secret mix of spices, and Ketel One vodka for "nuttiness," and served with a dark-beer back, like Arrogant Bastard. Match the cocktail with Fuller's "coffee frites" -- Belgian-style shoestring taters dusted with a mix of sugar, spices and powdered fresh grounds from locals Coffee Tree Roasters -- and your Saturday-night superpowers should make a triumphant return. If that doesn't work, add an order of the tempura-battered bacon and prepare for battle!
Best place to show off who you woke up next to
Coca Café
3811 Butler St., Lawrenceville. 412-621-3171 or www.cocacafe.net
So, things went your way last night, and as the late-morning sunlight streams through the curtains, a disrobed hottie slumbers next to you. But before he or she leaves -- when you'll post the video on the Internet -- there's time for a discreet victory-lap brunch at Coca Café. Amid the bustling café's colorful, mismatched décor, over an avocado omelet or herbed-goat-cheese French toast, you'll catch knowing glances from the other boho breakfasters assembled to see and be seen. If you're lucky, there will be the customary long line outside, allowing you to show off for Butler Street's foot traffic, on its way to trendy boutiques. And if your little tryst was a triumph for one, but a downfall for the other, try the back room's more private booth-seating.
Best place to score a cheap six-pack and a slice
Graziano's Pizzeria
4109 Penn Ave., Lawrenceville. 412-621-7790
No doubt many of us look forward to the time when we revise Pennsylvania's absurd liquor laws and put an end to the odd loophole known as the six-pack shop. Until that great day, though, bars will continue to charge extortionate amounts for alcoholic take-out. And until that day, you'd be wise to find a cheaper alternative for last-minute runs -- like Graziano's. Are there places with better beer selection, and better pizza? It's possible. But at Graziano's, you'll find great prices on brews, whether it's a sixer of PBR tall-boys or something schmantzy; slices of pie at the ready; and a complete lack of bullshit. It's open late, too, and located across from Brillobox, making it a great place to grab supplies before or after a show -- just make sure you don't check to see if it's open while, say, Richard Lloyd's setting up onstage.
Best place to create totally bizarro dessert concoctions
Oh Yeah! Ice Cream and Coffee Co.
232 S. Highland Ave., Shadyside. 412-253-0955 or www.customswirl.com
Habanero, gummi bears and bananas. Caramello, figs and M&Ms. Wasabi peas, graham crackers and chocolate sauce. If you can dream it up, they can probably swirl it in a cup for you at Oh Yeah! Ice Cream and Coffee Co., an all-day and late-night noshing option in Shadyside. There's a huge blackboard filled with mix-ins and a case full of Ohio-made ice cream (both dairy and vegan) and sorbets. You can choose from the menu of pre-selected combos, or dream up your own. The coffee's pretty boss, too, and you might find a pup or two in the store or on the patio in the hotter months. Stop in for a waffle with ice cream for breakfast. (They have oatmeal and muesli, too, for the virtuous.) Warning: Delicious treats and tons of options can prove extremely addictive.
Best brew for teetotalers
House-brewed birch beer or cream soda at Church Brew Works
3525 Liberty Ave., Bloomfield. 412-688-8200 or www.churchbrew.com
Not to shatter anyone's universe here, but not everyone wants to drink beer all the time. Sure, there's some merit to the idea of "when in Rome ..." and especially when eating at one of the city's finest brewpubs. But some folks don't care for booze. Some folks have to drive. Some folks are ... children. And for them, the Church Brew Works has taken the same care and attention to detail that they lavish on their beer and applied it to soft drinks, with delicious results. The brews are sweet and flavorful, without the chemical yick of a mass-market fountain soda. Even dedicated beerologists can't help but savor every sip.
Best rosemary fries
Market Street Ale House.
Market Square, Downtown. 412-745-2337.
After a long day making paper-clip chains, downloading Joni Mitchell records and filling out TPS reports in triplicate, many a cube-farm dweller's thoughts turn to beer. Mmm, beer. And while Downtown's not the swinging cultural nexus that, say, Lawrenceville is, there are plenty of places to scratch that particular itch. But if you don't lay down a decent carbs-and-fats base, you might get asked to leave the 71A and walk home. That's where the Ale House's fantastic rosemary fries come in handy. Served in a little cone with mayo and a sprig of the pungent herb, the seasoned fries are crisp and salty and just a little north of bar food on the hoity-toity meter. Plus, if you're weird, you can put some of the rosemary in your gin-and-tonic for a taste explosion. Yum.
Best waffles
Point Brugge Café
401 Hastings St., Point Breeze. 412-441-3334 or www.pointbrugge.com
There are plenty of things at Point Brugge Café that merit breaking into songs of praise and glee: the fantastic beer selection, the warm and friendly atmosphere, the muscular moules, the fries -- served with mayonnaise, like God intended. But the truly transcendent find here are the waffles, part of Sunday's magnificent brunch spread. They're slightly-crunchy Liege waffles, with plenty of sugar in the batter. Don't waste time, effort or precious belly-space on fruit or syrup. These babies stand alone, and merit any possible wait for a table -- there are no reservations accepted at this chic little neighborhood bistro. Get the full brunch, with Champagne and a potato strudel. Who needs Europe?
Best place to grab a kombucha with lunch
Red Oak Cafe.
3610 Forbes Ave., Oakland. 412-621-2221
Catering specifically to the work/school crowd in Oakland (it's open morning to early evening, Monday through Friday), Red Oak serves up breakfast and lunch specials that are a tad healthier than you'll find at the burger joints and bars that populate the surrounding blocks. Occupying the space that the Kunst Bakery vacated a few years back, the deli-style cafe offers hot specials daily, along with a list of sandwiches and salads -- most of them light, and many vegetarian. Grab a soda if you'd like, but if you're hippie enough, you can indulge in a kombucha (a flavored fermented tea beverage said to cleanse and detox).
Best beer from the source
East End Brewing
6923 Susquehanna St., Homewood. 412-537-2337 or www.eastendbrewing.com
What's a growler? In beer talk, it's a half-gallon glass jug, returnable for deposit, that you can take to the tap again and again. Owner and brewmaster Scott Smith's cult following is built partly on the clubhouse atmosphere at the four-weekly Growler Hours, where you can fill up (your jug, that is) on such staples as Fat Gary's Nut Brown Ale, Black Strap Stout, the flagship Big Hop, and seasonal treats like Snow Melt Winter Ale -- all just steps from the gleaming tanks where they were brewed. Kegs are available, too, but unless your favorite bar carries East End on tap, the growlers are your best bet: East End doesn't do disposable bottles, just part of an environmental ethic that includes reused and salvaged equipment, careful use of resources -- and a certain happy buzz that leaves you feeling kindly toward all living things.
Best way to feel Italian, even if you didn't grow up con famiglia
Breakfast pizza at Colangelo's bakery with a cappuccino from La Prima Espresso
207 21st St., Strip District. 412-281-7080 or www.colangelosbakery.com
"When he owned the place, Antonio [Branduzzi, dearly deoarted] made pizzas in the morning for people to grab on the go," explains current owner Denise Colangelo. "So, we kept it up. We'd put it out at 9. It would sell. We started putting it out at 8, then 7, and people bought it all." At just $1.25 a slice, this super-thin crust pie, in several tried-and-true versions (margherita, pepperoni, spicy green olive, hot banana pepper and the supremely delish onion-gorgonzola) combined with a hit of caffeine in the form of a doppio espresso or cappuccino, is the breakfast of championes alla Franco's Italian Army. Also offered is egg frittata on fresh-baked focaccia. Explains Colangelo, "At this point, if we don't put out the pizza each day, people get huffy."
Best dinner theater ... where dinner is the theater
Nakama Japanese Steakhouse and Sushi Bar
1611 E. Carson St., South Side. 412-381-6000 or www.eatatnakama.com
The whirling of sharp implements ... the slicing and dicing of ingredients, some of which end up in the chef's own hat ... the awe-inspiring alchemy of the flaming onion volcano ... such displays are part of almost every teppanyaki experience. But both in its food and the preparation, Pittsburgh's own Nakama pays special attention to detail, injecting new life into the Japanese restaurant experience. Even the light fixtures are designed to vent steam from the table below -- the flashiest display of heat and light seen on the South Side since the steel mills went cold. Also worth observing: your fellow Pittsburghers, crowded right up against the window in dazzling, colorful displays.
Best use of a pork product as a promotional gimmick
Bacon night at Harris Grill
5747 Ellsworth Ave., Shadyside. 412-362-5273 or www.harrisgrill.com
A few years back, a group of good-government reformers tried to embarrass Harrisburg legislators by putting a giant inflatable pig outside the Capitol. This is a bad promotional use of pork: In Harrisburg, when they see a giant pig on the grounds, they give him a post on the appropriations committee. Much savvier are the folks at Harris Grill, whose watering hole has become an Ellsworth Avenue mainstay despite the occasional cataclysmic fire. The Grill's regular Tuesday "bacon night" ("sponsored by Lipitor," the owners insist) offers baskets of bacon -- free at the bar and $1 per basket at the tables. And it's popular with just about everyone. Except pigs, of course. And perhaps the American Heart Association.
Best way to feel like you're supping in Constantinople ... or whatever it's called nowadays
Istanbul Grille
5501 Centre Ave., Shadyside. 412-325-3347
Turkish fare is hard to come by in Pittsburgh -- so hard, in fact, that even our exhaustive "best of" readers ballot doesn't include the category. Yet just as Turkey itself sits at the crossroads of Asia, Europe and the Middle East, so does the Istanbul Grille offer food to accommodate almost every taste. (Which is a good thing, given the small number of Turks living in Pittsburgh.) The menu is subject to frequent change -- and sometimes the most mouth-watering items on it are unavailable. But you can always find something vegetarian -- like zucchini pancakes -- alongside such delicacies as ground lamb. The pistachio pudding is highly recommended as well. The interior -- furnished with hand-painted mirrors and other grace notes -- suggests Asia Minor without clubbing you over the head with Orientalist clichés. The Grille recently moved its dining room from next door to Chief's bar in North Oakland, but its new location, near Shadyside Hospital, deserves to be a crossroads in its own right.
Best "hidden neighborhood" escape for beer and grub with the family
Big Jim's in the Run
201 Saline St., Greenfield. 412-421-0532
We have a soft spot for any place where the waitresses call you "hon," and Big Jim's -- an unassuming joint literally in the shadow of the Parkway East -- takes neighborhood friendliness to a different level. Why, we once saw former Mayor Tom Murphy eating a meal with his family there, and nobody even yelled at him. Portions here are ample (if you leave hungry, consult a physician) and prices are fair. Even members of the disappearing middle class can afford to eat out here ... and whether you're in the bar or the dining room, Big Jim's is a cozy place to disappear into.
Best neighborhood dive whose menu has global appeal
Gooski's
3117 Brereton St., Polish Hill. 412-681-1658
"Unpretentious" is the word pretentious people use for "scruffy." So let's just call Gooski's what it is: a gritty-but-friendly bar that, like the gritty-but-friendly city itself, takes all kinds. Gooski's has been known to attract the occasional Hollywood star and even a world-renowned installation artist or two. And what brings them in? Sure, it's the bands in the back, and the jukebox between shows. But it's also the great beer selection, replete with imports -- and bar food that tastes much better than it has a right to. People praise the wings, but we say, "It's Polish Hill, people: Order the Polish food." The pierogies are a particular highlight -- wash 'em down with a Baltika. (We may be mixing Slavs here, but isn't that what Pittsburgh is all about?) Someday, we'll be talking about this place the way geezers talk about The Decade. But in the meantime, order up.
Best red-velvet cupcake
Vanilla Pastry Studio
6014 Penn Circle, East Liberty. 412-361-2306 or www.vanillapastry.com
Until the bottom started falling out of the nation's real-estate market, cupcakes were the status dessert du jour. Now, though, we face yet another source of economic instability: Will cupcakes retain their value? You'll find a hopeful answer inside each red-velvet cupcake at Vanilla Pastry Studio. Stop by the adorable, playful storefront and get yourself one as an appetizer before hitting Kelly's Bar next door, or preorder a few dozen of Vanilla's mini-cupcakes to take home to the parents over the holidays. While you're at it, see if you can invest in cupcake futures: They may be just the financial vehicle to carry you through these troubled times ... and stay fed in the process.
Best evidence refuting the claim that suburban commercial strips are gustatory wastelands (Airport Area Conference)
Bocktown Beer and Grill
Pool City Plaza, North Fayette. 412-788-2333 or www.bocktown.com
OK, so the "Pool City Plaza" address doesn't exactly scream "gemütlichkeit," as the Germans would say. And we can't say the views are stirring either. But for a beer fan, there are few vistas more appealing that the line of refrigerator cases at the front of Bocktown, each displaying a dizzying array of beers from around the world, awaiting your perusal. (True devotees may wish to stop in on Wednesday nights for themed sampling events.) And while the menu is straight pub fare, it's done right -- and with a Pittsburgh twist.
Best evidence refuting the claim that suburban commercial strips are gustatory wastelands (North Hills Conference)
Bella Frutteto
2602 Brandt School Road, Wexford. 724-940-7777 or www.bellafrutteto.com
We'll confess to a bit of wariness about Wexford (official motto: "The Cranberry Township of Allegheny County!") But Bella Frutteto is enough to make us rethink our position. Strategically located across the street from an orchard, it brings an updated approach to an Italian menu, with a special focus on -- take a guess -- apples. (The apple ravioli is the house specialty.) Friendly service and a warm atmosphere make you forget you ever even heard the phrase "strip mall."
Best evidence refuting the claim that suburban commercial strips are gustatory wastelands (South Hills Conference)
Il Pizzaiolo
703 Washington Road, Mount Lebanon. 412-344-4123
"Il Pizzaiolo," of course, is Italian for "The Pizzaiolo." For a more precise definition, consult a dictionary ... but for purposes here, it's enough to know that this place, like its name, begins with pizza but doesn't end there. This upscale but casual joint offers up specialty pizza -- we're fond of the Four Season model, a four-pies-in-one hybrid -- but the menu goes well beyond that, and is supplemented with a great wine list. Il Pizzaiolo also has an intimate backroom wine bar, and in warmer months there is patio seating out back. Route 19 is just a few yards away, but you'd never know it.
Best evidence refuting the claim that suburban commercial strips are gustatory wastelands (East Suburbs Conference)
Carl's Tavern
3386 William Penn Highway, Monroeville. 412-823-4050
We know all about the reputation of Pittsburgh's neighbor to the east: When I say "Monroeville," you say "Applebee's." And from the outside, Carl's is as nondescript as a muffler joint. (Perhaps a requirement of Monroeville's zoning code?) But inside, you'll find an intimate, friendly bar with decent pub food ... and a wider beer selection than you'll find in the rest of Monroeville put together. With 20-odd choices on draft, the (somewhat double-edged) motto at Carl's is that there are more beers on tap than parking spaces. Fair warning: The parking runs out long before the beer does.
Best "all you can eat" fish tacos
Taco Tuesday lunch at Penn Avenue Fish Company
2208 Penn Ave., Strip District. 412-434-7200 or www.pennavefishcompany.com
Penn Avenue Fish Company takes fish-mongering to a whole new level. Each week, many pounds of premium, fresh seasonal creatures are peddled to home cooks in this boutiquey market. The result: blue-ribbon "scraps" of mahi mahi, snapper, salmon, tuna, swordfish and cod. These are put to scrumptious use by part-owner/chef Henry Dewey, who steams (healthy alert!) and seasons them up into taco filling, adding a shot of Sriracha hot sauce, fresh-cut cabbage, homemade cilantro salsa, house-made cucumber wasabi slaw and a secret spicy taco sauce that cannot even be tickled out of him. Dewey says, "The original Baja fish taco uses soft tortillas, but we use the hard corn taco shells. They work perfectly and remind me of family taco night back in the 1970s." Best, gorging yourself silly is just 8.99 clams (taco time is 11:30 a.m.-2 p.m.).
Best desserts for those of us who are vegan or have allergies
My Goodies Bakery
www.mygoodiesbakery.com
There's no walk-in storefront as yet, but Deanna Hitchcock's My Goodies Bakery is quickly gaining notoriety as the place to go for locally made baked goods with no animal products. Hitchcock, of Wilkinsburg, bakes vegan tasties weekly for a handful of local coffeeshops (Quiet Storm, Morning Glory, Artigianali Co.), and during the warmer months this year took her pastries on the road to the Bloomfield Farmers' Market. Customers can place orders online at the bakery's Web site, and browse a list of regular bakery items, ranging from cupcakes to vegan cheesecakes. My Goodies also does special orders -- if you'd like to cut out a certain allergen, say -- and is working on expanding its repertoire of raw treats.
Best restaurant to escape Pittsburgh without leaving the 412
Hyeholde
1516 Corapolis Heights Road, Moon Township. 412-264-3116 or www.hyeholde.com
It's not often that you associate Moon Township with the phrase "baronial splendor" ... or that you associate the phrase "baronial splendor" with sophisticated, contemporary cuisine. But so it is in Hyeholde, a suburban castle built in the 1930s by William Kryskill. In the years since, it has become one of the city's best-known restaurants in the "if anniversaries came more than once a year, we could never afford this" category. The décor and architecture suggest an English manor, as do the grounds outside (where picnics are held during summer). But the menu refuses to stay trapped in the past: At this writing, for example, diners could select a Cervena elk entrée with an appetizer of West Coast Kumamoto oysters. And of course, the sherry bisque. You'll walk out of here appreciating the food, naturally -- but also a city that could offer such a distinctive experience in the next ZIP code.
Best restaurant for inspiring cognitive dissonance among "progressive" diners
Double Wide Grill
2339 E. Carson St., South Side. 412-390-1111 or www.doublewidegrill.com
We start by cringing at the "poor white trash" theme of the menu, wincing at its references to owner "Tessie Mae Hullficker." We then scratch our heads at the pseudo-hillbilly description of brie and spinach on portabella mushroom "in a swimmin' hole of roasted pepper, garlic and basil sauce." But soon enough, we find ourselves admiring the décor of the filling-station-turned-restaurant, savoring the excellent beer menu and vegan delicacies like seitan wings. And finally, we end up salivating over the "Build Your Own TV Dinner" of sautéed shrimp, wood-grilled portabella and pineapple-saffron rice. Just don't ask us to talk about class consciousness with our mouths full.
Best restaurant to avoid cognitive dissonance among "progressive" diners
Legume Bistro
1113 S. Braddock Ave., Regent Square. 412-371-1815 or www.legumebistro.com
It's not easy to please the growing number of Michael Pollan-reading ethical foodies, but Legume Bistro may come as close as possible without going out of business. Does it offer vegetarian options? Check: It's got vegetarian samplings every Wednesday, as well as regular vegetarian entrees. Does it serve locally sourced food? Check: The restaurant even offers "farm dinners" highlighting the produce of local farms. Does it avoid the excesses of large-scale agribusiness? Check: Hell, you're lucky if you can get a table. (There are just over a dozen tables inside, plus sidewalk seating in warmer months.) Did the owners graduate from Oberlin or something? Check. Is the food amazingly good? Check ... and check, please.