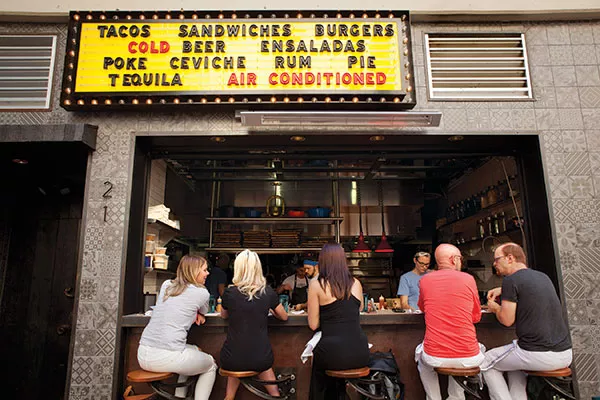 214 Sixth St., Downtown
412-471-8256 or www.takopgh.com
Once, Pittsburgh had very few Mexican restaurants. Now we have enough that plain old tacos barely create any notice; instead, Pittsburghers are rushing to embrace fusion cuisine where tacos are just the jumping-off point for deliciously exotic flavors.
There's no better example of this than at Downtown's Tako, the winner of this year's readers' poll for Best New Restaurant. It's the brainchild of Richard DeShantz and Tolga Sevdik (who also operate Meat & Potatoes and Butcher and the Rye), and offers a mash-up of Asian and Latin American cuisines. The cultural interplay begins with the name, which is a phonetic match for "taco" and the Japanese word for octopus.
Step inside Tako and there isn't much of a taqueria vibe: It's a funky, semi-industrial space reminiscent of a nightclub, dimly lit with octopus-arm sconces and chandeliers fashioned from metal chains. It's no place for a quiet tête-a-tête, but its clatter and liveliness is infectious.
The menu offers an easily navigable selection of slightly fancified versions of street food and tacos. (There's also an inventive margarita and cocktails menu, which shouldn't be ignored.) Diners can start with housemade chips and salsa, or take a flutter at crafting personalized guacamole. The standard "chef's choice" comes with white onion, jalapeno, lime and cilantro added to mashed avocadoes, but the adventurous can choose from 29 other add-ins, ranging from free to $1-4 each, and from tuna belly to pineapple. (It is possible to order a guacamole that costs $40.)
But other starters show the kitchen's playfulness. The beet tostada offers "beets pretending to be beef," and the once-derided, now-necessary kale makes an appearance combined with other greens, avocado, radishes and sesame brittle. South of the Border-inspired snacks include: street corn, ceviche, queso fundido (a cheese dip) and "Papas Bravas," a substantial plate of crisped potato chunks, drizzled with tomato sauce and garlic aioli. Chicken wings may be universal in appeal, but these "Thrice Cooked Wings" sing of Far East snacking pleasures: super crispy and sticky with a sweet fish-sauce glaze, paired with cool pickled carrots and cucumber.
Leave room for tacos! They seem small — two per order, with fillings wrapped in a fresh flour tortilla and served on a custom wooden "taco board" — but the luxurious ingredients make these rich and quite filling.
Among the "traditional" offerings are carnitas (pork), pollo asado (grilled chicken) or Baja (fish). But go loco! A chorizo taco comes with a fried egg; duck confit borrows Asian seasoning, such as charred scallions and hoisin sauce; and the "Korean" combines Wagyu short ribs with fermented cucumber, pickled carrots, sesame and peanuts. And don't miss the signature Tako taco, in which a grilled octopus tentacle is dressed up with harissa aioli, pickled red onions, mizuna and preserved lemons.
Tako has quickly proven itself to be a popular addition to the city's dining scene, as well as a must-stop for well-prepared traditional and exotic tacos.
Other Finalists
2nd: The Commoner, Downtown
3rd: Mezzo at Sienna Mercato, Downtown