3519 Butler St., Lawrenceville
412-325-3425 or www.tamaripittsburgh.com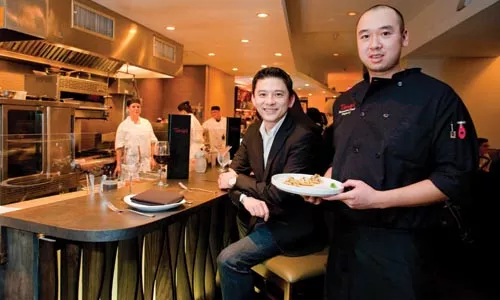 For many, many months, a sign hung outside 3519 Butler St., in Lawrenceville, promising an Asian-Latin fusion restaurant. Such an exotic combination fired diners' imaginations, but as the sign fluttered forlornly through several seasons, hopes dimmed. Then suddenly, like the long-dormant bulb bursting into flower, there it was: Tamari!
And what a splash it's made, scooping up three awards from this year's readers' poll: best new restaurant, best fusion restaurant and best appetizers.
Tamari's commitment to fusion begins with its name, which has two apt definitions in two disparate cultures. For the indigenous Huarpe people of Argentina, the word defines people who act with passion, while in Japan, "tamari" is a soy sauce.
Under the direction of executive chef Roger Li, the menu begins with a list of starters that provides a selection of small-plates choices, as well as a la carte offerings in ceviche, sushi and the robata grill.
Ceviche is a Latin American dish, in which the fish is "cooked" with seasoned citrus juice; at Tamari, less traditionally used sea creatures -- such as octopus, white tuna and yellowtail -- get the spicy-bath treatment. And sushi lovers have much to nibble on, with the nigri, sashimi and maki menus offering everything from salmon to soft-shell crab to flying-fish roe.
The robata grill is a fresh twist on everybody's favorite street snack, meat-on-a-stick. Your choice of meat -- beef tenderloin, shrimp, bacon and quail egg, or calamari -- or veg (zucchini, shitake mushroom) is skewered, grilled and served on an enormous plate. (Priced from $1.50-2.50 per stick, it's easy to sample several.) Each skewer comes with three dipping sauces: Japanese-inspired ponzu butter; zingy ginger; and slightly spicy chimichurri, the de rigueur condiment for grilled meat in Argentina.
This inventive mix-and-match style extends to the small plates. The lemongrass chicken spring roll comes with a sambal dipping sauce and a jalapeño salsa; Peking duck finds itself in a quesadilla; and the chipotle tuna tartar is topped with lively wasabi tobiko and plantain chips.
Entrées take a modern approach as well -- in execution, portion size and price. Overflowing plates are last decade's burden: These days, discerning diners want quality food, artfully prepared and served in realistic portions. Main courses run $12-16; these are not wallet-busters, and are designed to be savored. (Though it's possible that Tamari uses the largest plates in town; don't clutter up your table with purses and cell phones.)
Meat-lovers will struggle to choose between Korean skirt-steak fajita (with Asian slaw), pork tenderloin rubbed with 16 spices, lamb "lollipops" or five-spice braised pork belly with cucumber salsa. Fish are pan-seared, rolled into tacos or served in a playful "bento box" presentation. Entrees are no less inventive for vegetarians: daikon fettuccini with Japanese eggplant, or a trio of sautéed mushrooms (shitake, cremini and king trumpet), dressed with cilantro vinaigrette.
Certainly Tamari's attractive setting encourages one to linger. The façade is rather unassuming (though in the summer, there is a small sidewalk patio), but the two-story interior is warmly modern. The blankness of the matte walls is enlivened by artful lighting, the shiny copper-backed bar and decorative fringe hanging from the ceiling.
Tamari has two full bars, and diners hoping for a seat on busy nights will find themselves snuggled up to one of them. Wine, cocktails and microbrewed beers help make the wait enjoyable. During the winter months, smokers can duck out to use the back patio on the second floor. It's worth a quick visit by everyone, in fact, since it offers a great view down the Allegheny River, with Downtown's skyscrapers framed by Polish Hill.
Tamari may be the shiny new kid on the block, but it's already found a niche in one of Pittsburgh's most enduring neighborhoods ... and among the city's adventurous diners.