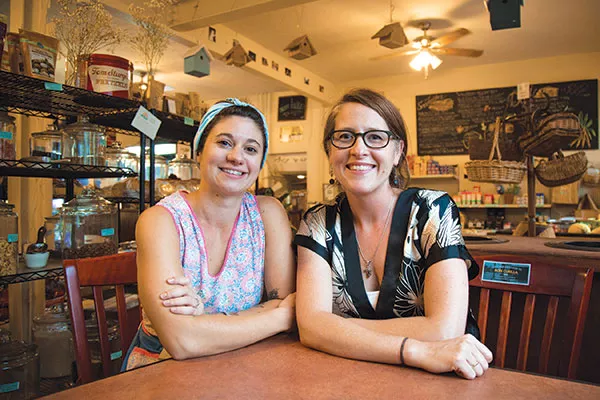 601 52nd St., Lawrenceville
412-408-3798 or www.52ndstreetmarket.com
Tucked into a corner building on the steep street that it's named for, the 52nd Street Market looks sunny and inviting.
Dora Walmsley and Deirdre Kane, co-owners of the grocery, named the Best Neighborhood Market by City Paper readers, are still glowing from the joint one-year anniversary party it held with neighbor, Butcher on Butler. While it's been a year-and-a-half since they opened, the two women have been so busy that the celebration got pushed back.
"It's been a roller coaster," says Kane, adding that neither ever set out to be a small-business owner.
The market is a labor of love, built on the strong commitment both women have to fulfilling the needs they see in the 10th Ward. Seemingly fated, they met wrist-deep in the dirt, working on Lawrenceville's community gardens. It was a natural pairing, and they began to collaborate on gardening projects. After attending a community meeting with the Lawrenceville Corporation and Lawrenceville United, they sought help from Chatham's Center for Women's Entrepreneurship to get the grocery out of their heads and into reality.
From empty space to community shop, the market has grown into a neighborly stomping ground. People drift in, grabbing a coffee, a sandwich or that night's dinner ingredients. Sometimes they just come to say hello. The store has bulletin boards for event postings, a free seed library, and a tiny nook with tables for newspaper browsing. With everything from plain white bread to locally made, gluten-free and soy-free granola, the offerings are incredibly diverse.
The market tries to do as much local- and small-business sourcing as possible. While most small businesses have higher prices, necessary to stay afloat amongst larger corporations, the market endeavors to keep its prices reasonable.
"We always pick the lowest end of the price range," says Kane. Cash, credit and SNAP cards are all accepted; the market hopes to offer discounts for low-income customers, like students and seniors, in the future.
The future is looking bright and just as busy for Walmsley and Kane. They've recently hired a staff member to focus on event planning. One of her first acts was to host a nutritionist who had a day of drop-in sessions with market-goers. Product expansion is also a goal. Bridgeway Capital recently gave them a grant to buy a new freezer, so they'll be able to offer more prepared foods. House-made frozen pizzas are first on the list. Lastly, a grocery-delivery program is in its test stages, targeting seniors who live in the surrounding high-rises. When asked how they keep up with themselves, Walmsley simply smiles and says, "It's easy to bring people together over good food."
She's already off to help the next customer.
Other Finalists
2nd: Bloomfield Saturday Market, Bloomfield
3rd: Pittsburgh Public Market, Strip District