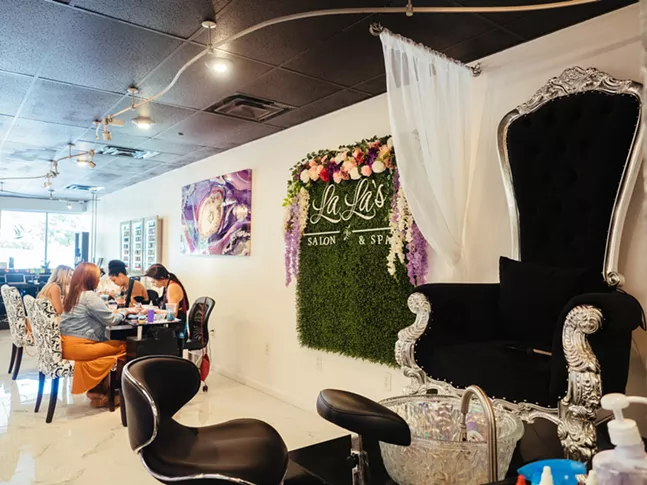 Less than two years ago, Lauren Long was making house calls to do clients' nails and running a business out of the back of her car. She built up a customer base and opened LaLa's Salon and Spa on Penn Avenue in Garfield in July 2018, and this past June, opened a second location in Monroeville.
LaLa's offers a variety of nail services but specializes in flashy and intricate acrylic nails. Scrolling through the salon's Instagram is a captivating collection of long, colorful, sparkling, painted, and sculpted nails. "What I love most about my business is that we don't tell people 'no,' so even if it's something that I've never done before, I'm going to try," says Long.
Some recent nail designs include three-inch pointed nails, dripping in golden honey and adorned with even more golden bees. Other sets feature shining clusters of Swarovski crystals, which Long learned how to apply from a class with Cardi B's nail tech, Jenny Bui.
When Long started studying cosmetology in high school, she had to drop her art class electives and turned to nail design as a creative outlet. "I felt like through nail art, I was able to still be creative, and still paint, and still but crafty, but on a very small scale," she says.
Long opened LaLa's after moving back to Pittsburgh from New York and felt there was a gap missing in the city's nail offerings. She wanted to create a salon that wasn't just a place to get nails done, but a full experience. With the Monroeville location, Long wanted to create a space that amplified the feel and decor of the first location.
"I just really wanted to cater to the woman that wants to be pampered and wants to feel beautiful, and wants to feel like a queen," says Long. "I'm not oblivious to the fact that people work very hard for their money, and when they come in here and spend on average $100 for a set of nails, they want more than just the nails; they want a memorable experience."
LaLa's Salon and Spa: 5341 Penn Ave., Garfield. 222 Center Road, Monroeville. lalassalonspa.com