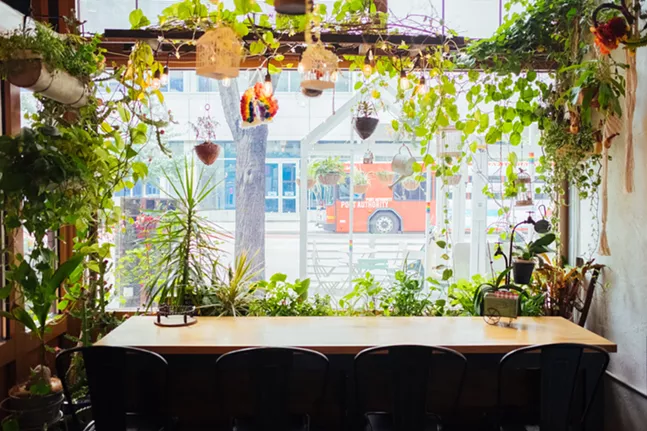 When lunch hour strikes Downtown, one thing is certain: There will be a line at Bae Bae's Kitchen.
The Korean-inspired eatery, run by husband and wife team Ashely Bae and Edward Lai, opened in 2017. The tiny restaurant boasted creative Korean fare in a fast-casual setting, something Pittsburgh had never seen before.
Now, Bae Bae's has somewhat of a cult following. Diehard fans preach love for the fresh, bold flavors to anyone who passes. And if that's not enough to get you inside, the irresistible smell will.
Bae and Lai wove their kitchen into a sustainable model from the start. Almost immediately, the restaurant was awarded a silver designation from Sustainable Pittsburgh Restaurants. In 2018, they built a greenhouse-patio for diners. The space, while providing a welcome extension to the Liberty Ave. sidewalk, also collects rain water and filters air.
The green atmosphere continues inside, a jungle of plants overtaking the front window. Vines hang around the charming, wood-studded space. It's light, airy, and adorable.
A meal at Bae Bae's starts with one of three things: rice, glass noodles, or salad. From there, it's diner's choice of meats like bulgogi (grilled BBQ steak), Korean fried chicken, crispy tofu, and whatever special is cooking that day. Then, before it's boxed up and ready to take away, pick a side of daikon, cucumber, or napa-cabbage kimchi and vegetable tempura.
There are no bad choices. The bulgogi is deep, rich, and full of spice; the huge pieces of Korean fried chicken are crunchy on the outside but not dry; and the crispy tofu matches perfectly with a sweet, tart plum sauce.
Sides go beyond kimchi and tempura (though both are incredible). There are dumplings, cheese wontons, and anything else the chef feels like putting out.
The build-your-own-bowl is Bae Bae's main draw, but its menu knows no bounds. They cover boba tea, Vietnamese coffee, and Thai iced tea. There's always something new — a Korean hot dog, grilled corn, deep fried avocado, brown butter cake — on the menu. Bae Bae's is never boring.