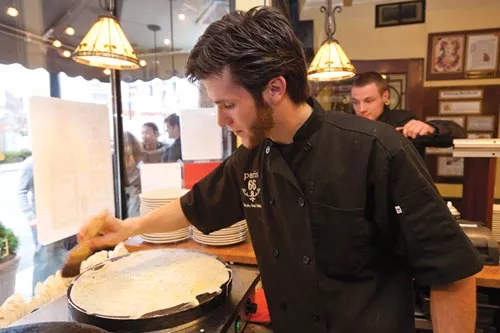 Paris 66
6018 Penn Circle South, East Liberty
412-404-8166 or www.paris66bistro.com
Had local history played out differently — had the French somehow kept the city's Point from falling into British hands roughly 250 years ago — we might all be speaking French today. And after visiting Paris 66, as many City Paper readers have done, you'll come away thinking that might not have been a bad outcome at all.
Opened in 2009 by Fred Roniger and his wife, Lori, this East Liberty bistro's very name suggests how much our cultures have in common. For starters, it's not entirely coincidental that "66" is the jersey number of a certain well-known French-Canadian hockey player.
And even if you've never been to France, the ambiance will feel familiar. Warm yellow walls decorated with Toulouse-Lautrec posters of 19th-century floor shows? Check. Art Nouveau Paris Metro signage? Check. Edith Piaf on the sound system as you peruse the extensive wine list? Mais oui.
Elsewhere, such decor might come off precious. But Paris 66 proves its authenticity right up front. The open kitchen is just to the right of the front door, and native Parisian Roniger hires countrymen to work in it, like executive chef Larry Laffont and pastry chef David Piquard.
One thing you won't find here is the stereotypical snooty French waiter. I can attest that the staff responds gently to even the most naïve inquiries, and the menu bills itself as speaking in "English, with a French accent." In a laudably diplomatic gesture to local tastes, it even offers a Continental version of that Pittsburgh favorite, the steak salad.
(If your date still bridles at trying French cuisine, start him with a lunchtime croque — the French answer to the sandwich. Ham, cheese, potatoes — all given continental sophistication imparted by ingredients like béchamel sauce.)
Thanks to an egg allergy, I'm deprived of many dishes often associated with French food: crepes and quiche and the like. But the menu offers plenty of compensations. For one, it leaves me room to try the soups, which are a strength at Paris 66, as in much French cuisine. Take the cream of mushroom, with its artful swirl of cream on the surface — and an earthy sweetness throughout. Meat dishes and seafood too are richly flavored, dispelling any perception you might have of French fussiness. Paris 66 bills itself as "everyday French cooking," and it offers not just elaborate preparations, but honest cooking done very, very well.
And though I can only look on, I'm told the macaroons are exquisite.
Be advised that waits can be long at peak hours, like the popular Sunday brunch. But also be advised that bakery items — croissants and tarts, baguettes and the house coffee — can be purchased to go.
Merci beaucoup, as they say in North Versailles. Or that's what they would be saying, had history the same good taste as our readers.