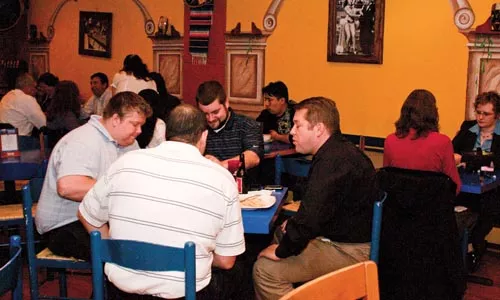 Mexico City
409 Wood St., Downtown (412-246-2042)
111 Smithfield St., Downtown (412-391-2591)
www.mex-city.com
When I returned to the Keystone State, I really only missed one aspect of life as a Northern Californian: decent burritos. In most San Francisco neighborhoods, there's a taquería on almost every street corner. And a great deal of those are equipped to serve not only delicious and authentic Mexican fare -- cooked by Mexican people from Mexico -- but also Mexican fare that you can eat on-the-go without much difficulty.
But many of Pittsburgh's Mexican restaurants are not staffed by Mexican people from Mexico, and they tend to make burritos as big as regulation-sized NFL pigskins. Assembly-line servers shovel heaps of overcooked meat, rice and beans into enormous tortillas and then wrap them up. The result is not transportable. And often, it's also neither authentic nor delicious.
So it was a welcome surprise when friends told me about Mexico City.
The original Mexico City was, and still is, located on Smithfield Street by the Boulevard of the Allies. It's a tiny restaurant marked from the street by a small burgundy awning, but when you walk in, it feels like a step out of Pittsburgh and into, well, Mexico City. The open kitchen is on your left, and instead of the assembly line common to Mexican chain restaurants, there's a crew baking their own chips, mixing their own salsas from fresh ingredients, speaking actual Spanish, and using imported foods to cook some of the best Mexican cuisine in the region.
It's because of these elements, I assume, that the place is packed every day for lunch. Show up at noon to Mexico City on Smithfield Street and you're likely to encounter a wait. During the lunch rush at Mexico City's other Downtown location, on Wood Street, you won't necessarily encounter the same wait, but you'll likely be pressed very close to other customers, each salivating for a taste of Mexico City's free chips and salsa. (Mexico City has also opened a third location in the South Side, at 2212 E. Carson St.)
On a recent Monday, I waited until 3 p.m. to avoid the lunch rush, and stopped by the Smithfield Street restaurant. One of Mexico City's owners, Alberto Martinez, was there with his son, Erick. Alberto explained that when he first arrived to Pittsburgh from Mexico City -- the actual metropolis -- pre-Y2K, he worked at restaurants like Buca di Beppo, in Station Square, and Bahama Breeze, in Robinson. Then he and his brother started a Mexican restaurant called Cielito Lindo downtown, on Smithfield Street near Strawberry Way. But soon his brother wanted to get out of the restaurant business, so Cielito Lindo closed. Alberto opened Mexico City in 2005.
The concept was simple: "We wanted to make Mexican food with the recipes we knew from home," Martinez says. He comes from a long tradition of Mexican cooks in Mexico City ("That's where the name comes from," jokes Erick Martinez), and so he knew he could create something special in Pittsburgh. "We knew we would make our own guacamole, our own salsa, everything," he says. "And we never use microwaves."
In addition to the more traditional preparation and homemade ingredients, Mexico City offers manageable, non-football-sized burritos, and a menu of familiar items: tacos, burritos, enchiladas. But familiar doesn't mean uninteresting or bad.
"We try to make good food and to make people happy," Alberto says. "And people like that."