3801 Butler St., Lawrenceville
412-622-0111 or www.piccolo-forno.com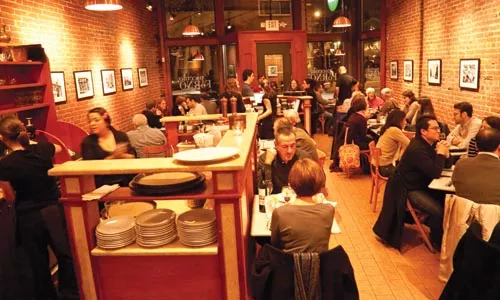 The bright, narrow dining room rings with boisterous conversation: couples, young and not-so-young, out on dates; larger groups of friends; an obvious meet-the-parents meal. With bare brick walls and polished floors crammed with tables, Piccolo Forno is a gathering place rather than a quiet getaway -- especially these days. Now open late on Thursday nights to accommodate those drawn in by Lower Lawrenceville's increasingly social, friendly atmosphere, it's a packed house, with customers spilling onto Butler Street.
Along with the traditional Tuscan dishes, many of those at Piccolo Forno are enjoying alcohol of their own provenance; those still waiting for a table cradle a bottle under one arm, or sip a glass of wine. And to Domenic Branduzzi, who opened the restaurant five years ago, that's just as it should be.
"Once you get a wine list, you get different expectations," he says. A BYOB setting complements Piccolo Forno's casual environment, wood-fired pizzas and fresh, handmade pastas. Although people always ask if he's getting a liquor license, booze is one of very few elements that Branduzzi doesn't insist on handling in-house, or making from scratch.
When Branduzzi opened on the former site of Pizzeria Regina Margherita, where he learned to cook, he was a novelty -- just 22 years old, with a freshly minted business degree from Duquesne. But "I pretty much grew into this," he says. "People expected me to do it some day -- it's in the blood."
Born in Tuscany, Branduzzi hails from a family with a tradition of preparing the region's cuisine in Pittsburgh.
For 15 years, Branduzzi's mother and father operated a bakery in the Strip District called Il Piccolo Forno ("small oven"), which helped him learn the tools of the trade and get his own business started. At the restaurant, his sisters Anna Maria and Angela often work the front of the house, and his mother, Carla, still does much of the cooking -- "she's really the heart and soul of the operation," Branduzzi says. It's "as much of a mom-and-pop place as it can be."
For first timers, Branduzzi recommends signature dishes like the tortelli, with Bolognese, or lasagna Toscana, with meat ragout and creamy béchamel sauce. But even these seeming classics are "something different" from typical Italian-restaurant fare, he notes. And from there, Piccolo Forno's menu offers plenty of room to explore: a wide variety of individual, Tuscan-style pizzas, antipasto, salads and panini sandwiches.
A little hunting also turns up some delicious vegetarian options, such as the maccheroni con melanzane al forno: rigatoni with fried eggplant and onions, smothered in rich béchamel and Gruyere cheese. Desserts include tiramisu, decadent gelato and, on weekends, Carla's homemade cakes. "We're not really pastry chefs," Branduzzi advises. The homemade confections are "more rustic."
Like his mother, who travels to Tuscany to learn new dishes, Branduzzi heads to Italy periodically "to get re-inspired." After last year's trip with a girlfriend, he brought back a couple of pizza ideas he wanted to introduce. One he's particularly excited about is the speck e mascarpone pizza, with sweet mascarpone cheese and speck (similar to prosciutto, but smoked rather than cured). "When it comes out of the oven," he says, "it's a marriage of the sweetness, the smokiness and the saltiness."
As Piccolo Forno's menu evolves, and word of mouth spreads, Branduzzi is pleased to see the whole neighborhood starting to take off. He lives around the corner, after all, and says that while the area "had that stigma before," it's drawing more foot traffic and energy. "It's only going to get better."
But one thing won't be changing anytime soon: Piccolo Forno is going to remain BYOB.