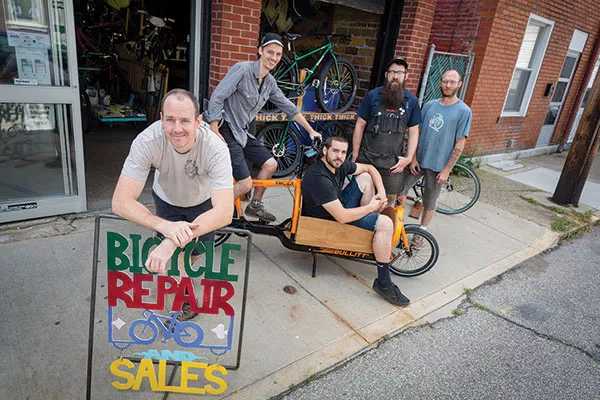 Thick Bikes
1408 Bingham St., South Side
412-390-3590 or www.thickbikes.com
Walking into a bike shop can be intimidating. There are people in Spandex, bicycles that cost as much as, if not more than, a mortgage payment, and lots of tiny tools. But at Thick Bikes, owner Chris Beech strives to get more people on two wheels ... and that means the only pressure he wants is in the tires.
"We try not to be snobby," says Beech. "We're an everyman's kind of shop."
And they practice what they preach. Wheel in a bike with Presta valves on your tires — even without knowing what Presta valves actually are — and Beech will demonstrate how to use them with a pump, then let you try yourself. As for buying a new bike, "When you come in, we try to work with you on a human level," says Adam Haller, head of sales and a fitting technician. "What do you need as a person? And let's go from there."
Thick stocks all styles of new and used bikes — from single-speed street bikes and hybrids to commuter and mountain bikes. The main-floor showroom displays all new bikes, but if you venture into the basement, you'll find a spacious room full of used rides. (Another basement room houses overflow from the upstairs showroom.) Somewhere in the shop is the right ride for everyone.
"We will support any rider," Haller says.
Haller estimates that the average new bike at Thick costs between $400 and $600, but it's closer to half that for the used rides. Thick also carries mid-to-high-end bikes, plus walls of carefully selected accessories. "We only sell things we use and believe in," Haller says.
And when you buy a bike, the shop records its serial number to help track it down if it's ever stolen or someone tries to sell it back to the shop. They recently recovered a $7,000 bike.
Thick Bikes is also a full-service repair shop, one boasting a signature tool that the Thick staffers built themselves — the King Arthur. "It can get seatposts out where all others fail and cry in shame," Haller says proudly.
The bike mechanics can help with anything else that goes wrong with your bike as well. Walk in with a flat tire, and in many cases, Haller says, it can be fixed in 10 minutes.
"We can turn around and tell you why it happened and we can tell you what to do to avoid it happening again," says Haller. "If we can help our customers learn to fix things themselves, we will."
Beech started building custom bike frames in the store's South Side space in 2000. In 2005, he began repairing used bikes and, later, selling new models. Beech bought the building itself last year, and is constantly working at improving the business.
"We want to make this shop as good as it can be."