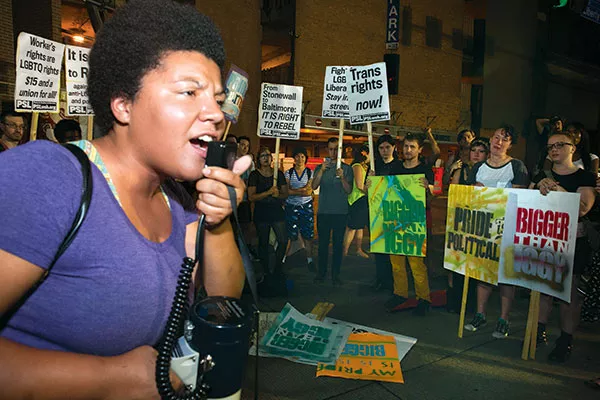 If you've been to a rally or march over the past year, read or watched any of the media coverage of the local #blacklivesmatter movement or the protests at the Allegheny County Jail, you've definitely heard Julia Johnson's name.
"I live this every day. These issues affect me. It hurts me so much, and the only way I can alleviate the pain I feel is by taking action," says Johnson. "Even though I know [that], in my lifetime, I'm not going to see all of the changes I feel are necessary to have a world that is not so oppressive — while I'm on this earth, it's important for me to do my best, and to fight, not only for myself, but for others around me, and to leave a better world for the next generation."
So it comes as little surprise that the East Liberty resident was recognized by City Paper readers as this year's Best Activist, a new category inspired by the swell of activism throughout the city.
At 23, Johnson might seem young to be the face of activism in Pittsburgh, but she says the city's youth are a large part of the movement. A passion for community organizing was ingrained in her early by her mother. She says her passion for social justice was officially solidified after reading Lies My Teacher Told Me: Everything Your American History Textbook Got Wrong, a 1995 book by sociologist James Loewen.
"That was such a revelation to me. It was just an explanation for why there's so much hurt in the world, why there are so many problems, and why our politics are broken," says Johnson. "Columbus came to the Americas and created this system of oppression for people of color, for women and poor people. It was really crystalized with that book, and it galvanized me to learn more about why the world is the way it is, and to take action and try to change it."
After six years of volunteering her time in different community-organizing efforts, this year Johnson secured a full-time position with New Voices Pittsburgh: Women of Color for Reproductive Justice.
"Julia represents a rejuvenation of the fierce activist spirit in Pittsburgh that is putting black women and girls at the center of social-change movements," says La'Tasha Mayes, one of the organization's founders.
Johnson, too, has taken note of the growing enthusiasm for activism across the city, and she hopes it continues.
"The #blacklivesmatter movement has had a domino effect across other movements and really has galvanized people to take action," says Johnson. "It's the first time I've seen in my lifetime such a huge swell of people who are educating themselves actively, who are really having tough conversations about their role in the problems we face in society. It's a beautiful thing to witness."
Other Finalists
2nd: Jasiri X
3rd: Vanessa German