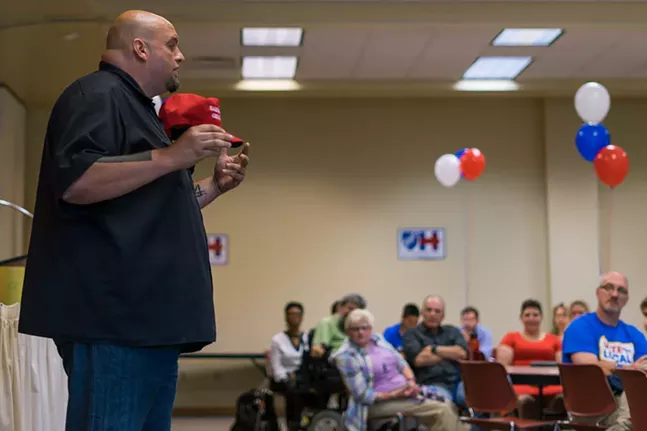 Braddock Mayor John Fetterman has a signature style. The clean-shaven bald head and beard, untucked black shirt and arm tattoos. On Wednesday night, he added a red "Make America Great Again" hat to his wardrobe. No, the progressive mayor and Sen. Bernie Sanders supporter did not suddenly swing very, very far right. Mayor Fetterman (only briefly) donned the hat as a warning that "any vote not for Hillary Clinton, or non-vote, is a vote for Trump."
Mayor Fetterman, alongside local Democratic Party officials and candidates, longtime Clinton supporters and Sanders supporters, rallied at the Pittsburgh Federation of Teachers building on the South Side to support Hillary Clinton as the Democratic Party's presidential nominee.
"There's far too much at stake to have hurt feelings," Fetterman said.
Fetterman's wife, Gisele — who is a pledged Sanders delegate and will vote for him at the Democratic National Convention in Philadelphia this month — echoed her husband that a third-party vote would just go to Trump: "I love my country more than any one candidate."
That was the sentiment at Pittsburgh's "Pennsylvania Together" event, one of 11 gatherings under the same name, organized by the Clinton campaign statewide. The relatively short rally, lasting less than an hour, was billed as the two camps coming together in unity. The events come on the heels of Sanders endorsing Clinton in New Hampshire on Tuesday. While the endorsement was trying — even a gut punch — for Sanders supporters who've dedicated months to the campaign, most local supporters say they're proud of the progressive steps taken in this year's Democratic-party platform and will support Clinton.
"This isn't the year to gamble, especially in a swing state," said Alex Austin, a pledged delegate for Sanders and head of the group Pitt Students for Bernie. Austin, a student at the University of Pittsburgh Graduate School for Public and International Affairs and an Air Force veteran, says the reaction from his group has been mixed.
"Some people want to put in their work for [presumptive Green Party nominee] Jill Stein now," Austin told
City Paper
by phone hours after Sanders endorsed. "Some people are like, 'I'm a Dem. I bleed blue.' I'm kind of in between those two. I want to move forward because Trump will take us 20, 30 years back in time. I'm torn because I love the Stein platform, but … it's hard to support a candidate knowing that she has no chance of winning."
(At the unity event, John Fetterman called Stein "Donald Trump's useful idiot.")
Austin, along with other pledged Sanders delegates representing Pennsylvania's 14th District (Allegheny County and surrounding areas), say they'll still proudly cast their ballots for Sen. Sanders at the Democratic National Convention.
Statewide, 106 delegates are going in support of Clinton, and 83 in support of Sanders. (Twenty-one
superdelegates
will support Clinton.) The 14th District includes five Clinton delegates and four for Sanders.
"Nothing is going to change for me. I'm still going to go and cast my vote for Bernie Sanders. He's the candidate I believe in," said Beth Ussery, another 14th District pledged delegate. Ussery and Austin, along with other local delegates,
crowdfunded $6,000
to offset hotel costs for Sanders delegates headed to Philadelphia. "I'm really relieved to see that the platform is going to move significantly left."
Ussery said the party has "come a long way" on accepting a $15 minimum wage. Regarding health care, she says, "We didn't get single payer, but the public option is kind of a compromise."
The
platform
also includes positions on marijuana decriminalization, abolishing the death penalty, immigration reform, LGBT rights and closing private prisons, among other issues. Ussery and others remain disappointed, though, that the party is not explicitly against the controversial Trans Pacific Partnership (TPP) trade agreement.
As for the "political revolution" ideas Sanders engendered, supporters' emotions now run the gamut — from dismal to sentimental. After so much rallying against "the establishment" and "money-influence politics," the Sanders endorsement is difficult to process for diehards.
"I don't know if he can maintain a leadership position in any future political revolution because of this [Clinton endorsement]," said Greg Schaffer, an at-large delegate from the 14th District, who still says he'll cast his ballot for Sanders. "I don't respect him any less, and I really appreciate what he's done for the country and for me personally in terms of energizing us and starting this conversation. Without him in the last 15 months we'd be in a much worse place than we are now. But moving forward, the election becomes a lot less exciting."
Schaffer said he'll focus on down-ticket races now and direct his activism elsewhere.
Aaron Rosier, one of the original local group "Burghers for Bernie", said he's confused why Sanders gave a "premature" endorsement and "stepped away from the narrative of a contested convention."
"I was already a Jill Stein voter in 2012. I think I probably will be again in 2016," Rosier said.
Striking a more sanguine tone, Ussery is looking for a collaborative approach, and in the spirit of Sanders, to hold Clinton accountable to her promise.
"[At Tuesday's endorsement] Hillary Clinton promised us a seat at the table in her White House," Ussery said. "What I want for this movement is to make sure we crowd that table with the millions of bright, capable progressives inspired by Bernie."