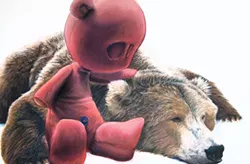 One of the most exciting things about art in the 21st century is the continual blurring of the line between street art and fine art. No longer must an artist leap between them. Rather, artists can generate work that is simultaneously both — planting one foot on each side and making the work they want to make, allowing the "promotion" from "urban" or "raw" to "museum-worthy" to follow.
Pittsburgh has a few galleries showcasing work that can be so described, one of which is now featuring one of the brightest stars in town, Ben Patterson. Patterson's work takes several directions, but what's primarily offered at The Gallery 4 follows a humanoid character through its interactions with other species and forms. This humanoid is plush and muted, with concave eye sockets, an otherwise blank face, undefined limbs and unarticulated appendages. It also bears more than a touch of resemblance to the "grays" of the alien population.
Its companions — birds, bears, insects, shark — are as sharp as it is soft, each strand of fur and feather clean and precise and vividly real, actualizing the featureless humanoid creature that communes with them with moving intimacy. What's clear is connection, and the comfort that it can bring. That connection is not limited to those that are the same as us: It's beyond race or gender, it's beyond species, it's not boundaried by the body.
These beings are rendered with refinement and delicacy, evoking the old-school representation of Audubon prints and the contemporary beautiful brutality of Walton Ford. Were they created with pencils or oils, they'd be lovely enough. But that they were set down with chalk pastels — CHALK! PASTELS! — will drop your jaw all the way to the goddamned floor.
Patterson's character experiences more than these moments of union, also in situations more mundane: nap time, drink time, encounters with patriotism, avoidance of proselytizing, and the escape of throwing a line in the water. For these, the style is cruder, cartoonish, but equally vibrant. Cast figures of the subject own one gallery wall, and the exhibition is completed with an assortment of embellished and transformed thrift-store finds. All of the works are enjoyable and demonstrate a keen eye supplemented by a sharp wit. The large depictions of humanoid/animal interaction reveal a big heart.