Eleven years ago Ermanno DiPasquale remodeled his restaurant, Salvatore's Pizza House, anticipating that Wilkinsburg would finally go "wet" and that he would be able to sell beer alongside his pies. 
But despite talk of changing the rules, the borough's ban on restaurant liquor licenses has remained unchallenged since it was created by residents in 1935 by a vote of 7,657 to 4,610. 
Instead of running the neighborhood hub he envisioned, DiPasquale watches customers order their pizzas to go and then head across the street to the beer distributor, Wilkinsburg Beverage, to pick up a case of beer. 
"Business is not bad. But we have our ups and downs," says DiPasquale, who notes that 75 to 80 percent of his business is take-out. "It's hard to be limited in what we can do."
It's a business situation that the Wilkinsburg Community Development Corporation wants to change. The CDC is preparing to launch a petition drive Feb. 18 to put the question of whether Wilkinsburg should remain dry on the primary-election ballot in May. They'll need 2,010 signatures by March 12.
WCDC Executive Director Tracey Evans says the licenses are one tool to appeal to developers interested in vacant and blighted land.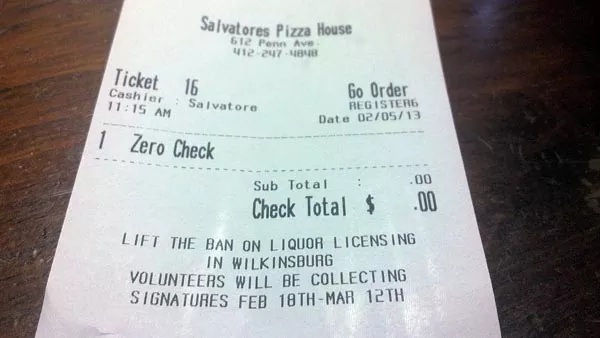 DiPasquale is doing all he can to help the campaign, which he says he believes is good for the neighborhood.
The lack of the licenses "works against the community. People are not staying on Penn Avenue," DiPasquale says.
If the ban is reversed, the state's Retail Quota Law would allow up to five such licenses to be purchased and used within the borough. 
So far, outright opposition to the measure has been voiced only by state Sen. Jim Ferlo, who represents the area. Ferlo is worried about the impact of introducing liquor licenses to a community that has struggled economically for years. 
"I think there are a lot of issues because of the demographics of Wilkinsburg," says Ferlo. "My worst fear is that we'll see problem bars and clubs develop." 
Evans says those are concerns she's heard before.
"I worked in East Liberty for years and the same kinds of things came up: 'We can't have bars in Wilkinsburg because it's Wilkinsburg.' I think we're past that now," she says.