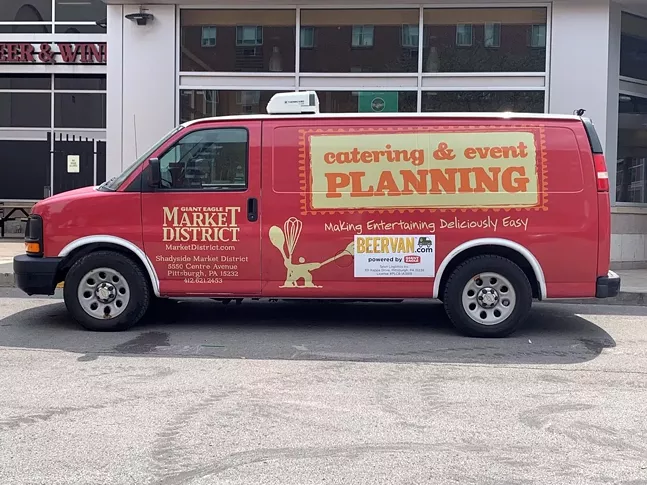 Beer Van

Need a beer but can't leave your couch? Giant Eagle has your back.
Last week, Giant Eagle rolled out its new home beer delivery program, based out of the Shadyside Market District location. Simply order your brew of choice from a selection of over 150 domestic, craft, and imported bottles on BeerVan.com and the BeerVan will bring it to your front door within two hours.

As of right now, the service reaches six ZIP codes (15201, 15224,15232, 15213, 15260, 15206) and delivers Wednesday through Saturday, 10 a.m. to 8 p.m.
Abjuration Brewing
Abjuration Brewing, Pittsburgh's experimental, open-source brewery is expanding and needs your help to grow.
The brewery is located in McKees Rocks and run by Dave Hallam and Tom Glover, who opened Abjuration in connection with the Parkway Theater just over a year ago. Their brews are inventive, the duo following a versioning technique to tweak each recipe. Every release is considered a new beer, brews sporting small adjustments from their predecessors, like a hop change or, for milkshake IPAs, a fruit change. Hallam compares it to a can series; drinkers can compare a beer version 1.0 to 2.0, or even 1.1 to 1.3.

Abjuration is one of Allegheny County's smallest breweries and with a growing demand for their brews, expansion was imminent. This is where you come in. On Monday afternoon, April 29, the brewery is launching a Honeycomb Credit campaign to raise funds for fermentation tanks. With more fermentation tanks, they will be able to double beer production. Every week there will be at least one new beer (though Hallam predicts two to three).

Hallam and Glover specifically chose Honeycomb because it's not a donation, it's an investment. They're asking Pittsburgh to support them, returning the investment in turn. By contributing their brewery can grow with community behind it.

Keep an eye out for Abjuration's campaign on honeycombcredit.com.

SPiLL the Wine Bar
Pittsburgh's Little Italy has been missing one thing: a wine bar. SPiLL the Wine Bar, officially opening on Bloomfield's main drag last week, fills this gap as one of Pittsburgh's first wine and retail bars.

SPiLL, owned by husband and wife team Robin and Jim Sattler, sits shoulder-to-shoulder with Lombardozzi's on Liberty Ave. It features a collection of bottles from select vineyards in Italy and Australia, available for tastings and purchase.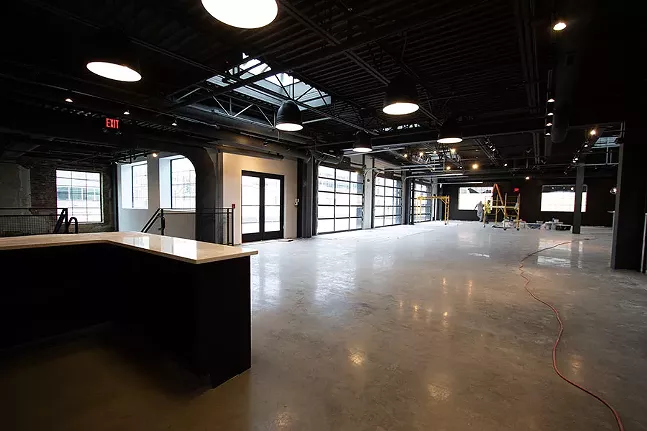 Cinderlands
Cinderlands fans, get your crowlers ready: the much anticipated Cinderlands Warehouse has finally set an opening date.

The Cinderlands Warehouse, located in the Strip District, will open May 7 after a year of construction. This expansion brings with it a two-floor venue ready to seat over 300 guests, a full bar and dining room (plans are in motion for lunch, dinner, and weekend brunch in the future), and perhaps most importantly, more beer.

This expansion from a 3.5 barrel setup in Lawrenceville to a 15-barrel system in the warehouse will allow Cinderlands to keep up with distribution, as well as in-house demands — there are even plans for increased beer sales to bars and restaurants across the city. At the warehouse, up to 16 beers will be on draft at a time, with can releases almost every two weeks. Along with a boost in production, the brewery is adding a barrel-aged section to their beer bill.

After the soft start on May 7, the Cinderlands Warehouse officially launches with a grand opening weekend starting May 10.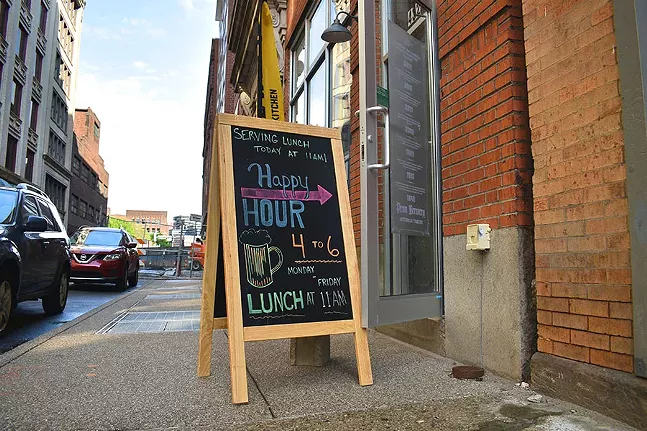 Penn Brewery
Pittsburgh's oldest brewery, Penn Brewery, has officially opened a taproom Downtown.

The newest branch of the brewery, located on First Avenue, celebrated its move with a ceremonial mixing of two brews. The blend of Penn Weizen, one of the brewery's traditional German beers, and Penn Tangerine Swirl, a contemporary concoction, signified a new era for the historic brewery.

Penn Brewery Downtown is open from 11 a.m. to 9 p.m., serving their signature beers along with seasonal releases. The menu mixes traditional German dishes with modern pub fare.

North Hills Home Brew Fest
Who is the best homebrewer in the North Hills? Decide for yourself on May 11 as the area's best gather to compete for best brew. The winner is chosen by festival attendees.

Festival-goers sample and vote on competing beers, selecting the 2019 homebrew champion, who will get their recipe brewed at Penn Brewery. Not a drinker? Sign up for the Painting with a Twist class! To buy tickets, visit syriashriners.org.