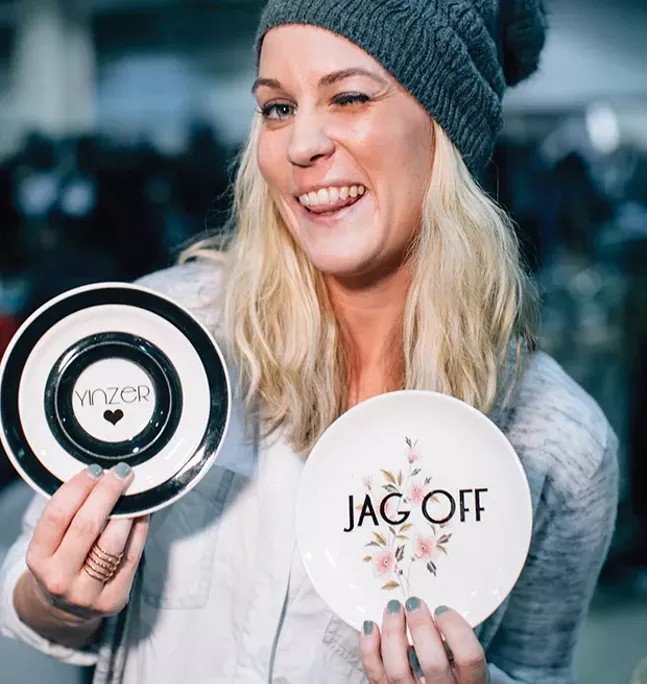 For the typical reveler, the holidays mean getting together with family and friends, decking the halls with the finest fake boughs of holly that Target provides, and eating all of the cookies. For artists, however, this time of year means connecting with potential customers looking to bestow upon their loved ones the most unique, handmade gifts – in other words, not something from Target.
Luckily for artists and shoppers, the city becomes a veritable arts market once the holiday season rolls around. In 2016, a study by the website Yelp found that Pittsburgh ranked among the top U.S. cities for shopping local. Events like the pop-up marketplace, I Made It! Market, and other craft fairs offer plenty of opportunities for area artists to sell their wares to shoppers looking for that special piece of handmade jewelry, print, or wall decoration.
For the past 14 years, Handmade Arcade has provided a sales space for artists working in a variety of media. Among the many showcased vendors, shoppers will find the usual holiday favorites sought out at craft fairs, such as hand-poured candles and artisanal soaps, as well as animal masks, wool sculptures, photography, and metalworks.
"Handmade Arcade is committed to showcasing handmade, locally produced goods ... and has significantly supported expansion and growth within Pittsburgh's arts, craft, and small business communities," says Handmade Arcade's director of marketing and outreach, Jennifer Baron.
This year marks Handmade Arcade's largest event to date, with 190 artists, makers, and designers convening on December 8 at the David L. Lawrence Convention Center. If last year was any indication, it should bode well for the participating artists — in 2017, Baron says Handmade Arcade vendors saw a total of $400,000 in sales in one day.
But making that sweet holiday money as an artist requires a fair amount of hustle. It means packing and shipping items to shops, boutiques, and other sellers in time for the shopping crowds. It means trying to entice online shoppers with an Instagram post that requires more careful arrangement than a nativity scene at Sunday mass. It means standing at a vendor station for hours, forgoing snack and bathroom breaks in hopes that, unlike the dozens who ogled everything on display and then moved along, the next passerby might actually buy something.
So, much like with everyone else, the holidays are a stressful time for artists. With that in mind, skip the big retailer Black Friday sales this year and instead search for gifts on Etsy, at an independently-owned shop, or at a neighborhood gallery.