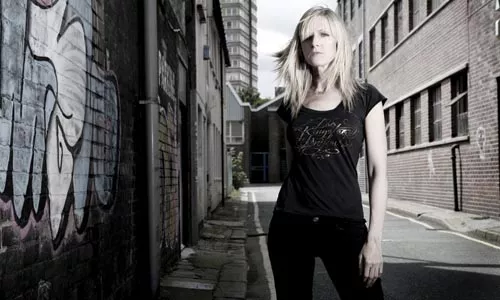 Anyone who still believes DJs can't be of any importance because they only play other people's music doesn't comprehend the influence wielded by BBC Radio 1's Mary Anne Hobbs. Thousands worldwide eagerly await Hobbs' Thursday night "Experimental" show, which touches the very edge of beat-oriented electronics, beyond IDM (what Brits call "leftfield"), grime and dubstep to subgenres not even yet invented.
The BBC slot is just the latest in an adventurous musical life that started when a teen-age Hobbs ran away to London to live with a band. She's written about the Los Angeles hard-rock scene for Sounds; worked for NME and Loaded (the U.K. version of Maxim); and parlayed her lifelong obsession with motorcycles into a famous documentary. She also hosted both Radio 1's Rock Show and Breezeblock -- the most adventurous hours on air ("it used to be a lot more beatless experimental," she recalls).
If you didn't know Hobbs' resume, and heard her enthuse endlessly about new trends and newer music producers such as Joker ("he's the purveyor of a strain he's calling the Purple Wow sound") and Instru:mental ("one of the few who manage to transpose the influence of drum 'n' bass into dubstep"), you might think she's in her early twenties. But at 45, Hobbs learned her craft at the feet of the longest-serving Radio 1 DJ, John Peel (who broadcast from 1967 until his death in 2004). She'll take experience over youth every time.
"Look at people who are still working at the cutting edge, like [Brian] Eno, [Ryuichi] Sakamoto or Kraftwerk, who are in their 60s," Hobbs says. "Even Richie Hawtin and Aphex Twin are getting up there. Age is something that I revere -- the notion that adolescent tastes should run the world is completely uninteresting."
Mike Paradinas -- a.k.a. famed IDM artist u-Ziq -- recognized Hobbs' stature and gave her free rein on a series of electronic compilations on his label, Planet Mu. The label, along with Warp and Rephlex, was a mighty proponent of leftfield over the past decade and is now solidly behind such dubstep leaders as Benga, Boxcutter, Pinch and Starkey. Hobbs' first anthology, Warrior Dubz, dropped on the heels of the legendary Dubstep Warz radio special in January 2006 which broke the bass-heavy subgenre's profile globally.
"[Warz] was the real tipping point of the [dubstep] sound -- there was a tangible sense of magic in the air that night," she remembers. "You could feel a flashpoint coming -- every time a producer would offer me a track, these youngsters were moving forward in leaps and bounds." While only a few months earlier, London dubstep and grime club FWD was drawing only a handful of people, five days after the broadcast, "there were 200,000 hits on the dubstep forum discussing what they'd heard. I was like, 'Jesus, where did all these people come from?'"
Hobbs' tastemaking continues: She curated the dubstep stage three years in a row at gigantic Barcelona electronica festival Sonar, and introduced the masses to the likes of Flying Lotus, Kode 9, Shackleton and Skream. Now she's put her energy into a third comp for Planet Mu, called Wild Angels. The artists she's selected, which include Rustie, Gemmy and Warp's Hudson Mohawke, veer from the latest iterations of IDM and dubstep to instrumental hip hop and "folktronic" post-rock.
Music has even taken her as far as Malawi, where she performed at a festival benefiting a micro-loan foundation. "You can never be certain what you're going to find when you step into the Third World, but it was profound," she recalls. "I was involved making a documentary for Radio One, so I spent a lot of time off the set going to visit different communities, and it was fascinating to experience their stories. Music is in every fiber of their society. These women had irrigated arid desert land and wanted to show us the rice crops they were farming, and they sang the most beautiful welcome song."
Equally intriguing is the way her own radio show reaches across the globe -- at least to any middle-class individual with a computer and Internet hookup, which translates into listeners from Australia to Sao Paulo, even in a submarine stationed in Greenland. "When I played in San Francisco, a guy came all the way from Peru to see the gig," Hobbs says. "He told me he'd spent the last few years on a remote island off the coast downloading the show every single week -- if a bird sat on a wire, he had to start the whole thing again from scratch -- and made it his mission to burn CDs and take them around to every bar on the island."
Mary Anne Hobbs. 9 p.m. Sat., Sept. 19. Subdivision stage: Depth One, .rar Kelly, Natty Boh Peep, Rukkus, Cutups & Keebs. Full House stage: Randomseed, Paul Alexander, Adonis and Peterlee. Shadow Lounge, 5972 Baum Blvd., East Liberty. $15. 412-363-8277