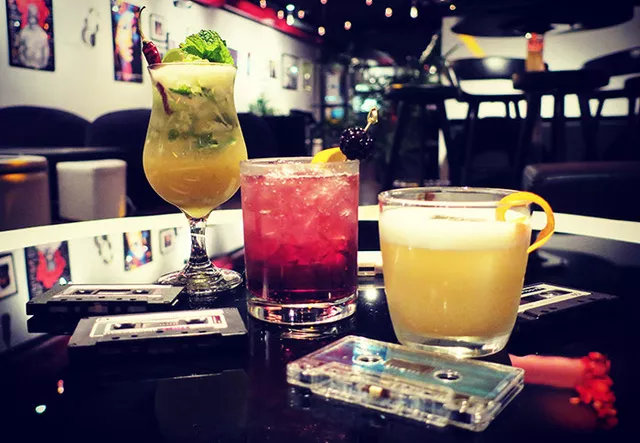 On the last page of the menu at Mixtape, there's a half-page set aside for non-alcoholic drinks. The Garfield bar doesn't fill up the page with the typical choices of sodas and non-alcoholic beer; there are seven intricate, craft drinks, all made without booze.
Spirit-free cocktails, aka mocktails, are becoming more popular in the bar scene. The trend, once made more or less exclusively for those in recovery, isn't new to the U.S. (The Shirley Temple, known as the original mocktail, dates back to the 1930s.) But recently, demand for non-alcoholic options has been on the rise. The healthy-eating movement, along with a universal disdain for hangovers, has pushed mocktails into the spotlight.

Non-alcoholic options have always been important for Katie Molchan and Elaina Holko, co-owners of Mixtape. Espresso, coffee, CBD-infused sodas, and zero percent beer are available all night long at the living-room-like lounge.

"One of my favorite compliments is when a sober customer tells me how comfortable they feel at our place, even if they come with friends who are drinking for the night," says Holko.
In recent months, Molchan and Holko have revamped their spirit-free options to include more mocktails.
The Mixtape partners are well-seasoned bartenders, but creating a list of balanced mocktails has presented a new set of challenges. It's important to the two mixologists that they "mimic the cocktail experience," rather than just make a jazzed-up juice.

Crafting a mocktail is similar to a cocktail, but Holko tackles it from a different angle. "What's the audience you're going for? Do you think they'll want something sweet? Tart? Sour? Savory? Dense? Light? Carbonated?" she says. A mocktail requires the same balance and craftsmanship as its alcoholic counterparts.

To create their current menu of mocktails, Molchan and Holko swap liqueurs with non-alcoholic aperitifs, bitters, shrubs, and sodas. One example is the Saffron Sour, made with Everleaf (a non-alcoholic aperitif), citrus juices, and shaken with aquafaba. Many of the spirit-free cordials have high sugar contents, and the duo has to be aware of piling sugar on top of sugar. The "bite" of a spirit has been difficult to emulate, but it's a necessary component.

If the demand for mocktails continues to pick up, Holko plans to explore the realm of spirit-imitation (something the bartender has dipped their toes into with a spirit-free whiskey composed of spices, peppers, teas, and a walnut orgeat, a type of syrup). Until then, Holko and Molchan are simply playing a "brand new balancing game."

For more local mocktail menus, try Hidden Harbor in Squirrel Hill, Spork in Garfield, or Empath, a sober social bar with periodic pop-ups around the city.

Holko's best advice for the mocktail-curious is to "just have fun with it."