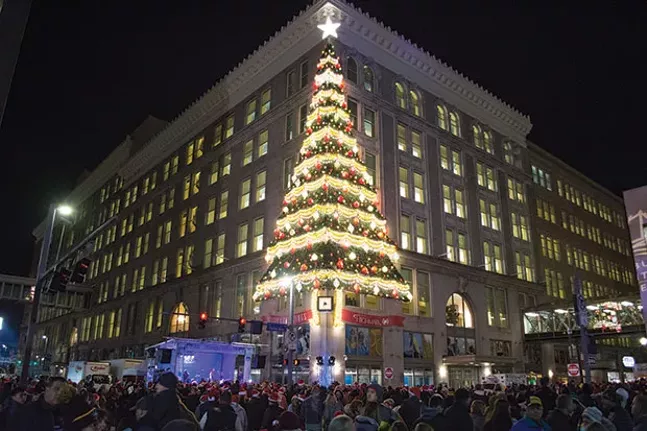 My parents really dig classical Christmas music.
Neither of them are religious people or classical musicians, but every Christmas season, they go out for performances of Handel's "Messiah" or Bach's "Christmas Oratorio." Those are the heavy hitters, but I think they just enjoy the general atmosphere: the people, the churches, the history, the cider. And every Christmas Eve, they venture out to some chilly colonial church for Midnight Mass.
When my brother Sam and I were young, they'd bring us along, and we'd yawn and twiddle our thumbs until Jesus arrived in Bethlehem and we could split. Personally, I spent most of the performances wondering why the pages of the Bible were so soft and the pews were so hard. I barely noticed the music.
But once Sam was old enough to babysit, we were allowed to skip it, which led to a Christmas Eve tradition of our own. I can't remember the exact year it started, but at some point, when Sam was in college and I was in high school, we spent the big night sneaking beers and watching The Godfather. It might not sound like anything special — beer and movies are widely available year-round — but it was a great opportunity to catch up and relax in a season infamous for being busy and stressful.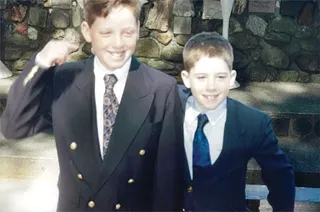 Ever since, we've spent Christmas Eve watching movies, drinking beer and talking. Things have evolved slightly, as we are both adults in our 30s. The beer is fancier (and no longer needs to be sneaked). There's now a wife and a daughter and a girlfriend involved, though the kid has yet to weigh in on the Lagunitas or the selected films of Christopher Nolan. Assuming they're not caroled out, my parents hang with us when they get back. The movies are less Godfather-y, and more Batman-y (except the year we watched Mark Wahlberg and Christian Bale in The Fighter, which was a good fit seeing as we are also brothers from Massachusetts with excellent abs).
There have been a few off-years when scheduling got in the way, but this remains one of my favorite things about the holidays, despite how ordinary it may seem. Though, I actually think that banality is what makes it work. Not to get all sugar-cookie about it, but I think the specifics of a holiday tradition don't matter. It's about the consistency of doing something in a particular way every year with the people in your life, even if it's banal or silly or strange. (I imagine, for instance, mine is the only family that has a "Hanukkah Fairy," but that's a story for another time.)
That's certainly what I found in researching local traditions for this year's Holiday Guide. It's no surprise that Pittsburghers love a good tradition, and the quirkier, the better. (It's hard to imagine another city whose people can muster such deep and sincere love for a towel.)
While there are too many to list all in one place, I certainly have my favorites.
Nothing crystallizes the un-remarkability of a good tradition like Eat'n Park's Christmas star commercial.

If you're unfamiliar, this is a 30-second animated ad that debuted in 1982 and, for many Pittsburghers, marks the beginning of the holiday season. It features a plucky, sentient Christmas star attempting to make its way to the top of a Christmas tree. After a few bungled attempts, the tree comes to life and bends over so the little fella can hop on. The tree stands back up, with a kickass star on its head, and illuminates the screen with Christmas lights and holiday cheer.
"We hope the special lift you get this holiday season lasts all year long," a neighborly narrator chimes in. "Happy Holidays, from Eat'n Park."
It's hard to argue with the ad's warmth and sincerity (despite the commercial context), but the scale of Pittsburghers' adoration for this spot is astounding and totally endearing. Any doubts about that can be addressed with the video's comment section, featuring gems like this: "MY FAVORITE COMMERCIAL OF ALL TIME!!!! it makes me cry how the star is trying to get on the tree. Very Inspirational !!! Love it still as a grown woman. When I hear music of the commercial starting and I'm in another room I run thru the house til I get to the tv and just get goosebumps."
The suburbs may have a monopoly on ridiculously elaborate light displays, but I think cities take the cake for holiday vibes in general. Maybe it's because cities are where the shopping goes down, or maybe it's because it's where both holiday films Elf and Scrooged take place.