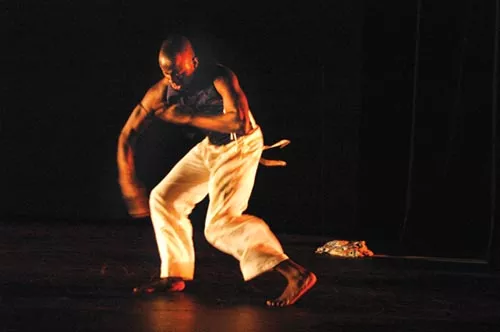 For all of humankind's advances throughout history, race and gender remain hot-button issues. For interracial husband-and-wife team Esther M. Baker-Tarpaga and Olivier Tarpaga, co-directors of the Baker & Tarpaga Dance Project, those issues have particular relevance and are the subjects of their latest work, Beautiful Struggle. The transnational contemporary dance company's work-in-progress has two informal showings on Fri., July 15, at the Kelly-Strayhorn Theater.
Founded in 2004, the company, based in Columbus, Ohio and Ouagadougou, Burkina Faso, combines traditional West African dance with postmodern and other movement styles, along with live music, in a unique brand of dance-theater. The company has performed in 12 countries around the globe. Its Pittsburgh debut comes on the heels of a week-long residency at the Kelly-Strayhorn.
Choreographer Baker-Tarpaga says that Beautiful Struggle is derived from another of her dance projects, Whiteness Revisited, which examines the history of white privilege.
"The words 'beautiful' and 'struggle' are opposites," says Baker-Tarpaga. "That opposition will provide a base from which we will create movement."
The work was begun in residencies at The Ohio State University, where the couple are faculty members in the dance department. By July 15, Baker-Tarpaga expects the company to be prepared to show 30 minutes of the work-in-progress.
Beautiful Struggle includes hip hop, postmodern and West African movement styles along with text. It will be performed to live original music played by two musician/dancers on traditional West African instruments.
Joining the musicians onstage will be three dancers, including Baker-Tarpaga and Olivier Tarpaga.
"As choreographers, Olivier and I tend to source movement from our dancers and manipulate it and guide it toward the specific images we want to convey," says Baker-Tarpaga.
Baker-Tarpaga says Beautiful Struggle will take full advantage of each performer's dance backgrounds. That process can be double-edged, as the company found out when it had to scrap the original work it intended to perform in Pittsburgh, Disorder Inside Order, due to a dancer injury.
Following Baker & Tarpaga's shows at the Kelly-Strayhorn, the company takes the work-in-progress to Massachusetts for the prestigious Jacob's Pillow Dance Festival, for part of the festival's Inside/Out series.
BAKER & TARPAGA DANCE PROJECT performs Beautiful Struggle 1:30 and 8 p.m. Fri., July 15. Kelly-Strayhorn Theater, 5941 Penn Ave., East Liberty. Pay-what-you-can ($5-20 suggested). 412-363-3000 or www.kelly-strayhorn.org/calendar/event/baker-tarpaga