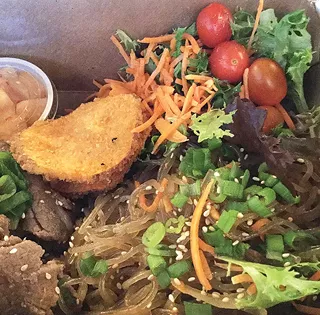 On Liberty Avenue Downtown, the Korean-inspired fast-casual eatery Bae Bae's Kitchen has taken over the cozy spot formerly occupied by Umbrella Café. The interior is now utterly charming, with lots of weathered wood, enlivened by dozens of small plants scattered about. There's table seating, with retro-style metal chairs, for about two dozen, and five stools at a window-side bar where one can watch the sidewalk scene.
Bae Bae offers the popular make-your-own style of meal. Customers choose a base — either steamed rice (topped with seaweed and sesame seeds), glass noodles or mixed greens. Top this with a protein such as Korean fried chicken, roasted pork belly, bulgogi (grilled marinated beef) or crispy layered tofu slabs (with plum sauce). This is assembled attractively in a cardboard box, along with a lightly dressed side salad. Diners also get a choice of a small pre-packaged side, such as kimchi, daikon radish or seaweed salad. It's a quick order, and it's as easy to take to go as it is to dine in.
The entrée boxes are a good-sized meal, and a great fresh alternative to the usual lunchtime fare of sandwiches, pizza and fast food. Bae Bae touts its ingredients as being locally sourced (when possible), and its menu reflects seasonal offerings. Currently, there is a tasty bit of fall on the menu — tempura-dried sweet potatoes; these are sliced thin and deliver the perfect ration of crispy outside and tender inside. And there is a small selection of rotating specials.
Notable beverages include ginger beer and kombucha. There is a selection of hot and cold teas and coffees, some Asian-inspired such as Vietnamese coffee or iced green tea with grapefruit.
It's a handy lunch spot to be sure, but unlike similar Downtown eateries, Bae Bae is also open for the early dinner trade. Grab something before catching a show, or a boxed meal or two to take home.