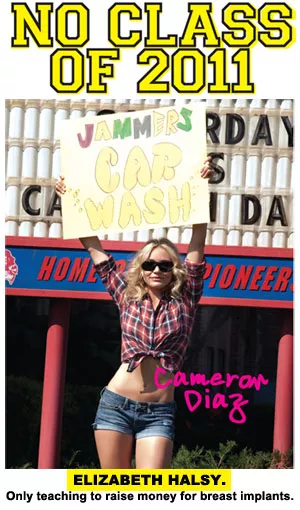 What a year it was at John Adams Middle School! After her engagement went south, Elizabeth Halsey, who we thought was gone for good, returned. (We think her airplane bottles of booze did too!) She sure put the kids in their places with her frank talk; the nerds and preps better look out!

JAMS also got a new teacher, Scott Delacorte. He was sweet, able to laugh at himself and heir to a watch fortune. Both Miss Squirrel and Miss Halsey seemed to spend a lot of time "lesson planning" with him. And did we see Coach Gettis "studying" Miss Halsey?

Whew -- there was so much potty talk, sex chit-chat and bad attitude in the halls that this year kinda felt like Forgetting Sarah Marshall mashed up with Bad Santa. Of course, it wasn't quite as funny as that, and didn't the year kinda drag after a while? But we had a few laughs, and is it any surprise Miss Halsey got voted "Teacher Who Looks the Best in Daisy Dukes"?