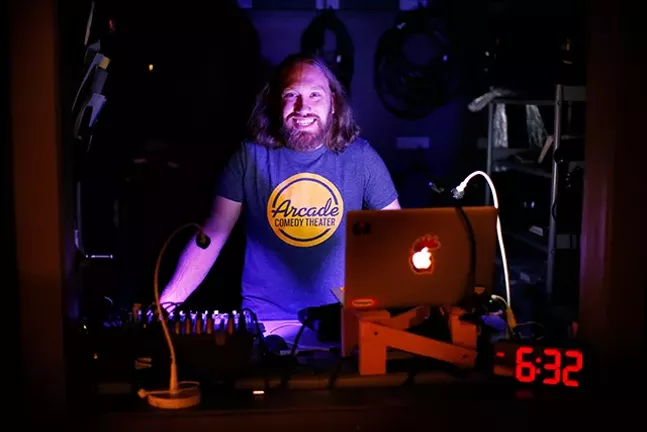 Name: Aaron Tarnow, Squirrel Hill
Work: Technical Director, Arcade Comedy Theater
What does the technical director do? Manage staff, run shows, maintain inventory, figure out what needs to be done and do it.
Did you go to school for this?
I minored in drama at [Carnegie Mellon University], focusing on lighting design. I also did a lot of extracurricular improv-oriented work, and that was my real boots-on-the-ground work.
How often do you produce new shows?
Every day.
Every day?
Sometimes more than once. It's a different show every night.
With that volume, how much time do you have to get these together?
If it's a longer running show, I go to rehearsals maybe a month in advance. More often I'm meeting the performer for the first time about an hour before curtain.
That's insane.
We have so many shows we're running through, there's going to be a second, different show starting 15 minutes after one ends. The nature of the beast is that even with the more rehearsed shows, it tends to be very by the seat of your pants.
For the people that you're meeting an hour in advance, they can't have much for you to do? People tend to think their shows are more simple than they are. We will often get people that are like, "Oh, I'm just doing a cabaret," then get there with "nine different songs I need you to play at these exact times in the script."

What do you do then?
Work fast.
What in your work here are you particularly proud of?
Big pride around the opening of [Arcade's new location Downtown]. I got to be involved designing it on the ground floor, through building it into more of a functional theater that would be better for sketch. I got to see that through from originally drafting the theater to hands-on building it, and now that's how the theater looks in perpetuity which is super exciting for me.
What about specific shows?
My work with the Justin and Jerome Experience, a monthly kind of Dadaist sketch comedy show. That's where I really dove into making software — to do things it's not really intended to do, and that's where I get really excited.
How did you incorporate that moving forward?
I've had the opportunity to continue into "You're The Next Contestant," which is an Arcade-created show that reappears monthly, or bi-monthly, or whenever they do it.
What is the concept for that?
It's a staging of a '70s game show, live, of course, incorporating the audience. I've had this great opportunity to recreate the visuals of these old gameshows and make them functionally interactive. I start watching old episodes, do research, try to recreate the visual theming. It has to flow live on stage as if I knew what they were going to say, as if I was prepared.
So it's not just the actors making things up as they go on, it's you as well?
Absolutely, I'm improvising just like they are. Typically in a theatrical environment, the person running the show would be reading along with the script. You see something is coming up, get ready, and hit the button. Repeat, repeat, from start to finish. I have the button, but not something pre-programmed to happen when I hit it, and no script to follow.
You hit the ground running, and then you keep running?
It's very rapid fire. That's why I like the job. What really attracts me to theater is that it's so fleeting. Improv is the ultimate expression of that, for all of us.