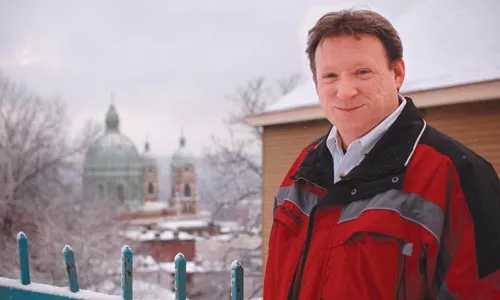 If you take a walk down Brereton Street in Polish Hill, it's easy to see that the neighborhood's business district does very little business. Sure, it's home to Gooski's, the hipster bar familiar to folks both inside and outside Polish Hill, and Alfred's Deli Plus, which recently returned to the neighborhood selling Polish meats and pierogies. But the bar and deli can't disguise the empty lots and abandoned buildings that line the neighborhood's main drag.
"The neighborhood needs some help," says Catherine McConnell, vice president of the Polish Hill Civic Association. "It's been neglected for a long time."
But that's starting to change. In recent months, neighborhood leaders say Polish Hill has been on the radar of the city's Urban Redevelopment Authority (URA). The neighborhood, according to a city-wide market analysis released last summer, has some development potential. Taking advantage of it could resuscitate Polish Hill and bolster the city's bank account.
But while civic association leaders welcome the outside attention -- and the resources that could come with it -- they're wary of surrendering control of Polish Hill's future.
"We've definitely become a neighborhood of interest," says PHCA President Terry Doloughty. But "[residents] want a Polish Hill plan, not a URA plan for Polish Hill."

Located on a small hillside overlooking the Strip District, Polish Hill is home to roughly 1,500 residents. For the most part, the neighborhood is composed of older, lower-income residents -- roughly 40 percent of its residents are older than 65, and the average sale price for a Polish Hill home is just $22,000.
Such numbers may not sound too promising, but some say Polish Hill is catching the attention of a younger, more diverse crowd that could help revitalize the neighborhood.
"It seems like there is a cultural push here," says Garick Tai-Lee, a 22-year-old resident of Polish Hill who's noticed a growing number of artists moving into the neighborhood. "A lot more youth are coming in."
Such anecdotal evidence leads URA Executive Director Rob Stephany to believe that Polish Hill is prime territory for development. When the city commissioned a Market Value Analysis from a Philadelphia firm, the study found that Polish Hill, while not exactly thriving, was an attractive area for redevelopment.
"It's a little city gem," says Stephany. "It's safe, affordable, it's got a neat dynamic of diversity, and it's in a great location," just minutes from Downtown. "It's got all the indicators of success."
Much like other small city neighborhoods, though, Polish Hill lacks the means for seizing the opportunity.
"Across the board, this idea of 'Where are we going to be, and how are we going to get there?' wasn't really on the tips of people's tongues," says Stephany.
Doloughty says it's pretty clear what residents want: infrastructure.
"Our business district needs to be teed up so business owners can come in," says resident Suzanne Pace, who would like to see the civic association develop a larger paid staff to help facilitate development. "There is no infrastructure in place right now."
According to Doloughty, residents have tossed around a variety of ideas, ranging from developing the neighborhood's greenspaces to sprucing up sidewalks and steps. But he says residents don't want just any infrastructure. "It has to be unique to Polish Hill," he says. "We want to be alive and thriving, but we don't want to grow up to be another neighborhood."
No matter what, though, it's clear that residents are itching to see businesses start up. According to a 2007 neighborhood survey conducted by the PHCA, most residents want to see a grocery store open in Polish Hill, while others would prefer a restaurant or coffee shop.
"It's a hassle to get groceries," Tai-Lee says. "It would be nice to have some basics."
But business won't solve everything, says McConnell, who works as a real-estate agent: The neighborhood's population must be stabilized, too. Roughly half the neighborhood's residents are renters, she notes: "Currently, the neighborhood is very transitional," says McConnell. "I would like to see more homeowners and quality renovations."
Indeed, the PHCA currently can afford just one paid part-time employee. For the most part, the organization is run by people like Doloughty and McConnell, both of whom volunteer at the PHCA on nights and weekends after their full-time day jobs.
"It's frustrating, because we have such a small organization," says McConnell. "We have huge goals, but we don't have the manpower."
McConnell says the PHCA has put money aside for a consultant. And Stephany says the URA is willing to help out financially. "If they want to try and get some market-research firm in there, we would be partial funders of that," he says.

There is some wariness about the URA, which gained a reputation for ill-considered top-down management due to failed urban renewal projects like the North Side's Allegheny Center and the Hill District's Civic Arena. Pace says that while she looks forward to hiring a facilitator to help devise a community future, "We don't want the URA to find a facilitator for us." If it does, she fears the URA could more easily manipulate development plans for Polish Hill.
But Stephany says he has no problem letting the community choose a facilitator. "That's totally cool," he says. "Kick my ass out of the room." In fact, he adds, "The intent is to get [residents] prepared to actually have a good conversation with a third-party consultant."
So far, Polish Hill residents say, their relationship with the URA has been healthy. Doloughty says that under Stephany's leadership, the URA has merely served as an instructor, not a dictator trying to shove a development plan down Polish Hill's throat.
The community has already embraced some URA suggestions. For example, Stephany says the URA and some residents batted around an idea to transform Polish Hill's deteriorating steps along the hillside into "cool, artist-designed stairs instead of Pittsburgh-utilitarian stairs."
Some residents suggested weaving red-brick stairs through new homes along the hillside "to make it look like San Francisco," Doloughty says. "Everyone thought, 'Well, that would be pretty cool.'"
Other ideas have proven less popular. Early on in the brainstorming process with the URA, residents made it clear that they didn't like a proposal to build townhouses around a neighborhood park near Stockholm Street. That idea, as Stephany puts it, "sank like a lead balloon ... so we flushed it."
Contention remains, however, around a proposal to build housing for seniors similar to John Paul Plaza, a high-rise senior center on Herron Avenue. With Polish Hill's large senior population and the growing interest in the neighborhood, Stephany says older residents could move into the new apartment complex. "We could start to free up cool little bungalows and houses ... for this new market."
"I don't think they need another [senior housing development]," counters 84-year-old Anthony Welka, who lives in John Paul Plaza. He says he'd rather they renovate existing single-family homes nearby.
McConnell and Doloughty agree. Both would prefer avoiding large, concrete-block structures like John Paul Plaza. "Architecturally, I don't think we need another [high rise]," McConnell says.
What happens should such an issue be intractable? "We are totally willing to walk away," Stephany says. "Our intent is to bring an idea to the community-based setting that has some market reality [so] all of the hard work of these residents can start to unfold."
In the meantime, Doloughty plans to continue consulting with the URA, and seek the advice of other, more experienced neighborhood groups. That way, he says, "We won't waste time going down dead ends that other groups have gone down.
"My dream, no matter how hard I have to work, is on a summer night to walk up here and put my name in for a reservation at a restaurant," Doloughty adds. "That's my little dream."