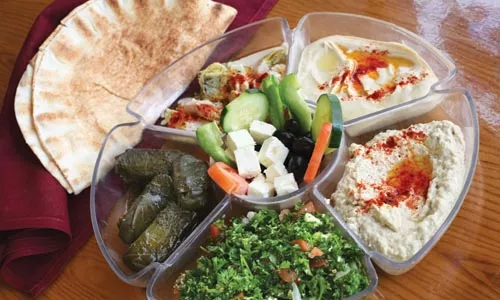 Location: 2126 E. Carson St., South Side. 412-586-7677
Hours: Mon.-Sat. 11 a.m.-11 p.m.
Prices: $10-15
Fare: Middle Eastern
Atmosphere: Casual
Liquor: Full bar
What's not to like about Middle Eastern food? Good question. The cuisine's characteristic dishes are full of bright Mediterranean flavors, bold but not bluntly punishing spices, chickpeas (beloved by Angelique) and grilled meats (beloved by Jason). It's just that, as tasty as they are, it can seem as if every Middle Eastern restaurant is working from the same cookbook. Where, we wonder, is the variety?
So it was with a sense of duty more than enthusiasm that we entered Baba D's, a family-owned Middle Eastern restaurant on the South Side. Recently the center of a controversy over liquor licenses on rowdy East Carson Street, Baba D's emerged quietly victorious: Diners enter the restaurant via a simple, tasteful bar with a few tables up front. In the rear is the dining room, with exposed brick walls and a couple of gas fireplaces providing most of its warm, almost intimate atmosphere.
At first glance, Baba D's menu comprised the standard selections of falafel, kebab, kibbi and shawarma. But a closer reading revealed a handful of less-familiar dishes, such as hummus madamas, an adaptation of an Egyptian breakfast dish popular in Syria and Lebanon. Made with whole chickpeas served in a dressing of -- rather than pureed with -- olive oil, lemon juice, onion, garlic and parsley, this variation was no less than a revelation. Instead of blending together in a (frequently) unsatisfying slurry, the hummus ingredients retained their individual flavors even as they complemented one another in every mouthful. It was amazing how a simple change in texture could affect the taste of an overly-familiar dish, making it new again.
A basket of warm pita served alongside allowed us to enfold the hummus in its bready goodness if we wanted; Jason partook, but Angelique preferred the unadulterated deliciousness of Baba D's madamas by itself.
Baba D's again surpassed our expectations with its falafel. These fried, golf-ball-sized patties of spiced, mashed chickpea can, from lesser kitchens, tend toward dryness that overwhelms their pleasant, nutty flavor. Not Baba D's: This falafel emerged from the fryer with a thin, crispy crust that preserved the moisture of the ingredients within. They were eminently edible plain from the platter, and delectable sauced with tahini and accompanied by tabouli. Speaking of this staple Middle Eastern salad, here again Baba D's tabouli rose above its peers with a version that was abundantly herbal and delicately, not harshly, dressed with olive oil, lemon and spices.
We tried three different kabobs -- lamb, beef filet and kefta -- and all were excellent. Seasoning was minimal, but perfectly grilled meat doesn't need much, and Baba D's rose to this lofty standard. In particular, the filet was superbly done. The kefta, a sort of beef sausage, was well spiced on the inside and nicely charred on the outside for additional flavor. Alongside each kabob was a small mountain of rice pilaf, wonderfully tender and subtly flavorful, topped with crunchy matchsticks of cashew (in place of the pine nuts mentioned on the menu).
But the triumph of the entrees was lubia fasolia, a stew-like dish made with green beans, shredded lamb and tomatoes. Like a Middle Eastern take on cold-weather comfort food, this dish sang with a symphonic combination of savory, sweet and earthy flavors.
Our only disappointment at Baba D's was with the inefficient, though friendly, service. Whether due to lack of training or too many tables, our water glasses were frequently left unfilled, an entree arrived after we had finished our meals (possibly the kitchen's fault, of course), and we did not receive our check until 20 minutes after the last bite was eaten. These delays added up to a frustrating feeling that, much as we enjoyed our meal at Baba D's, it might never end.
Still, if you've got time to spare, that might not be a bad thing. Baba D's has the ability to reawaken the most jaded palate to the pleasures of Middle Eastern cuisine.
JR:
AB: