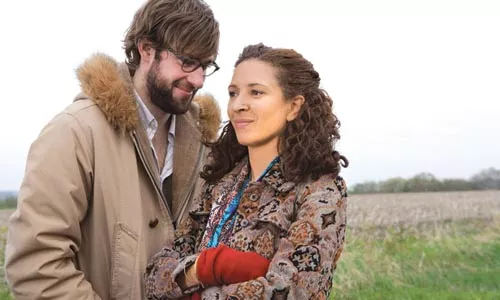 Winsome charm, a marketable soundtrack, a supporting performance by Allison Janney ... it's all here. But if the teen parents of Juno were absurdly precocious, Away's parents-to-be are oddly underdeveloped -- despite being years older.
Burt (John Krasinski) and Verona (Maya Rudolph) are an unmarried couple who want their child to have a fresh start. So they take a cross-country trip, seeking a new home among old acquaintances. They visit good parents facing bad times, and bad parents whose sins range from Janney's boozed-up indifference to the pseudo-feminist mommy-mysticism of Maggie Gyllenhaal.
The cast is terrific, the dialogue often amusing. Krasinski and Rudolph have a winning chemistry, and Rudolph impresses with her weary affection. Still, Away never lets you get close. Verona worries she and Burt might be "fuck-ups," but they're much less fucked than the caricatures they meet, so metaphorically, their journey ends where it began. It merely moves from scene to scene, so they can react with varying degrees of bemusement in each.
We're used to seeing Krasinski play straight man on TV's The Office. But though he's likeable here, the lack of affect can be off-putting -- as if Burt and Verona are watching a movie too. Why doesn't Burt say something when he learns of his loved ones' heartaches? If he and Verona find happiness by (literally) turning their backs on the world, how are they different from the film's other narcissists? The script was co-written by Dave Eggers. Perhaps he's critiquing Gen-X solipsism. Or suffering from it himself.