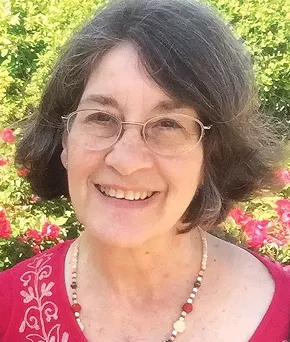 In June 2013, Patricia DeMarco joined 1,700 viewers at Soldiers & Sailors Memorial Hall for Gasland 2, filmmaker Josh Fox's sequel to the documentary that helped launch national opposition to fracking for gas. The new film, about how fossil-fuel money was warping democracy, did its job: After the screening, says DeMarco, "Everybody was angry." However, she recalls, that was it. "Nobody stood up and said, 'People, you need to do x, y and z, because it isn't hopeless.'"
Think of DeMarco's new book, Pathways to Our Sustainable Future: A Global Perspective From Pittsburgh (University of Pittsburgh Press), as her own guidance on the matter. The environmental educator wants a green movement that has spent decades mostly saying "no" to instead start communicating how things like regenerative agriculture and renewable energy can improve not just the environment, but people's everyday lives. And the Pittsburgh native does it with a couple dozen case studies from her hometown. Examples range from the reclaimed coal mine now known as the Pittsburgh Botanic Garden, to an urban farm in the Hill District, and from cutting-edge, nontoxic "green" chemistry, to the restoration of urban creek Nine Mile Run.
"Pittsburgh isn't thought of as a real sustainability place," says DeMarco, of Forest Hills. "If you can find things that work in a place like this, you can help people see a way forward."
DeMarco grew up in the 1950s and '60s, in a world of Italian-American backyard gardens in communities including Dormont and Castle Shannon. "I was an environmentalist from I think age 5," she quips. She earned a Ph.D. in genetics from Pitt and raised two kids while compiling a résumeé that includes stints with Connecticut's Department of Public Utility Control and as a commissioner on the Regulatory Commission of Alaska, overseeing that state's utilities and pipelines. In 2006, she returned to Pittsburgh, where, after five years as executive director of the Rachel Carson Homestead Association, she's worked mostly in academia and as an independent researcher, writer and speaker on science, public policy and the environment. She also hosts The New American Economy, a weekly web radio program on The Union Edge Working Families Radio Network that envisions a future that is socially just and environmentally responsible.
DeMarco still calls Carson her guiding light. The Springdale native's mission wasn't merely to curtail the heedless spraying of pesticides she critiqued in Silent Spring, but something larger: teaching people about the necessity of protecting fragile ecosystems. Or, as DeMarco puts it, "Every living thing has a right to exist."
Unlike many concerned about global warming, polluted skies and oceans, dwindling farmland and dying species, DeMarco doesn't forefront technical fixes. We have the technology we need, she says; whether we use it depends on how much we care about future generations. "If you don't pay attention to keeping the life-support systems of the world intact, all the technology in world won't save us," she says.
Recovery, DeMarco believes, starts with rediscovering our inborn "biophilia," or love of nature — and then learning that our very existence depends on the free "services" nature provides, from filtering water to producing oxygen.
She finds hope in such examples as Beaver County's Kretschmann Farm, an organic operation whose practices enrich the soil instead of depleting it, like conventional industrial agriculture does, and Windstax, a Strip District-based company working to make wind power more widely accessible. DeMarco also seeks to resolve the supposed conflict between protecting the earth and providing employment. Because our economy itself ultimately depends on nature, she argues, "Saving the environment is saving jobs." She also praises Pittsburgh Mayor Bill Peduto for making sustainability a priority in city policies.
Whether small-scale ("Bug Camps" for kids) or larger-scale (Sustainable Pittsburgh's Green Workplace Challenge), the examples she writes about in Pathways to Our Sustainable Future are signposts that announce, "This is what we're doing and this is how it's helping," she says. Building a future, in other words, requires imagining it: "You don't go to what you don't know."